Thursday, September 19, 2002
Los Angeles — Alejandro Sanz, who dominated last year's Latin Grammys, swept its major categories on Wednesday night, taking home trophies for album, song, and record of the year.
Sanz, from Spain, was up for four awards. He won album of the year honors for "MTV Unplugged" and record and song of the year for "Y Solo Se Me Ocurre Amarte."
Last year, the crooner's song and album "El Alma Al Aire" earned him four Latin Grammys � for record, album and song of the year, as well as best male pop vocal album.
Colombian singer Carlos Vives, who had a leading six nominations, won the best contemporary tropical album award for "Dejame En-trar," which also earned him a Grammy in February, and shared the best tropical song honor, a songwriters' award, for the album's title track.
As the televised portion of the show began on CBS, veteran singer Celia Cruz won the first award announced � best salsa album, for "La Negra Tiene Tumbao."
Colombian superstar Shakira won best video for "Suerte" � the Spanish version of her huge English hit, "Wherever, Whenever." And Banda Cuisillos won best banda album, for "Puras Rancheras con Cuisillos."
The Chilean rock group La Ley, also up for four awards, won for best rock album for "MTV Unplugged." Cuban-American singer Jorge Moreno, on Madonna's Maverick Musica label, won the best new artist award.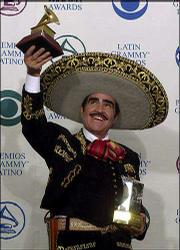 Vicente Fernandez won best ranchera album for "Mas Con El Numero Uno." It was the first Grammy of any kind for the Mexican singer, who's known as "the king of ranchera music" and has recorded 55 albums. He'd been honored Tuesday as the Latin recording industry's person of the year.
Much of the attention before the ceremony centered on Cuba. Its 22 nominees, including jazz pianist Chucho Valdes, guitarist Rey Guerra and rapper X Alfonso, couldn't get entry visas. Valdes didn't get the chance to accept his award in person for best pop instrumental album for "Canciones Ineditas" � his first Grammy after decades in the business.
The State Department in Washington declined to comment. But a U.S. official based in Havana, speaking on customary condition of anonymity, said Wednesday that a new law that took effect Aug. 1 requires more rigorous procedures for visa applicants from countries listed on the U.S. State Department's terrorism watch list, which includes Cuba. The process took weeks longer than expected and there wasn't enough time for the nominees to get their visas.
Cuban involvement has been a source of tension throughout the awards' three-year history. The inaugural Grammys were to be staged in Miami, but a county ban at the time prevented Cuban artists from performing there, so organizers moved the event to Los Angeles.
Miami got the awards in 2001, but it was moved to Los Angeles just weeks before the ceremony because of a dispute over anticipated anti-Castro demonstrators. Then the Sept. 11 ceremony was canceled because of the terrorist attacks.