Sunday, September 22, 2002
New York — Mick Rock inevitably relied on two constants during his 30-year immersion in the rock 'n' roll life: his camera and his impeccable taste in music.
"My thing was I knew what I liked," the photographer says, sipping a cup of mint tea. "I wasn't concerned about money or fame. I just liked what I liked."
And what Rock invariably liked were brilliant musicians. Those artists � his friends � became rock icons and the subjects of his work: Pink Floyd founder Syd Barrett, David Bowie, Lou Reed, Iggy Pop, Blondie, the Sex Pistols, Queen, the Ramones.
"People say, 'Man, how did you get all these pictures?"' Rock says. "Well, because no one else was interested. It wasn't like I was battling other photographers to get the pictures."
Throughout the glam and punk eras of the '70s, Rock was always the right man in the right place. He shot Reed's memorable "Transformer" album cover, and took the scary shot of Iggy that adorns the Stooges' "Raw Power."
Rock, now 52, has more than 6,000 pictures of Bowie in the singer's incarnation as Ziggy Stardust, and about as many stories to tell � at least the ones he can remember.
Many of both were collected in his latest effort, "Moonage Daydream: The Life and Times of Ziggy Stardust" (Genesis Publications, 346 pages, $465 for copies signed by Rock and Bowie). Rock's classic photographs were accompanied by a 15,000-word Bowie text.
"A masterpiece," raved a reviewer in The Washington Post. Bowie praised Rock � yes, it's his real name � for his "extraordinary photographs."
Any explanation from Rock for his "Zelig"-like appearance around so many seminal rockers?
"I don't want to make any flippant comment: 'Was it the drugs, Mick?' Yeah, well, maybe," Rock says with a smile. "I really don't know. I guess I just tended to seek out something that had an edge to it, because that's what got me off."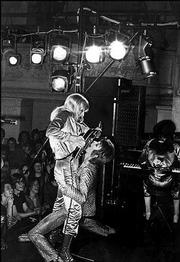 A new generation
Sitting at a small table in a Broadway diner, Rock's tousled hair rises above a pair of tinted sunglasses. He addresses the waitress, in his British accent, as "love."
Peeking above the unbuttoned top of his shirt is a small zipper scar, the remnants of a heart bypass that saved his life nearly six years ago; after the surgery, Rock swore off cigarettes and drugs.
"I lived the life," he says of his wild, pre-bypass days and nights. "As well as taking the pictures, I lived the life."
His recovery coincided with a renewed interest in his early photographs, leading to collaborations with a new generation of artists even as his old photos wound up in pricey coffee table books.
Among the new performers was "Saturday Night Live" star Jimmy Fallon, one of several bold-face names at the book release party for "Moonage Daydream."
Fallon is a huge Rock fan, going back to the photographer's 1974 cover shot for the album "Queen II." The photo, which Rock recalls as "sort of a knockoff of an old Marlene Dietrich shot," showed just the four-man band's faces � and lead singer Freddie Mercury's hands � lit against a black backdrop.
Fallon, after finishing his comedy CD "The Bathroom Wall," hoped to recruit Rock for the album art � although he was not optimistic.
"I figured he would say no, because I might destroy his image of cool," says Fallon, mock-fearful of the damage his boyish good looks could do to Rock's punk legacy.
The pair hit it off, and Fallon's CD arrived in stores with Rock's work included. At Fallon's request, Rock shot several pictures of the comedian in the famous Queen pose.
"You trust him immediately," Fallon says. "I trusted him within five seconds. I could have been holding road kill, and I would just trust that something cool would come out of it."
Art, or not?
Fallon is not the only hip act enamored of the Rock oeuvre.
"There's a vibe between me and the White Stripes," the photographer says of the cutting edge Detroit band. "The (New York-based) Yeah Yeah Yeahs � I was talking to them."
There was also talk about doing some work with for Kelly Osbourne, Ozzy's daughter and MTV star.
While Rock acknowledges much of his classic photography was a happy accident, he's not going to disabuse anyone of the notion that it's art.
"It's hard to talk about your own work as art," Rock says. "But if other people want to call it art, I'm not going to shy away from it.
"It tends," he continues with a laugh, "to raise the value a bit."
More like this story on Lawrence.com