Sunday, September 22, 2002
Los Angeles — After last September's unsettled Emmy Awards, organizers are welcoming a return to show business as usual. It's anything but, however, when it comes to the boldest pack of Emmy contenders yet.
And guess what � they have a real shot tonight at winning.
Sexy Jennifer Garner of "Alias," sizzling comedy star Bernie Mac and the deliciously morbid HBO drama "Six Feet Under" all may end up with Emmy gold.
"We'll see more new faces at the podium than at any time in recent history," predicts Tom O'Neil, author of "The Emmys" and creator of Goldderby.com, which tracks award predictions.
Watching the usually hidebound nominations loosen up is almost reward enough.
"Frasier," for instance, has earned its place in Emmy history as the most-honored program of all time but didn't earn a best-comedy bid (which would have been its ninth).
Instead, there was Hollywood justice and a nomination for the HBO comedy "Curb Your Enthusiasm," a gimlet-eyed look at life from "Seinfeld" co-creator Larry David.
Even more eye-popping was the nomination for Michael Chiklis of "The Shield" on FX. That's BASIC cable, not a highfalutin' premium channel.
Newbies won't snatch all the glory. This could be the year academy voters become friends of "Friends," finally giving the NBC sitcom a hug as best comedy series and maybe smooching two of its stars as well.
After viewing the episodes submitted by nominees, including some proving actors are not their own best judges, here are our calls in the major categories (also posted on Goldderby).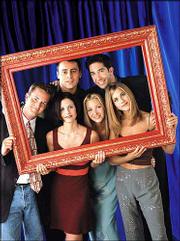 l Best actress, drama series: Energetic "Alias" star Garner roughs up bad guys, weeps over her slain fiance and confronts her father's duplicity while living a double life as a student-spy in the show's pilot. She also wins the Emmy over "Six Feet Under's" Rachel Griffiths and "The West Wing's" Allison Janne.
l Best actor, drama series: Peter Krause, in "Six Feet Under," carries his episode with a rich, comic-tragic performance that swerves between an accidental Ecstasy trip and a confrontation with Mr. Death. The Emmy goes to Krause, beating back the president of "The West Wing," Martin Sheen.
l Best actress, comedy series: Imagine this sitcom scenario � a hospital, a pregnant woman and all manner of zaniness before the baby finally arrives. OK, you don't have to imagine it because you've seen it, but Jennifer Aniston manages a fresh, tender take on the convention in an hourlong "Friends" that showcases her nicely. Nicely enough to pick up an Emmy over Sarah Jessica Parker of "Sex and the City."
l Best actor, comedy series: Matt LeBlanc as Joey mooning over Aniston's Rachel on "Friends" makes for a pathetic, sweetly funny and even subtle upset choice as the winner over Bernie Mac.
l Oh, best comedy and best drama? "Friends," which had to make a creative comeback in its eighth season to gain Emmy respect, gets the last laugh. "Six Feet Under" is the drama king because it digs deep with its characters and big-ticket issues of life and death, bringing cinematic-style glory to the small screen.
Back to business
Bryce Zabel, chairman of the Academy of Television Arts & Sciences, which organizes the Emmys, expects a livelier ceremony (7 p.m. on NBC with host Conan O'Brien) because of the strong competition.
What's missing is important, too: The terrorism fears that darkened and disrupted Emmy plans after Sept. 11.
"The big news last year was would we actually do the Emmys or not. This year, the big news is who's going to win it," Zabel said.
The 2001 ceremony was twice delayed, first by the attacks and then by U.S. strikes in Afghanistan. A subdued show was held Nov. 4.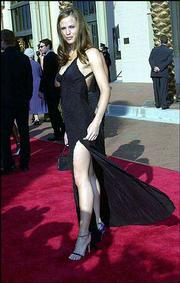 "My wife, Jackie, and I hit the red carpet and I turned to her and said 'I hope to God they don't ask me who's nominated because I've forgotten,"' said Zabel, then preoccupied with postponements and security.
Now, he says, "we're back to business," and forecasts an evening with full glamour restored and some new glitter, including Tom Hanks' presentation to Oprah Winfrey of the inaugural Bob Hope Award.
Getting smart, modern
The Emmy Awards can be seen at 7 p.m. today on NBC, channels 8 and 14 on Sunflower Broadband.
As for the new-breed actors and shows jockeying for honors, Zabel credits revised voting procedures.
Before 2000, winners were selected by "blue-ribbon" voting panels that gathered in a hotel for an isolated weekend of watching submitted episodes.
It was onerous duty and drew a small group of volunteers.
Then the academy got smart and got modern, mailing videocassettes for at-home viewing. The number of voters jumped from about 1,000 to an estimated 6,000 this year, more than half the academy's 11,000 members.
"Sort of like Florida radicalized people to realize that their vote counted, the changes we made kind of radicalized our membership and told them your vote really counts, so pay attention," Zabel said.
More like this story on Lawrence.com