Tuesday, September 24, 2002
Pro wrestler�s trial set in assault
San Antonio � A trial date has been set for the pro wrestling star known as �Stone Cold� Steve Austin, charged with hitting his wife earlier this year.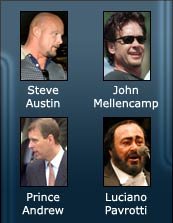 The 37-year-old from San Antonio, whose given name is Steve Williams, is facing a misdemeanor charge, assault causing bodily injury, stemming from a June 15 domestic disturbance at the couple�s home.
He is set for trial on Oct. 9.
Austin said Friday that he�s reconciled with Debra Gale Williams, his wife of two years. �We�re doing great, as a matter of fact,� he said.
Rockers headline Farm Aid
Burgettstown, Pa. � �Attention, shoppers. Attention, shoppers. Buy with a conscience, and save the family farm,� rocker Neil Young told the crowd at the 15th annual Farm Aid concert.
More than 23,000 people crowded onto a field Saturday southwest of Pittsburgh to raise money for small family farms.
Co-founders Young, Willie Nelson and John Mellencamp urged people to buy food from organic growers and farmers� markets, join groups that support family farms and pressure the government to support small farms.
Other artists in the Farm Aid lineup included Gillian Welch, Kenny Wayne Shepherd with Double Trouble and Dave Matthews, who joined Farm Aid�s board of directors last year.
Since 1985, when the concert series began in Champaign, Ill., Farm Aid has raised some $24 million.
Prince Andrew jokes with patriots
Philadelphia � Great Britain�s Prince Andrew made a visit to Independence Hall, kicking off a two-day tour of the Philadelphia area.
The Duke of York made the visit to launch the Jubilee International Education Fund, a program geared toward inner-city high school students. A dinner was Sunday at the Philadelphia Museum of Art to raise money.
He said he was pleased with the strong relations the United States and Great Britain now share, 200 years after the Revolutionary War, when America fought bitterly for its independence.
�I seem to recall that it was some time ago, just over 200 years ago, that Britain�s normally harmonious relations with this part of America went through a slightly sticky patch,� he said.
Pavarotti to become a papa
Modena, Italy � Luciano Pavarotti�s partner is four months pregnant with twins, the tenor�s spokeswoman said.
The 66-year-old opera star has been living with Nicoletta Mantovani, 32, since 1996.
His spokeswoman, Renata Meroni, was asked Monday if Pavarotti, now on tour in the United States, and Mantovani planned to wed.
She replied that when Pavarotti was asked about his marriage plans, he quipped, �We always talked about getting married to have kids, and now it looks like it isn�t really necessary.�
More like this story on Lawrence.com