Wednesday, September 25, 2002
Morristown, N.J. — A Miss America pageant judge was wrong to ask Miss New Jersey about her views on "The Sopranos," the contestant and some Italian-American groups said.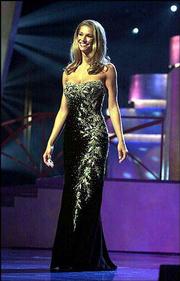 The judge asked Alicia Renee Luciano what she thought about the show during an interview segment of Saturday night's pageant in Atlantic City. The HBO drama focuses on fictional mob boss Tony Soprano as he juggles organized crime and his family life in suburban New Jersey.
Luciano, 19, answered that people shouldn't take television shows seriously, and that good parenting should offset violence on TV.
"It was a question that I don't think they would ask of anyone, other than someone with my background," she told The Daily Record of Parsippany for Tuesday's editions. The Byram resident is believed to be the first Italian-American to represent New Jersey in the pageant.
"I wasn't expecting that," Luciano said. "Everyone else was getting questions about how they felt about performance dance and the arts."
Several Italian-American groups agreed, calling the question insensitive and insulting. Miss America officials did not immediately return a message left at their office early Tuesday.