Saturday, September 28, 2002
Olumbia, S.C. — C Howard Comen spent a long, hot summer in New York on the trail of an elusive man � a man who has been dead for almost 45 years.
Comen, a private investigator, is trying to unravel the mystery of 1920s socialite Max von Gerlach, or maybe his name was Max Stark Gerlach.
He may have been a German baron whose family fled Europe during World War I. He may have been a bootlegger who used a car dealership and society friends to hide his ill-gotten gains.
Gerlach's story, like those of so many of his Jazz Age peers, may have simply faded away with time. However, some experts say, Gerlach was immortalized by one of his contemporaries, F. Scott Fitzgerald, in "The Great Gatsby."
Just how closely Gerlach resembled the character of Jay Gatsby � and just how friendly he and the author were � may never be known. But those details are what Fitzgerald biographer Matthew Bruccoli has been after for more than 30 years.
"He seems to be one of those '20s figures who led the flamboyant lives and couldn't cope with the 1930s," said Bruccoli, a University of South Carolina English professor. "He would be an archetypal '20s figure, if we knew enough about him."
Mesmerizing assignment
The mystery of Gerlach intrigued Comen when he met Bruccoli at the university's Fitzgerald Room.
"He said to me, 'How good a private detective are you?"' Comen said. "I said, 'Doc, I'm the best you've ever seen."'
Bruccoli offered to pay Comen for his research. But the private investigator, whose office is in Charleston, S.C., refused.
"I was kind of mesmerized," said Comen. "Here's this old man ... telling me how he searched for this guy ... how he couldn't find that much about von Gerlach."
Instead of a paycheck, Comen asked Bruccoli to look over some of the stories the investigator had written about some of his more interesting cases. "I said, 'Read it. If you like it, if it merits further study here or activity, I need an agent, a publisher and an editor,"' Comen said.
Comen began his search at the Mansfield Hotel in New York City, where a blind, pajama-clad Gerlach lived out his last days. He died in 1958.
It was during the 1950s that Gerlach approached a Fitzgerald biographer. In "The Far Side of Paradise," biographer Arthur Mizener quotes Fitzgerald's wife, Zelda, as saying Gerlach was the inspiration for Gatsby.
Bruccoli, who calls Mizener's refusal to meet with Gerlach "the heartbreaking hole in all of this," said calling any one person the basis for Gatsby may be a bit strong.
"Jay Gatsby is not a biographical figure," Bruccoli said. "Fitzgerald ... created a character from a variety of sources."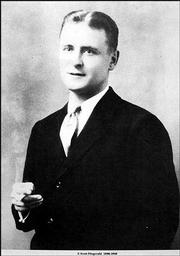 However, Bruccoli said, Gerlach was one of the figures who helped shape the Gatsby composite.
Gatsby's character � giving all for the love of a woman � was pure Fitzgerald. "All of Fitzgerald's heroes turn into Fitzgerald before the novel is over," Bruccoli said. But other traits � his mysterious past, his wealth � supposedly were based on Gerlach.
Evidence, Old Sport?
The investigator has a newspaper clipping with a note written on it: "How are you and the family, Old Sport?" It was signed "Gerlach," Bruccoli said. "This is proof positive that Fitzgerald knew somebody before he wrote 'The Great Gatsby' who was in the habit of using what has become the defining expression for Gatsby � 'Old Sport."'
Comen has found newspaper reports of Gerlach's failed suicide attempt in 1939. He has the paper clipping from Gerlach, sent to Fitzgerald in 1920. He has tenuous connections to German barons with the same name and to a family in Yonkers, N.Y.
One story has Gerlach being born in Yonkers, training as a mechanic, going to war and coming home to no money and a divorce from his wife. He became a bootlegger, threw lavish parties and mixed with high society that could have included Fitzgerald. He may have even been Fitzgerald's liquor source during Prohibition.
The most detailed accounting of a brief period of Gerlach's life comes from newspaper stories about his suicide attempt. The Long Island Star-Journal reported on Dec. 22, 1939, that von Gerlach shot himself in the head while visiting a woman friend in Greenwich Village.
"Police tentatively attributed the suicide attempt to 'financial reverses' saying that Gerlach lost his agency, Park Central Motors ... about a month ago," the paper reported.
The paper said the German consulate in New York City had no record of a baron named Gerlach and police said they knew little about his past and had no knowledge of relatives in the United States or elsewhere.
Several descriptions of Gerlach are reminiscent of Gatsby: "a retired army officer ... a military bearing ... an Oxford accent." Gerlach told an acquaintance he was a former German baron, had attended an English university and had been married, according to newspaper accounts at the time.
The descriptions, though, came after "The Great Gatsby" was published, so Gerlach could have begun mimicking some of Gatsby's character traits.
More like this story on Lawrence.com