Topeka — Inspired in part by historical art works, the famous jeweler and goldsmith Carl Faberge created scores of exquisite Easter eggs for the czars and czarinas of Russia.
Those Easter eggs have inspired a Topeka artist to create an 8-foot-tall replica that captures the spirit of "Czars: 400 Years of Imperial Grandeur," which will open at the Kansas International Museum on Oct. 15.
At West Ridge Mall on a sunny Sunday afternoon, Mark Lakin sat in a chair next to various hand brushes, airbrushes, an enlarger, a 1-liter coffee cup, a hair dryer, a Sony Digital-8 camera, a small toy robot, colored bottles, a small boombox, and six or seven of his own paintings � including one that almost could have come straight from Salvador Dali's playbook. Lakin smiled as he looked at his equipment.
"This looks kind of messy, but this is actually cleaned up," Lakin said, laughing. "You should have seen it yesterday."
The scene was dominated, though, by the 8-foot-tall fiberglass egg, one side of which shows blue sky tinged with pinkish haze, St. Basil's Cathedral, and a yellow brick road.
The other side of the egg features the double-headed eagle pendant of the czars. On this day, that centerpiece was still a penciled rendition on an easel. Since Aug. 18, Lakin has been working with everything from computer software to double-action airbrushes to an ordinary toothbrush to paint the egg for the Kansas International Museum's exhibition, which will be in the former Montgomery Ward store at the mall.
Two hundred and sixty-seven artifacts from the Kremlin Museum in Moscow will be on display, including two well-known Faberge eggs and a Faberge box.
Artistic skills
In addition to using his artistic skills and a photographic memory regarding colors and design, his work at West Ridge Mall has given him opportunities to interact with passers-by.
"This is kind of like giving back to the community, yet getting paid for it," Lakin said. "This has been the best experience of my life in Topeka."
Lakin, 49, said that it took three days to tear everything down in his studio � he is a freelance artist for Capricorn Graphics in Topeka � and set up his equipment at West Ridge.
Working from his own computer designs of how he wanted the finished egg to look, Lakin first made sure the egg was clean, painted white and sandpapered.
He painted on the base colors of the sky, then freehand-penciled St. Basil's Cathedral on one side, adding on landscapes, colors and detail, using water-based acrylic paints, then again sanding the egg until it became as smooth "as a baby's bottom," Lakin said.
The striking colors and detail of the egg derive in part from the blend of colors in the other paintings nearby. Lakin said that he uses those paintings to help him re-create the colors and blends that he wants.
The painting of the egg has taken Lakin about two weeks.
"I wanted to get the rustic and artistic look of St. Basil's," Lakin said, pointing to the structure on the egg. "I try to think like a photographer."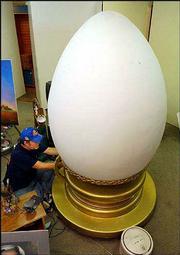 Russia and Kansas
St. Basil's Cathedral is the centerpiece of one side of Lakin's egg, but equally impressive is the detail and landscape of nearby objects � the yellow brick road, a patch of sunflowers next to it, a small blue lake, the sky, and a field of grain.
The effect, Lakin said, is to cause the viewer to take in each detail in a clockwise manner, with the centerpiece, St. Basil's, being accented. Betty Simecka, president and chief executive officer of Cultural Exhibitions and Events, the management team for the museum, said she liked the combination of St. Basil's and Kansas elements, such as the yellow brick road and the sunflowers.
"The yellow brick road blends perfectly the connection between Russia and Kansas," she said. "And regarding the sunflowers, that's another connection, because Russia has a lot of sunflowers."
The 8-foot egg and its painter are hard not to notice. "It caught my eye. It's wonderful," said Kimberly Forsman, a student at Haskell Indian Nations University. "You just don't see things like this."
'I am the egg'
Working with Lakin is his assistant, calligraphy artist Alex Pappas of Topeka. Although Lakin is accessible to the public at West Ridge Mall, there is so much work to do that Pappas takes on the responsibility of answering questions and explaining Lakin's czars egg and the upcoming exhibition.
Lakin's experience has spanned everything from custom painting of cars, to wall murals, to cartoons and caricatures, as well as space art illustrations for McGraw-Hill science textbooks.
Lakin has multiple sclerosis, but he refuses to let it defeat him. A major ally is his art.
"My biggest challenge is staying healthy," he said. "But when I'm with my art, I'm so mentally focused on the project at hand � I am the egg, I become the egg, I become the airbrush.
"As long as I stay in a certain mode, I can maintain and create art," he said.