OK, I admit it: I watch "American Idol."
After not seeing a single episode of the first season, this second installment has me hooked. And it took me a while to realize why.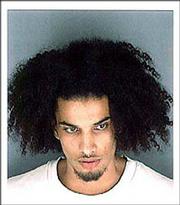 It's certainly not because of witnessing amateur talent sing over prerecorded tracks. Generally, the only thing that will drive me out of a bar faster than a gas leak is the threat of karaoke.
"American Idol" isn't really about singers; it's about music critics.
There are dozens of programs to be found within the 800-plus channels on cable that feature beautiful, young stars and starlets belting their mawkish hearts out. None except "Idol" tell them to their face exactly why they suck.
Imagine millions of viewers, a live audience and all your friends/family watching you perform some Eagles hit from the '70s. Then the dreaded trio of judges lays into you.
"You don't look like you belong up there."
"That was ghastly."
"You're a really bad singer." (All actual comments.)
During this, you stand bathed in bright studio lights, nodding with a glazed smile as the three condescending judges carve you up. Your hopes of escaping eternal anonymity by becoming a pop sensation are shattered -- a pawn to the merciless votes cast by millions of faceless viewers.
That, my friends, is entertainment.
The only thing left to improve the Fox reality show is when a bit of scandal is added to the formula -- especially one with a local connection.
Prior to this week's dual episodes, the nine finalists were pared down to eight without a single vote being cast. The reason was that Corey Clark, a 22-year-old vocalist from Topeka, failed to disclose his mounting legal problems to a show concerned with presenting squeaky clean contestants.
Clark faces trial in mid-April on a three-count misdemeanor complaint that he assaulted his little sister, then scrapped with four police officers while resisting arrest. According to the Kansas District Court prosecutor's complaint, police were called to the Clark family's Topeka home after neighbors heard screams.
The singer's 15-year-old sister, Alecia, was the alleged victim of his assault, and when officers questioned Clark, he apparently became combative. Officers responded by wrestling him to the ground, handcuffing him and hauling him away in a squad car.
Clark spent three days in the Shawnee County jail. He was charged with battery on law enforcement officers and his sister, and endangering a child.
Fox supposedly runs a background check on all contestants. But the network insists that a spelling error of Clark's name on the police report (Cory not Corey) led to the omission. (Never mind that he was also sued by a Topeka Wal-Mart in 2000 for passing $600 in bad checks. Perhaps his name was spelled wrong on that document also.)
Interestingly, while Clark was an early front-runner on "American Idol," one of the panelists provided a revealing comment about him.
British record executive Simon Cowell thought Clark displayed "an element of danger" that is perfectly befitting a pop star. Cowell, the most brutally honest of the three judges (who also include Paula Abdul and Randy Jackson), once again proved he's about 99 percent accurate when it comes to appraising talent.
Clark did project that elusive quality that none of the other eight could claim. He was charismatic and dangerous, confident but slightly off-balance.
In other words, he'd make a great celebrity.
America demands danger from its pop idols. Frank Sinatra, Elvis Presley, The Beatles, The Who, James Brown, Janis Joplin, Michael Jackson, U2, Madonna, Nirvana, Snoop Dogg, R. Kelly, Eminem -- all these iconic artists represent a threat, be it socially, politically, sexually or, like Clark, criminally.
In the grand scheme, Clark wasn't likely to win the competition. He certainly looked the part, with his Sideshow Bob hair and lanky frame. But despite a sweet upper register, the songs delivered in his lower range made him struggle like Peter Brady. Thus, any tune not specifically written for a eunuch or Michael Jackson became an aural disaster.
But voice is only half the part of being a Platinum-selling singer. Clark delivered the rest of the package.
By no means am I condoning or making excuses for his reputed misdeeds. I'm merely pointing out that if Fox's hit TV show is genuinely about "the search for a superstar," then they should pick somebody who fits those shoes -- or prison fatigues, for that matter.
Otherwise, were it not for Cowell's venomous commentary, wading through these final eight contestants might prove as dull as watching karaoke performed at a church camp.