San Juan, Puerto Rico — Bobbing to hip-hop and reggae beats, Latinos in baggy jeans and oversized shirts pack a San Juan outdoor disco, hungry for the newest grooves.
"This is our music, the music of our generation!" shouts 24-year-old Julio Gonzalez over the thump of scratchy speakers.
A decade ago, people his age would have been gliding to the rhythms of salsa. But across Latin America and the Caribbean, many young people are turning their backs on that tradition.
Salsa parlors in Venezuela and Cuba are packed with middle-aged couples and tourists, while discos are crowded with college students dancing to Busta Rhymes and Ja Rule.
"I almost never listen to salsa music or traditional music like that," said Alfredo Murillo, 23, a student browsing at a music store in Caracas, Venezuela. "I think it's because of the influence of TV. I watch a lot of MTV, and it's the same for many young kids."
In Nicaragua, disc jockey Orlando Mendoza of Radio 1 says 8- to 23-year-old callers aren't asking for salsa. "We can't explain the phenomenon, but I think it's because the quality of tropical music is fading," he says.
Salsa is not dead. Some Latin youth are still listening to old stars such as Willie Colon, El Gran Combo and Sonora Poncena, who laid the foundation for the bands of today.
But most -- mesmerized by music videos and eager to keep in step with their generation -- are listening to major U.S. acts such as Eminem, while many are taking old-school salsa and revamping the sound to make it their own.
Merging styles
The process is not unlike what New York's Puerto Ricans and Cubans did in the 1930s when they created salsa by reworking old Cuban rhythms.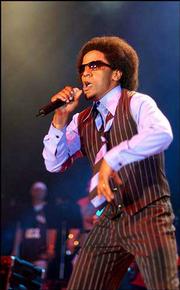 Leila Cobo, chief editor of Latin music for Billboard magazine, says salsa and merengue are losing popularity as more people listen to hip-hop and reggae.
Pointing to the best Latin rap album -- a new category in the annual Billboard Awards -- Cobo says the hybrid market is growing among Latinos in the United States and its Spanish-speaking Caribbean territory of Puerto Rico.
Latin music sales in the United States increased from $260 million in 1995 to $608 million in 2000, according to the American Federation of Musicians, but it's unclear what the breakdown is for different types of Latin-derived music.
Latin rap, for example, has soared in popularity with an explosion of rappers parlaying their Spanish in music videos. Reggae in Spanish has also taken off, competing with the English-language version.
"Rap is a genre that can be fused with different musical expressions," says Tego Calderon, one of the hottest acts in Puerto Rico. "We do it with bomba and salsa, with my DJ and a live band."
Calderon's debut album, "El Abayarde," has sold more than 100,000 copies since its December release in Puerto Rico -- a huge number for this island of 3.8 million.
The 30-year-old singer laces salsa and Puerto Rico's bomba rhythms of African ancestry with hip-hop beats to deliver songs filled with local lingo and references to old-school acts, such as the great Ismael Rivera.
Making 'something new'
Puerto Rico's Cultura Profetica, Puya and Superaquello have taken reggae, hard rock and electronica and fused it with salsa, Latin jazz and Afro-Caribbean rhythms.
"That's the way salsa used to connect with the past, and that's what these groups are doing now," says University of Puerto Rico professor Juan Otero. "You take tradition and make it into something new."
Superaquello -- influenced by Stereolab, Talking Heads, Brian Eno and salsa's Cortijo y su Combo -- is known for its mix of acoustic and electronic sounds.
Puya takes salsa and pumps it up with hard-rock riffs, a Puerto Rican version of the Red Hot Chili Peppers.
"When we started, most of the local rock bands were imitations of American bands," says Puya's bassist Harold Hopkins. "You can do good music with our elements, giving emphasis to what we are as Puerto Ricans."
For their part, the Red Hot Chili Peppers are turning to Latin music for inspiration.
"We love the energy we get out of Latin American audiences. They really dance," lead singer Anthony Kiedis said on a tour stop in Venezuela last year. He said the band plans to produce Spanish versions of its songs.
In the meantime, Latinos are content with their own creations.
"I love this music," says Mayte Rodriguez, 25, at an outdoor concert by Cultura Profetica, the Puerto Rican reggae group. "It makes you want to move and just dance."