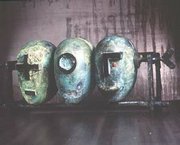 Three gently sloping curves converge and extend upward into a wishbone shape from which four rib-like wooden bars float. This is where the sheet music would sit if one were to use this one-of-a-kind, handcrafted wooden music stand with its function in mind.
But the form is so undeniably elegant that it reads more like a work of fine art.
Two rooms away in the same gallery, a trio of corrugated rice paper lamps angles up from the floor, waving back and forth at acute angles, emitting a warm glow. A designer's mark is clear, but these objects look familiar. That's because they're mass produced and could be found lighting the corner of any living room in the world.
But an artist -- or was it a craftsperson? -- designed the first one.
Therein lies the ambiguity this new exhibition at the Spencer Museum of Art attempts to explore. "Defining Craft I: Collecting for the New Millennium," the first in a series of exhibitions on this theme from the Museum of Arts and Design -- formerly the American Craft Museum -- in New York, investigates the changing definitions of craft and craftsmanship through the past 50 years. It will be on view Saturday through July 6 in the museum's Kress Gallery.
In many ways, the exhibit's 107 pieces in glass, metal, clay, fiber and wood attempt to provide visual answers to what essentially is a question of increasingly blurred semantics. What's the difference between art, craft and design? Artists, craftspeople, designers? Is there artistic integrity in a well-crafted functional object? One that's beautiful but also widely available?
Friday, April 11 through July 6"Defining Craft: Collecting for the New Millennium"
Kress Gallery, Spencer Museum of Art, KU Campus
Special events ::
April 21, Paul Greenhalgh, president of Nova Scotia College of Art and Design, Hallmark Symposium speaker, 6 p.m., Spencer Museum of Art auditorium.
April 24, Tour du jour, Spencer curator Susan Earle, 12:15 p.m., Kress Gallery
April 24, "The Condition of Craft," lecture by Glen Brown, associate professor of art history, Kansas State University, 7 p.m., Spencer Museum auditorium
"One of the reasons we took this show is that it acknowledges the history of some of these terms but then starts to break them down," says Susan Earle, curator of European and American Art at the Spencer. "Craft, both historically and more recently, is perhaps somewhere between art and design. They're items that can be used as functional but are known for having a level of visual appeal that elevates them above the level of the salt and pepper shakers most of us have on our table."
An age-old debate
Modern ideas about craft emerged in the 19th century, when Englishman William Morris and his contemporaries initiated the Arts and Crafts Movement in response to industrialization and mass production.
"William Morris and people in his circle thought, 'This is going to be the last of people living with handmade objects,'" Earle says.
Rapid technological developments in the past century, though, have enabled artists to alter the processes by which they create their work. A metalsmith can design a piece of jewelry on a computer and spit out a perfectly scaled resin model from which innumerable replicas can be cast.
There is intense disagreement in the creative and critical communities about whether that's a good or a bad thing. The exhibit doesn't make any judgments. Instead, it divides the work, on loan from the Museum of Arts and Design's permanent collection, into four sections: confirming, challenging, enriching and expanding.
The first, confirming, includes the earlier-described music stand by Wendell Castle, a 1961 Kansas University alumni and Emporia native, who at 70 continues to create sculptural furniture in his upstate New York studio. Confirming examines traditional values inherent in craft, such as skillful construction and respect for material. The section also includes quilts and a whimsical tea service made by legendary potter Beatrice Wood.
The second section, challenging, looks at the increasing recognition after World War II of the status of craft as an art form. It features works by artists who abandoned function in favor of the act of creating and includes abstract glass sculpture, as well as jewelry and furniture that are art rather than functional.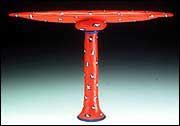 Susan Earle, curator of Eurpoean and American art, Spencer Museum of Art




The third section, enriching, focuses on technical innovation and includes both intricate coil-built pottery by Native American artist Richard Zane Smith and colorful glass by Dale Chihuly. The final section of the exhibition, expanding, questions the boundaries of craft and looks at developments in technology and society that are changing the parameters of craft today. That's where those mass-produced lamps reside.
Blurring boundaries
The exhibit seems particularly appropriate at Kansas University, where the School of Fine Arts splits the art and design departments into separate units. Disciplines like ceramics, metalsmithing and textiles are grouped with industrial and interior design in the design department; painting, drawing, sculpture and printmaking fall on the art side. It's been that way since 1920.
Though some faculty, past and present, tend to harp on the distinction and assign superiority to one side or the other, Lin Stanionis, KU associate professor of design, says she doesn't see that debate trickling down much to the student level. She's excited about the possibilities the exhibit will bring to her teaching.
"For our students to have actual contact with work of that caliber ... is an invaluable experience for them," she says.
"The work in this particular show, there's a range. There are people who are working more traditionally with craft materials and craft processes, and then there are others who are really pushing the boundaries of what it means to be a craftsperson and the value of a craftsperson in society now. I think students are fascinated by the material and the process and working with their hands, but they don't know what it might mean for their future. I think these things help them understand that there is a place for craft practices."
Castle is proof of that. He's also a living, working example of one artist who embodies all four perspectives presented in "Defining Craft." His pieces blur the line between furniture and pure sculpture. He shows work in sculpture exhibitions, and in a business venture he considers completely separate, he has designed and sells a line of furniture, the Wendell Castle Collection, at fine dealers across the country.
"I had the advantage of coming from a fine arts background. I thought like a sculptor. When I began to be involved in craft activities, that way of thinking did not change," Castle says during a phone interview from his New York studio. "I thought furniture could be sculpture almost from the beginning. It set me apart from other people doing furniture."
He recalls the music stand featured in "Defining Craft" as one of his earliest pieces that got any significant recognition. These days he characterizes himself as someone who's more concerned with art that makes a statement with "very little regard for the importance of function."
So goes the evolution.
No matter where things are headed, though, Earle hopes there will be a diverse audience for the exhibition.
"The idea of something having the trace of someone's hand -- that idea for many of us becomes increasingly remote. As a result, many of us crave it more than we might otherwise," she says. "To remain well-educated in the visual realm, we need to continue to look at and study real objects."
More like this story on Lawrence.com