Baldwin — Summer vacations groomed Baldwin artist Michael Johnston's interest in photography.
His father was a professor, which opened summers for traveling. And Johnston never left town without a camera -- and lots of film.
"I found myself taking images that probably would not have been any kind of award-winning compositions but definitely looked at things in a different kind of manner," he says. "I wasn't afraid to waste film trying different, unusual angles of the same thing."
The hobby stuck. Johnston ended up taking a photography class his junior year at Baldwin High School. As an art student at Baker University, he was interested in ceramic sculpture, but found himself continually coming back to photography. He finally settled on the medium at Pittsburg State University, where he completed his master's thesis on historical approaches to the art.
Now, he makes his living teaching young people at Blue Valley High School in Stilwell how to shoot pictures. And when he's not teaching, he totes his 4-by-5 view camera to picturesque locales across the country and around the world to document nature and humanity through his own lens.
His goal is subtlety.
"I think sometimes if too much is in the image, then we don't think about it, we kind of dismiss it. We tend to move on to images that we want to know more about," Johnston says. "Even in landscape. I think you can show too much in a landscape, where it becomes a pretty picture and it's not so much about composition. It's not so much about seeing, color or the feeling that you get from the image.
"Of course, hopefully they're pretty pictures, too."
Johnston's photographic interpretations of the world will be on view beginning Friday at Baldwin's Art Affair, a professional art gallery run by Baker University students.
Natural forms
Almost all the prints will be 16-by-20 inches or larger. Most are in color, though a few are in black and white. Nature tends to be the subject matter in most of the work.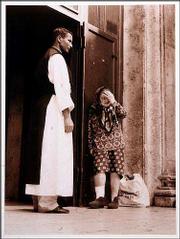 "I kind of grew up in more of a rural kind of setting. My father was a physics professor, but he also had a farm. I grew up being outside a lot," says Johnston, 35. "I grew up very interested in nature, being outside. I didn't have much of a city background. I think that may be why I've always looked to natural forms more than geometric kinds of images."
In one monumental shot of a slot canyon in Page, Ariz., sunlight floods into the narrow fissure, reflecting burning orange off the high points of the canyon walls. Cool shadows rule the low areas. Most of the images in Johnston's Baker show were snapped in Arizona and Utah.
A few also were created in Italy, Greece and the Greek Islands. One black-and-white photo shows an Italian shopkeeper who has stepped outside momentarily to stare at a short, wrinkled homeless woman who wants to come inside. The elderly woman's hand partially shields her face; it seems she doesn't want her picture taken. The street scene looks old-world, but it was taken within the past year on a school photography trip.
Johnston's teaching job also has sent him to Greece, France, Germany and Switzerland with his students.
'Where I'm going'
Despite being well-traveled and a prolific producer, Johnston hasn't shown his work much, aside from an exhibit at the Kansas City, Kan., Public Library and a gallery in Fredonia.
"It really hasn't been important to me. I get static about that all the time. I have people who try to push me to get my work out there more," Johnston says. "I really enjoy teaching, and I do what I do basically for myself. I've never really put focus on doing images for other people."
What: Photographs by Baldwin artist Michael JohnstonWhen: Friday through May 18. Opening reception 6 p.m.-8 p.m. Friday.Where: Art Affair, 622 High St., BaldwinGallery hours: 2 p.m.-6 p.m. Tuesday-Friday, 9 a.m.-noon Saturday
Eventually, though, he says he might like to publish a photography book or two.
For now, he's content teaching his art and reveling in the process of composing images with his camera and then revealing them on paper in the darkroom. So far, he's resisted the move to digital; a separate instructor teaches digital imaging at Blue Valley.
"There are people who continually tell me that conventional photography is going the way of the dinosaurs," he says. "I don't feel like I'm as much a part of the process when I do that. I just don't get the satisfaction from doing that. I enjoy the process."
He doesn't foresee a time when he won't take pictures.
"I think at the very basic level, it is kind of a way for me to feel like I can express myself," he says. "I feel good about it because I feel like it's something I can be successful at. It's a way for me to preserve some of the things that are important to me. It's a way for me to know where I've been and help me see where I'm going."
More like this story on Lawrence.com