Madalyn Simpson is 80. She has a tremor that comes and goes. Her vision is deteriorating. And most of the time she is plagued by a constant ache from her hands up to her shoulders -- a droning reminder of her chronic arthritis.
But on Monday, Wednesday and Friday afternoons, Simpson makes her way to the activity room at Pioneer Ridge Retirement Community, discards her walker and takes a seat in front of the room's west-facing window, where sunlight pours in and her easel and canvases await.
She chooses a brush, loads it with lavender acrylic and begins to paint an open iris.
A strange thing happens: Her pain fades.
"I can just forget that I have arthritis real bad and it's bothering my shoulder and my arm. I can go ahead and paint. It's a soothing effect," Simpson says. "Everybody says, 'How do you paint when you have arthritis?' because my wrist is real stiff, but I can, if I get it right at the angle that I can work on the subject that I'm wanting to paint.
Most often that subject is flowers; irises and daffodils are her favorites. She has created a dozen new paintings since moving to the West Lawrence retirement community seven months ago.
Those and a few of her earlier works are on display in the center's cafeteria, along with paintings by two other residents: 89-year-old Jane Shepherd and 80-year-old Hazel Richardson.
Brightening people's lives
Of the three artists, Simpson is the only one still working and the only one with formal training. She's been painting since she was in sixth grade at a Kansas City, Kan., school where her art teacher taught her and her classmates to use pastels.
"I just loved it right away," she recalls. "I was taken by it, and I thought, 'Oh, that's so much fun.' From that, I went on to other things in junior high. I went on to water colors and oil paints. I painted during my high school years. My grandparents had me take private lessons from an artist there in town (Ponca City, Okla.) I went to college, and all my elective hours, when I could take anything I wanted, I took an art."
She combined her love for the arts and children into a 22-year career teaching kindergarten in Kansas City. Art was one of her favorite subjects to teach because the children responded to it so well.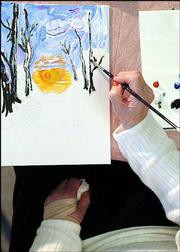 "Every time I moved to a different school, I always painted a clown picture to put up in the kindergarten room because they loved clowns so much and the colors are so bright," she says.
Simpson continued to paint while she taught, though not as much as she had when she was a student at Indiana University, where she met her husband, Walter. (He still lives at the couple's Lawrence home and gets visits from his wife once a week.)
"I picked it up again later in our lives," Simpson said of her art. "I never showed it anywhere. I've just given it away mostly. It makes wonderful gifts. People usually like them."
And she likes the thought of her paintings gracing her friends' and family's walls.
"I think color brightens people's lives immensely, and I think that's what it does in your house, brightens up your house and makes it more beautiful," she says.
More than just painting, the arts in general have been an outlet for Simpson. She used to play the piano, though she can't quite manage anymore. She sings soprano in the Pioneer Ridge choir and enjoys listening to music when she paints.
"She likes Natalie Cole," says Tammy Klinedinst, activities director at the retirement community.
She also likes Vincent Van Gogh, particularly for his use of brilliant colors. In fact, her tiny reproduction of Van Gogh's "The Starry Night" is hanging with her other paintings in the show. Claude Monet and his impressionist contemporaries are among her other influences.
An aging artist
Simpson was born Dec. 20, 1922, and was raised by her grandparents from a very young age. She knew her father only vaguely (he and her mother were divorced), but among her possessions is a painting he did of a deer crossing a road in a wooded setting.
"I treasure that," she says.
Her grandmother was another source that sparked her interest in art.
"My grandfather was a businessman, a banker, and he didn't take any stock in art. But my grandmother did. She had been a great china painter," Simpson says. "She had her own set of dishes that she had painted. I think that kind of rubbed off on me. I loved that."
Not so with her own children, none of whom do artwork.
"I didn't inoculate them enough," Simpson says, giggling. "I spent all my effort on my grandchildren when they came along."
Most of Simpson's paintings are bright and cheerful. But the largest one on display at the retirement center shows giant crimson and purple flower abstractions -- some reflecting light, others shrouded in almost-black darkness.
"I painted that at a time when I was very depressed," she explains. "My daughter had run away, and I was very nervous about her and upset about her. I painted this picture of the darkness I felt in my soul at the time and the light that came into my life when she came back again."
Simpson can't imagine not being able to paint, but she's realistic about the challenges of growing older and continuing as an artist.
"Right now I would say that besides my arthritis, I have a lot of trouble with my eyes. I have a lot of blurred vision," she says. "My challenge is to get treatment for that so that I can stop the blindness that might come to me."
'I miss it'
Shepherd and Richardson, the other two Pioneer Ridge residents with art on display at the center, no longer work. Shepherd, who gets around in a wheelchair, got rid of her supplies when she moved to the home in January. Richardson just isn't up to working these days; she has trouble remembering creating the paintings at all. But both women were once quite fond of their hobby and have enjoyed seeing their work on the cafeteria wall.
Shepherd started painting in the 1970s with a group of local women.
"I just decided that it looked kind of fun and people were doing it so I thought I'd try," she recalls. "A lady in town was giving lessons, so I started in and that was it."
She enjoyed setting up at her family's farm in Oskaloosa and painting natural scenes with the farm buildings off in the distance. It brought her peace.
"I just relaxed and forgot everything," she says.
She gave all her paintings to her three children and six grandchildren as gifts.
Richardson began painting with two friends from her church and said the pastime added a new dimension to her life. Her canvases are filled with scenes of wagons crossing the prairie and ships on the ocean. Seeing them on display, now that she is no longer working, makes her smile.
"It's very nice," she says. "They make me feel glad I was able to do something. I miss it."
More like this story on Lawrence.com