UBI Soft never said it was going to REMAIN an Xbox exclusive.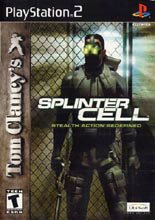 Splinter Cell, one of the highest rated games of 2002, makes it's way to the Nintendo Gamecube and Sony Playstation 2 this week, five months after the Xbox version. You take the role of Sam Fisher of the top secret Third Eschelon and embark on many action packed stealth missions.
PS2 owners can expect more levels than both the Xbox and Gamecube versions. Gamecube owners with a Game Boy Advance can link up and get extra maps and a new secret weapon that is obviously not available on the Xbox or PS2. Also consider that the PS2 version's graphics are terrible in comparison to the Gamecube and Xbox's more powerful graphic hardware.
Both versions are out and have an MSRP of $49.99.