Tacoma, Wash. — Architect Antoine Predock had a complaint about the weather during a recent visit to this Pacific Northwest city's new art museum: It wasn't raining -- again.
"I don't even carry a raincoat up here any more," Predock, who designed the Tacoma Art Museum's new 50,000-square-foot home, said in mock exasperation.
Rain would show off the building's stainless-steel exterior, which gleams a muted silver. The material is intended to complement Tacoma's gritty industrial core and the region's famously cloudy skies.
The building itself frames Mount Rainier, which Predock prefers to call by its Indian name, Tahoma, citing "the poetic power of the word." Like the mountain, which appears and fades depending on conditions, Predock envisions the new museum as a building "that dissolves into the sky."
The new museum -- the latest step in blue-collar Tacoma's renaissance -- opens to the public with a 24-hour party that begins Saturday evening and carries on until dusk May 4 with two rock bands, yoga at dawn, gospel music, jazz and a downtown bed race.
Glass master Dale Chihuly, a Tacoma native, celebrates the opening in the museum's largest gallery -- 4,200 square feet -- with a vivid, tropical garden of glass called "Mille Fiore," his wild take on the Italian glass tradition of "a thousand flowers." Elements of the site-specific work range from 6 inches to 25 feet tall.
More traditional art-lovers can steep in a selection of paintings and drawings by Northwest masters Morris Graves, Mark Tobey, Kenneth Callahan and Guy Anderson called "Immeasurable Spaces and Incalculable Energies."
Rounding out the thoroughly regional focus is an exhibit of recent gifts called "Building Traditions," which includes works by painters Faye Jones and Dennis Evans, both of Seattle; Portland glass artist Michael Brophy; California photographer Imogen Cunningham; longtime Northwest photographer Mary Randlett's insightful, candid glimpses of artists including Jacob Lawrence.
Connections to place
The spacious galleries have windows in surprising places, all keyed to views of Tacoma's "industrial landscape" -- a glimpse of the nearby marina, a peek at the mountain, the fortresslike underpinnings of the freeway and a nearby bridge.
"It's so essential to me to have these connections to place," said Predock.
The $22 million facility should be the last stop for the institution founded in 1935 in a spare room at the University of Puget Sound. It has occupied several downtown spaces since -- in the old city jail, a storefront between a Bible store and a liquor store, and, since 1971, a dignified but cramped former bank building.
The new site includes room to grow, said Executive Director Janeanne Upp.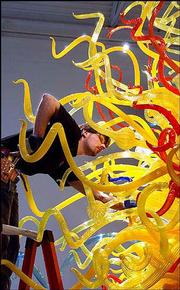 The rooms are subtly irregular due to their spiral array and the building's sloping roof. They're united by white walls and a muted-black cement pathway.
The museum's four galleries are wrapped around a courtyard, surrounded by mirrored two-way glass and open to the sky -- a storeroom of natural light that spills into the galleries spiraling around it.
On the floor of the courtyard is a heaving sea of stone, with a cresting 7-foot wave at the corner marking the entrance to the galleries, a hushed counterpoint to another permanent installation: a wall of Chihuly glass.
A jigsaw puzzle
Seattle stone artisan Richard Rhodes designed the courtyard in Chinese granite that was hand-chiseled five centuries ago into 24-inch-square blocks for a road. Over the past 500 years, the crystalline surface has been worn to a soft patina by animal and human traffic in the Pearl River Delta in southern China.
"They have this fantastic texture ... you get almost a sheen to the stone from the wear," Rhodes said.
Each piece was trimmed for the sculpture using a computer-generated paper template. The work was preassembled alongside a rice paddy in China, and then numbered, color-coded by section and packed up for shipping -- a blend of 16th-century stone, 18th-century handcraftsmanship and 21st-century information technology, Rhodes noted.
"This is a 700-piece, 60-ton jigsaw puzzle -- you don't want to get it out of order," he said with a smile.
A visitor walking through the galleries -- "up to the mountain," as Upp put it -- winds around the courtyard to a second-floor concourse above the lobby, with Mount Rainier on the left. To the right, on the street side, are glass-walled classrooms, a resource center and work spaces.
More like this story on Lawrence.com