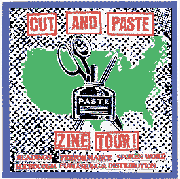 Most zines have a provincial audience at best. So a quartet of zine authors have decided to spread their message across the nation -- the old-fashioned way.
"A lot of the people that we know around here in Portland (Ore.) are talented writers, so we thought we could take the show on the road," says Joe Biel, organizer of the Cut and Paste Zine Tour. "We figured we'd do a little exploration and outreach."
Biel and company are engaged in an 18-city trek from Oregon to Massachusetts that will deposit them in Lawrence on Tuesday. His group features a real microcosm of writers ... literally. All of the artists are part of Microcosm Publishing, a Portland-based company that works exclusively with zine creators.
"The beauty of what we do on the tour is that it appeals to teenagers the same way it appeals to senior citizens," says Biel, who owns and operates Microcosm. "So we get these VERY diverse audiences. That really rewards me, because a lot of times I feel the problems with activities or communities like this is that they're so insular and single-minded that they don't have that flexibility."
Adapting a zine -- the blanket term for any type of independently produced print publication -- into an audience-friendly presentation is not always easy. Biel and cohorts Alex Wrekk, Dave Roche and Josh Browniekid use various tactics when approaching their live shows.
Past Event
Tuesday, August 12, 2003, 7 p.m.
Grimshaw Gallery, 731 New Hampshire, Lawrence
All ages / Free
"We all do slightly different things," he explains. "Alex has a skill-share book called 'The Stolen Sharpie Revolution.' She also writes more of a personal style prose that she reads from.
"Dave is a substitute teacher. He doesn't exactly do readings, but he'll tell stories from working with developmentally disabled children. He's very uplifting and comedic about it." (His ongoing zine is called "On Subbing.")
"Josh is more slam-style. He's very animated and moves quite a bit. He talks about the relevance of brownies from like a radical standpoint." (He's also known for incorporating Tae Kwon Do board breaking into recitations from his latest "Zen and the Art of Brownie Baking.")
As for Biel, he'll present his two latest works, "CIA Makes Science Fiction Unexciting," about the culpability of government agencies in the assassination of Martin Luther King; and "The Perfect Mix Tape Segue," which he describes as a personal narrative about honest communication.
"'The Perfect Mix Tape Segue' is about me in an instance where I was having a crisis where I doubted my self-worth," he reveals. "It talks about me communicating with my friends and finding out how to best deal with that."
Biel reveals that reinterpreting the material in front of an audience helps him find deeper meaning in his own work.
"I get part of the therapy by talking to people about this in other towns," he says. "Because every time I've done it people will come up and have stories to relate."
Neighborhood message
Microcosm first launched in 1996. Biel originally conceived the business as having an underlying platform of "connection."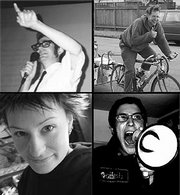 "We started out because we didn't feel there were enough outlets for doing things like that in our own community," he says. "We had a lot of talented friends who were so much of a creative mind that they didn't know how to get their projects out there. They would make them and they would just sit there and stagnate. We felt like we could help get them out there."
This neighborhood standpoint has allowed his stable of authors to develop fan bases beyond the Pacific Northwest. In fact, it was a Microcosm connection that led Biel to schedule a tour stop at Lawrence's Grimshaw Gallery.
"Someone who regularly mail orders from us lived in Lawrence and was very willing to help set things up," he says.
While the tour does not generate much money at the door -- the majority of the appearances are free admission -- it permits the artists to further expose their work to the public. Biel actually carts his company's entire catalog on the journey. Like a rock band that subsists on T-shirt and CD sales, so too does this group of writers while on the road.
Packed into a four-door sedan with boxes of product, the quartet will make its way to a bevy of different bookstores, art galleries, libraries and symposiums while traversing the U.S. But for Biel, it's not the venue that matters so much on the Cut and Paste Zine Tour.
"I've met a lot of my current and former pen pals from doing these shows," Biel says. "The highlights for me are always meeting people."
More like this story on Lawrence.com