Thursday, August 14, 2003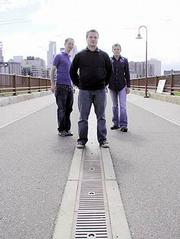 Few musicians are comfortable with the term "side project."
It often implies a half-hearted attempt for artists to stave off boredom by delving into musical styles they wouldn't normally explore.
But occasionally a side project takes on a life of its own.
Matt Pryor -- frontman of Lawrence's most successful indie rockers The Get Up Kids -- is already making waves with his offshoot pop group, The New Amsterdams. Pryor is in the midst of a month-long tour that reaches both coasts in support of the act's just-released album "Worse for the Wear."
But his side project accomplished something last week that no other Lawrence band has: It performed as the musical guest on "The Late Show with David Letterman."
"We found out the night before that we would be playing," says Pryor from a hotel stop in Elkton, Md.
"It was a bit of a (mess) because they were like, 'Yeah, we don't want the whole band. We want you to play by yourself, but we don't want a slow song.' It was like, 'Okay, that really narrows it down.'"
For his impromptu acoustic experiment, Pryor picked the new album's opening cut, "The Spoils of the Spoiled." But after working up a version he was comfortable with for the Aug. 8 airing, the CBS suits threw him another curveball.
"We're supposed to sound check at noon, and at 11 a.m. they're like, 'Well, you can't just play by yourself. You need to have at least one more person!'"
Unfortunately, the rest of his touring bandmates -- guitarist Jay Russell, drummer Bill Belzer and Get Up Kids bassist Rob Pope -- were scattered throughout New York and couldn't make it to the studio in time. So Pryor recruited Lawrence cohort Alex Brahl to join him on keyboards. Brahl currently works for the band's management company and had already filled in on guitar and piano for a few of the Amsterdams shows.
Problem solved ... except for the song's lyrics.
Pryor was told that the line "goddamn these idle hands" would have to be changed.
"You can either say 'God' or 'damn' but not 'goddamn,'" Pryor recalls of the network's edict. "So I just said 'damn.' But it kept (screwing) me up, because I had to go '(pause) ... damn.' It was like, 'Great, I'm not playing with the band. I'm playing on TV, and I have to remember not to swear. I'm going to RUIN the song.'"
Fortunately, the performance turned out fine. And Pryor now has the distinction of having conquered two networks on his quest for late-night TV dominance. (The Get Up Kids also appeared last year on "Conan O'Brien.")
So how does the singer-guitarist juggle fronting two bands that find themselves in the public spotlight so often?
"There are a lot of days in the year," he says. "I don't see why there wouldn't be room to do all sorts of stuff and do the kind of music you want to do. It's just a matter of balancing it."
'Indie vet in reflection'
"Matt has so much songwriting going on in his head all the time that he really needs a second outlet like this," says producer Ed Rose, who not only recorded "Worse for the Wear" but also served as the Amsterdams' second guitarist.
"Matt's really good at separating what is Get Up Kids stuff and what is New Amsterdams. The New Amsterdams stuff tends to be a little bit more stripped down, a little less rockin,' a little less aggressive."
The pair began crafting the Amsterdams' third album last December at Black Lodge Studios in Eudora. Pryor and Rose co-own the facility, along with Get Up Kids members James Dewees, Jim Suptic, Rob Pope and Ryan Pope. The Pope brothers also functioned as the Amsterdams' rhythm section.
The home-turf familiarity led to a recording environment that Pryor describes as "way more laid back" than on previous projects.
The album hit stores Aug. 5 and was released on Vagrant Records, the same label to which The Get Up Kids are signed. So far, the reviews have been overwhelmingly positive. Rolling Stone wrote that Pryor's effort, "bears the distinct sound of an indie vet in reflection. With a heavy heart, he sprinkles in couplets for past lovers and corner bars over cotton-soft rock tracks that breathe and shimmer."
Rose says, "The critics have all been really into it so far. I didn't know how they were going to react because it's nothing like Matt's records. I was glad to see positive reviews, but that doesn't necessarily translate into people running out and buying it."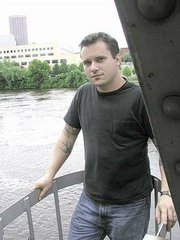 For Pryor, the thought of The New Amsterdams eclipsing the fame of his main band is somewhat comical.
"It's just sort of another outlet," he explains. "There's a little bit of the vanity project (aspect) because it's all mine. Whereas The Get Up Kids are a democracy, this is a dictatorship. It serves a different purpose. I can't get the same thing out of this that I can get out of The Get Up Kids, and I can't get the same things out of The Get Up Kids that I can get out of this."
Escape from home
Since moving from Kansas City to Lawrence three years ago, Pryor has observed a significant boom in the town's music scene.
"I certainly feel like it's healthier than the Kansas City scene ever was," he says. "That has a lot to do with the availability of venues and the new blood that comes in every year with the college. But I wasn't even aware of how many bands there were until Lawrence.com started up. Then I was like, 'Oh my God, there are a million bands here.'"
He does notice, however, that many of his peers have a penchant for getting a little TOO cozy the longer they remain in the city.
"Lawrence's music scene is very creative and very vibrant but never tends to leave Lawrence," he explains. "We were talking about trying to kidnap Danny Pound (and get him to) play for other people. It's such a comfortable and fun place to live, and it's so easy to live there that a lot of people become professional townies. They're perfectly happy playing at the Tap Room. It's weird to me that people like Danny Pound and Arthur Dodge are amazing songwriters and nobody's really heard them."
Past Event
Sunday, August 17, 2003, 7:30 p.m.
Bottleneck, 737 New Hampshire, Lawrence
All ages / $8
Luckily, Pryor and his Get Up Kids comrades do enough national touring to make up for the city's more reclusive musicians. In fact, while Pryor and Rob Pope are busy with the Amsterdams, Dewees and Ryan Pope are touring on the East Coast with their side project, Reggie and the Full Effect. In the meantime, Suptic is holed up at Black Lodge with Rose hammering out Kids guitar parts while beginning pre-production on his own solo tangent.
Whether it's with his primary band or a side project, Pryor emphasizes that the vehicle isn't necessarily as important as its driver.
"I just want to make music that I like," he says. "I'd love it if people listen to it and enjoy it as much as I do. But, ultimately, I'm just sort of in it for me."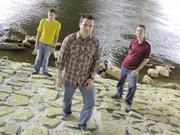 More like this story on Lawrence.com