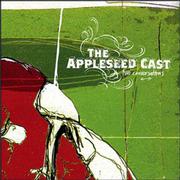 How does a band follow up an album that makes them "America's closest answer to Radiohead?" Though that particular review in All-Music Guide may have been prone to hyperbole, Lawrence's The Appleseed Cast did face a daunting task following up 2001's sprawling "Low Level Owl Vol. 1 and 2." That double-disc set caught critics' and listeners' ears with ambitious soundscapes, cascading guitars and hypnotic tape loops. Love it or hate it, the records were a stunning, cohesive statement from an emo band coming into its own.
Thankfully, "Two Conversations" does not attempt to match or outdo the epic ambitions of "Low Level Owl." The 10-song disc instead focuses on conciseness and accessibility, bringing Christopher Crisci's vocals to the front of the mix and keeping all songs except the last one under the 5-minute mark. The disc contains some of Appleseed Cast's most memorable melodies and a few of its most forgettable.
The first half of the album is by far the strongest. The opener, "Hello Dearest Love," begins with an ambient two-minute intro that pretends to usher in the album as "Low Level Owl Vol. 3." That notion is set to rest when the band kicks in with a thunderous riff reminiscent of U2, and Crisci's vocals cut through louder than they ever did on "Owl." The second song, "Hanging Marionette," showcases the propulsive drumming of Josh "Cobra" Baruth and contains the disc's most memorable chorus.
Throughout the album, the band's capable chops elevate simple lyrics like "She's the one/Bright as the sun" to the height of profoundness. Crisci explores themes of love, loss and healing directly and unabashedly: "You slept with him/Or you didn't care ... This is the last thing I'll take" he declares on "Fight Test," the album's fifth song and emotional peak.
The second half of the album slows down dramatically. "Sinking" is downright depressing with its dirge-like tempo and unfailingly repetitive chord progression. "The Page" marks a rare excursion into acoustic territory and hints at Crisci's side project Old Canes. "How Life Can Turn" has a pretty melody but for some reason buries the vocals, a trick that might have worked on "Owl" but seems misplaced on "Two Conversations."
The closer, "A Dream For Us," revives the melody of "Hanging Marionette" at half the tempo, proving that the group couldn't keep its concept-album tendencies down entirely.
It's hard to fault a band for being so good at one thing. Appleseed Cast is a one-of-a-kind act with a fully realized game plan, and for that it should be commended. But when a group's sound becomes that identifiable, it runs the risk of getting stale.
"Two Conversations" may be remembered as the conclusion of the middle-era of Appleseed Cast's development, not the capstone of the band's career. That record, hopefully, is still to come.