Saturday, August 16, 2003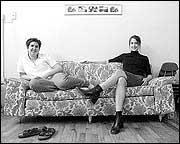 If new artistic showcases are any indication of the strength of a community's art scene, then Lawrence is a pretty art-friendly place.
The new year brought three new galleries to the downtown scene.
When the
Grimshaw Gallery opened Jan. 31, it became Lawrence's only working gallery -- where artists both create their pieces in a studio setting and then sell them in a retail gallery space.
The gallery was packed for the opening with paintings, mixed media assemblages and metal sculptures, as well as furniture that gallery owner Schuyler Lister collected in Bali. The artists -- several of whom are current art students or recent graduates of Kansas University -- formed the gallery to cater to young artists.
The artists transformed a used and curious goods shop at 731 N.H. into a bright, airy gallery space and established studio spaces in the rear of the building.
Olive Gallery and Art Supply has become another venue for new, energetic art.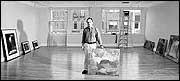 KU art students Jill Kleinhans and Bailey Kivett opened the space in early April at 15 E. Eighth St. The environs are bathed in multiple shades of green and showcase what Kleinhans and Kivett call "fresh" art, contemporary pieces that are a little edgier than work featured in most Lawrence galleries.
The 1,000-square-foot gallery has openings the first Saturday of each month, so as not to conflict with the First Friday event in Kansas City's gallery district. The gallery also has become a venue for performance art.
Sales of handmade consignment goods and art supplies help keep the business afloat.
Signs of Life, which has the most traditional gallery look of the three new spaces, also dwells in a business that sells more than just art. Artwork hangs in a 3,000-square-foot gallery space upstairs from a bookstore and espresso bar at 722 Mass.
Gallery manager James Schaefer envisions the gallery as a cultural center where art, literature and even spirituality become a cerebral engagement rather than fodder for quick consumption.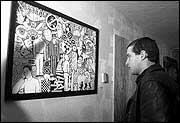 The display space is split between two rooms with newly refinished maple floors, high ceilings, areas of exposed brick and plenty of natural light streaming in through substantial front windows that overlook the downtown shopping district.