Paris — In a way, poet C.K. Williams has mellowed with age. He is now 66, and has two grandsons, a country house in Normandy, a Pulitzer Prize and a new book on the way.
But for this angry young poet of the 1960s, there's still more than enough to rage about -- poverty, racism and the cycle of barbarism he sees in the Sept. 11 attacks and fighting in Afghanistan and Iraq.
The violence and cruelty of war -- past and present -- form the backdrop for some of the most powerful work Williams has done since his book "Repair" won the Pulitzer for poetry in 2000.
"These days I find it very hard to write about anything else," says Williams, bending his lanky frame over an espresso at a Paris tea room. "The political situation is so fraught and so depressing that when one sits down to write that's what's in your mind."
Williams, an outspoken opponent of the U.S.-led invasion of Iraq, shies from explicit criticism of the Bush administration in his poetry, cautious of any hint of what he calls "propaganda" in his art. But the new political work -- to be included in "The Singing," which Farrar, Straus and Giroux will release in November -- is loud and clear in its denunciation of the brutality of war.
The fearlessness of these poems will be familiar to readers of Williams, whose work has long stood out for its unswerving examination of human suffering, from the savagery of the Holocaust to the everyday injustices of modern life.
No flinching
In "Fear," published on The New York Times op-ed page, Williams ruminates on "war, threats of war, war without end." In a piece titled simply "War," he details the cruelties of combat, from torture among battling Mayans to modern-day bomber pilots.
His clearest swipe at the Bush administration comes in "The Hearth," written on the eve of the Iraq war and published in The New Yorker magazine: "I stood in the wind in the raw cold/ wondering how those with power over us/ can effect such things, and by what/ cynical reasoning pardon themselves."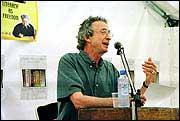 Williams said "The Hearth" inspired a string of supportive e-mails and letters from readers, rejuvenating his belief in the power of poetry to express what he calls "the common soul."
"It seemed to say something that a lot of people were feeling," he said of the poem. "It was actually quite wonderful to realize that people did hear you that way. Usually, a poem goes out into the world and that's the end of it."
Anger and despair at the human condition are nothing new for Williams, who in the oft-quoted poem "It is This Way With Men" declared: "They are pounded into the earth/ like nails; move an inch/ they are driven down again."
The poem is from his first book, "Lies," published in 1969. In the years since, Williams has opened up the tight, clipped forms of his earlier work with longer, narrativelike lines that have given his poetry a more casual, less forbidding feel, but without flinching from bitter realities.
Many commentators pointed toward 1999's "Repair" as a sign that he had grown more hopeful. In the book's final poem, "Invisible Mending," he compared the work of three women in a tailor shop to the "forgiveness and repair" of damaged souls.
Williams, however, is quick to deny any mellowing. To prove his point, he notes angry pieces in "Repair" about violence -- including one about torturers who drive nails into the heads of their victims -- and the hopelessness of racism.
More like this story on Lawrence.com