Lawrence muralist Dave Loewenstein caught his first glimpse of a university mascot parading as art last year while vacationing in Oregon.
He was walking the streets of Eugene, and as he neared the University of Oregon campus, "garishly painted" fiberglass ducks began appearing everywhere.
"I remember saying to myself, 'At least we haven't done THAT in Lawrence.'
I thought it was cheesy," Loewenstein recalls, laughing.
Of course, not long after he returned to Lawrence, the Convention and Visitors Bureau announced its plans for Jayhawks on Parade.
The flock of 30 statues of the Kansas University mascot, painted and otherwise altered by area artists, is one in a string of public art displays modeled after a 1998 fiberglass cow exhibit in Zurich, Switzerland. Chicago's "Cows on Parade" followed, and Kansas City joined the stampede with its own herd a few years ago.
In every case, the exhibits have been big business for cities, drawing tourists and luring enthusiasts to buy related merchandise. Organizers say it's a win-win situation: The exhibits boost the economy, bring "fun" art to the public and spotlight local talent.
But critics argue the increasingly popular displays degrade art and create a mix of commerce and art that's questionable, at the very least.
"I think a lot of artists in town didn't do it because it smacked of commercialism," Loewenstein says. "It was very limiting in terms of what you can do. You're already working with a caricature. You can slap some mosaic on it. ... There are some that are well-executed, but there's not much thought going into it."
Nevertheless, hardly a day went by this summer when children couldn't be seen climbing on the decorated mythical birds or when families weren't taking snapshots next to their favorite member of the flock.
And that's the point, says Judy Billings of the Convention and Visitors Bureau.
"Our view is it's fun art, not fine art, so our intentions were simply to do something fun and something that would attract people to town, especially people who have a passion for the Jayhawk," she says. "Now whether people view it as art or not is up to them. That's in the eye of the beholder. There's a lot of fine art that people don't like all that much either."
Feathered favorites
Outdoor sculpture shows are nothing new. Lawrence's own 16-year-old Downtown Sculpture Exhibition is one of the oldest such shows in the country. What distinguishes this new wave of exhibitions is their populist appeal, says David Cateforis, associate professor of art history at Kansas University.
"In the past, public sculpture exhibitions were often organized by art-world insiders and often featured more, lets just say, avant-garde work that wasn't intended to communicate in such a clear and obvious way to the public," he says. "The cows in Kansas City a couple years ago or the Jayhawks here in Lawrence this summer are really intended to have a more immediate popular appeal."
The approach works for people like Denise and Steve Kendall, who took their 5-year-old daughter, Elizabeth, on a tour to see all 30 birds. The family spent an entire Saturday following the map and snapping group pictures with the Hawks.
"My daughter got a big kick out of it," Denise Kendall says. "It gave us something to do for a day that was very inexpensive. All we had to do was buy the film."
Cathy Ledeker, a Lawrence illustrator who makes her living at art and worked on two Jayhawks for the parade, figures as long as people enjoy the birds, they're not doing any harm.
"The way I approached it was with a real sense of humor. I didn't take it as a serious artistic effort," she says. "I do commercial work and personal work, and I know the difference in where it comes from in me. I'm able to make that distinction when I do something like this. It's commercial; it's not fine art."
She says she got about as much as she expected out of participating: a lot of positive comments but, so far, no commissions or inquiries about her other work.
"I don't think it's bad publicity," she says, "I just don't think it's necessarily the defining moment in my artistic career. At least I hope not."
Birdy bankroll
For Lawrence businesses, the tangible rewards have been decidedly greater.
The three Jayhawks perched outside the Jayhawk Bookstore at 1420 Crescent Road have been a business boon for the store, says Janet Muggy, wife of store owner Bill Muggy.
"They've really increased our sales," she says. "People come into the store and end up buying a Jayhawks on Parade shirt or mug or ... a KU shirt. They've certainly increased the traffic to the top of the hill."
Organizers say they have no way of tracking how much revenue the Jayhawks have pumped into the city, but a lot of people pick up parade brochures at the Lawrence Visitor Center, "and we know that they're traveling here," Billings says.
Area businesses and the KU Alumni Association are selling everything from a $20 coffee table book featuring photos of the parading Hawks to coasters, posters, T-shirts and mugs.
The artists received $1,000 to put their personal stamp on the 5-foot-tall birds. Businesses forked over $4,500 to sponsor each bird, and many will be donated to charities for auction when they come down in November.
Despite the perks, artists like Loewenstein fear such models set a dangerous precedent. It turns people on to art that's TOO easy and not publicly funded, he says.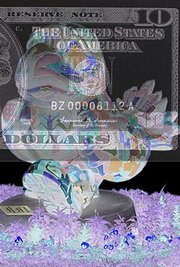 "If only so much money would go into some really well-thought out and well-executed public art that might really represent us and not be sort of a flash in the pan," he says. "It's fine to have the Jayhawks, but let's have more OTHER stuff. Let's have businesses support other kinds of public art and other kinds of cultural endeavors that might make us better as a community but might not benefit the particular business directly."
More than one way to skin a hawk
Others say there's room for birds of drastically different feathers to fly together -- that "accessible" art, such as Jayhawks on Parade, can co-exist alongside art that explores more serious themes.
"I don't think that there's one model for public art that is the only valid one," Cateforis says. "This is art that's designed to have great popular appeal. It's not designed to be taken all that seriously."
However, it's also important, he says, to have public support of "serious culture."
"You can have your Jayhawks on Parade or your teddy bears or what have you, but by no means should it be the only kind of art that is supported or noticed," he says.
Jeff Ridgway, a painter who sits on the Lawrence Arts Commission and helps organize the city-funded Downtown Sculpture Exhibition, sees the Jayhawks as expressions of creativity, no more or less valid than any piece in the Downtown Sculpture Exhibition or elsewhere. And he doesn't believe the birds threaten public art funding.
"Some people get into it (public art) more than others. I'm sure a large part of the population would just as soon we take this money and spend it on NASCAR. But over the years, this is where the city has decided the money is best placed," he says of the arts commission's projects.
The city spent $12,000 on the Downtown Sculpture Exhibition. Out of that budget, the eight artists and the juror each received $750.
In the end, says Lawrence sculptor David Vertacnik (who didn't even consider doing a Jayhawk), Jayhawks on Parade is like any part of pop culture: You either buy into it, or you don't. And the world keeps turning.
"As an artistic community, we can take it," he says of Lawrence, where arts generate nearly $34 million a year. "It's a cycle. It'll pass."