Thursday, August 21, 2003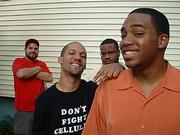 Anybody listening to Z95.7 at 9 p.m. Wednesday wouldn't have noticed anything unusual about a song called "Kick It."
It featured a silky smooth R&B; singer crooning, "My mission is to kick it anyway I can/ move my feet and clap my hands," on top of an infectious bass line that bounced up and down like a hydraulic-driven El Camino.
But for Lawrence hip-hop duo SoundsGood and Kansas City vocalist Asa Barnes, the moment signified a major breakthrough: commercial radio.
"We don't ever play local artists," said Z95's DJ Twiggy. "We don't even play TechN9ne."
The song, "Kick It," was on the radio because Barnes won the Z95-sponsored KC Idols II competition last May. His prizes: $1,000, a free day of recording at Chapman Studios in Kansas City and a song on the radio.
To produce the song, Barnes enlisted the help of SoundsGood beat maker Miles Bonny and rapper Joe Good. All the competition promised was one spin. But when DJ Twiggy played the song on a Wednesday-night segment called "Pump It Or Dump It," the song received an overwhelmingly positive response: 175 votes to "pump it" and 13 votes to "dump it."
"Nothing's ever been that successful," Twiggy said. "We even had Lil' John and the Eastside Boyz, and that was like 160-37."
As a result, the song will be placed into regular rotation on Z95, where it will get eight spins a day alongside commercial superstars like 50 Cent and Jay-Z. Music director Jacqui Lucky said the song would stay in rotation as long as it received a positive response from listeners.
"We just think it's an amazing song," Lucky said. "It's going to be played 40 to 50 times a week, which for a new artist, especially a local artist, is almost unheard of."
Kickin' it out of bounds
The success of the song surprised Good, whose deep rap voice on the song provides a stark contrast to Barnes' feathery tenor. Good said he was hesitant at first to record such a straightforward song.
"It was real hard to gauge how far I wanted to go with the Top 40 sound," Good said. "I wanted to talk about something general that people could relate to, like being hard at work, instead of just going out to look for some hoes or whatever."
The song's mass-market appeal might catch SoundsGood fans off-guard. Though the duo's most recent self-titled album is full of hooks, its songs typically feature adventurous beat making and conscious lyrics that put SoundsGood in the company of independent hip-hop artists like Atmosphere and El-P. Though such artists have succeeded without the help of commercial radio stations, Bonny said he welcomed the support from a mainstream station.
"I never claimed to be an independent producer or a commercial producer," Bonny said. "It's not a song we'd put on a SoundsGood album unless we were on a major label. It's a solid song; it's good music, but it's not as artsy as we usually are."
More collaboration between Barnes and SoundsGood may be in store. Bonny and Barnes have talked about doing an album together, which could be sparked by the success of "Kick It." Barnes contributed a track called "Something" to SoundsGood's album last year and is actively involved with Good's 64111 Clinic label/collective in Kansas City.
Pumped up
The success of "Kick It" could ruffle a few feathers among Kansas City's elite rappers.
"I think it's dope that we're getting played on a station that TechN9ne doesn't get played on," said Good, who also emphasized that he wasn't out to start a feud with TechN9ne. "Tech's crew is probably going to get into a dispute about them playing our song."
The success of the song is even more impressive considering the track was independently mixed and mastered by "Jaz" Brewer at his home studio in Kansas City. Though Chapman Studios was supposed to help mix the song, the crew encountered technical difficulties and accomplished nothing in their five-hour session. Lucky said she was impressed with the quality of the recording.
"People call to request the song, and they don't even know it's local," she said.
The only disappointment Good and Bonny had was hearing the song announced as "Asa featuring Jamal" (Joe Good's proper name) instead of "Asa featuring SoundsGood." Lucky said the station would announce the song as the latter from now on.
Barnes said the past couple of days had been a whirlwind of activity.
"I've been trying to listen to the radio as much as I can," he said. "While I was on my lunch break, I requested it and I heard it."
Winning talent competitions is nothing new for Barnes, who also won the "K.C. Treasures Apollo Talent Show" in February at the Gem Theater in Kansas City. This is the first victory, however, that has paid big dividends.
"I'm just trying to stay humble," Barnes said. "I'm an artist for the people, not for the culture of wealth and popularity. It just so happened the moment I stopped thinking about fame and fortune things started happening."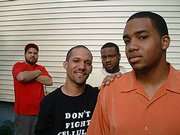 Bonny said his next step would be to contact other stations in Kansas City and try to get them interested in playing the song. SoundsGood also will release a vinyl single for the song if it continues to do well.
"My worst fear was that I was going to drink some beers and get excited and we were going to get dumped," Bonny said. "Luckily that didn't happen, so I'm going to party tonight."
More like this story on Lawrence.com