Monday, December 15, 2003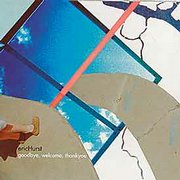 Never expect too much from an album with some dude's name on it. These days, any singer/songwriters hack with a four-track and a Mexican stratocaster can push "record," slap together some over-filtered Photoshop artwork and pay some distant entrepreneur to press a thousand CDs.
That's why Eric Hurst's "goodbye, welcome, thank you" is such an abberation: it's pretty damn good. Hurst is one of the rare singer/songwriters with lyrics that don't make you cringe and production that doesn't make you want to vomit. While he's not reinventing the wheel, he is making a case as a formidable presence in the would-be-mainstream-yet-still-pretty-cool territory mined by bands like Barenaked Ladies and David Gray.
The album's first track, "Jesus in a Bad Car," has VH1 written all over it: gently strummed acoustic guitars, gentle keyboard melodies and a romantically melancholy lead singer. It's unforgettable chorus -- "Don't miss the turn, baby, watch your lights / Sometimes your lights just shine so bright / You can't help it, it's just how you are / Like Jesus in a bad car" -- will stick in your head for weeks (in fact, I found myself humming it the shower this morning).
The rest of the album could very well be a letdown after such a memorable start, but Hurst maintains the momentum with the upbeat "Spider on the Wall" and the slippery "Lottery Ticket." Hurst's tender falsetto is a surefire lady-killer, and coupled with his sensitive lyrics, it might just make him a favorite down at Abe and Jake's.
Eric Hurst
goodbye, welcome, thankyou (2003)
The next few songs drag a pick, but "A Killer At The End of the Day" picks the pace back up. Hurst pleads in his best pity-me voice: "Sex will be the death of me yet / Too much or too little of it / And hope springs eternal and love flames infernal desire"
Hursts' only Achilles' heel is his likeableness. Rarely do his songs stray off the beaten path, and his well-oiled sound at times seems overly polished. A little grit around the edges -- an out of key note here or there or a couple of overdriven guitar sounds -- couldn't hurt.
But it'd be wrong to fault the Jeep Cherokee for not being more like the hipster's hearse. Hurst's sound may not push the envelope, but it's a dependable drive.
More like this story on Lawrence.com