Tuesday, December 16, 2003
Lawrence.com announced the nominations for the first annual Gamer's Voice Awards today. There are 16 categories from Best Graphics, Best Originality and Best Game to give to deserving nominees. Critics from the site and outside the site compared notes, reviews and duked it out to come up with the prestigious list.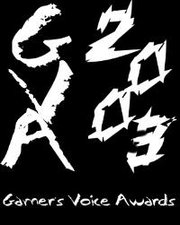 A 17th award dubbed the Gamer's Voice Award will be given to the game with the most write-ins e-mailed to gamer@lawrence.com. Gamers may include one to five of their favorite console games of 2003 in the e-mail.
Winners will be announced December 31 on lawrence.com. The nominations are as follows:
Best Sports
Tiger Woods PGA Tour 2004
ESPN NFL
Madden NFL 2004
Top Spin
Best Action/Adventure
Prince of Persia
The Legend of Zelda: The Wind Waker
Crimson Skies
Panzer Dragoon Orta
Viewtiful Joe

Best Extreme
Tony Hawk's Underground
Amped 2
SSX 3
Deathrow
Best RPG
Deus Ex: Invisible War
Mario & Luigi: Superstar Saga
Final Fantasy X2
Final Fantasy: Crystal Chronicles
Star Wars: Knights of the Old Republic

Best Racing
F-Zero GX
Mario Kart: Double Dash
Project Gotham Racing 2
Need for Speed: Underground
Best Fighting
Virtua Fighter: Evolution
Soul Calibur 2
WWE Smackdown: Bring the Pain
Best FPS
Deus Ex: Invisible War
Rainbow Six 3
XIII
Best Presentation
Prince of Persia
Beyond Good & Evil
ESPN College Hoops
Max Payne 2
Best Replay Value
Metal Arms: Glitch in the System
Tiger Woods PGA Tour 2004
Rainbow Six 3
Project Gotham Racing 2
Soul Calibur 2
Deus Ex: Invisible War
Best Online
Project Gotham Racing 2
Rainbow Six 3
Counter-Strike
SOCOM II

Best Repertoire
Nintendo
Electronic Arts
Ubisoft
Microsoft
Best Originality
Deus Ex: Invisible War
Viewtiful Joe
Wario Ware Inc.
Mario & Luigi: Superstar Saga

Best Graphics
Project Gotham Racing 2
Prince of Persia
Viewtiful Joe
The Legend of Zelda: The Wind Waker
Beyond Good & Evil
Best Soundtrack
Project Gotham Racing 2
Beyond Good & Evil
SSX 3
Tony Hawk's Underground
Best Audio
Project Gotham Racing 2
The Legend of Zelda: The Wind Waker
ESPN College Hoops
Soul Calibur 2
The Gamer's Voice
Vote for your favorite 2003 console release by emailing gamer@lawrence.com. Just write one to five of your favorite games this year.

Best Game of 2003
Project Gotham Racing 2
Soul Calibur 2
The Legend of Zelda: The Wind Waker
Viewtiful Joe
Prince of Persia
More like this story on Lawrence.com