Thursday, December 18, 2003
The more games a critic reviews, the more perceptive and, for lack of a better term, critical he tends to become. The standards get higher and he tends to give less credit to the same 'ol gameplay. Enter Armed and Dangerous, a self-aware romp through a spoof-like exaggerated Brute Force-ish third-person action experience that never takes itself serious for a moment. It's games like these that afford critics the time to just step back, smile, laugh and enjoy the lighter side of gaming, despite some gameplay flaws along the way.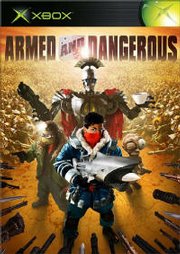 There are a gaggle of weird weapons and thrown projectiles to collect in this wild ride. Some weapons shoot animals (sharks come to mind) and some are a different take on normal weapons. They are all crafted fairly well considering the fun-and-gun shallow style. The squad elements are simple. Stand here, cover me and assault-type options are your main commands. They all serve their own purpose, but the brunt of your action will rest on your shoulders no matter what. Still, the commands definitely serve more purpose that what Brute Force offered.
The main attraction, aside from the hilarious style and dialogue, is the particle engine. Buildings, structures and vehicles explode into several pieces that whiz by in chaotic surround. I would say that it adds to the realism, but the hilarity of the unrealistic elements put that into perspective. Yet again, it's a great particle system that can propel even the dumbest of storylines into an element of plausibility.
The enemy AI is a mixed bag with no range. Many enemies are simple drones with no personality, but every tenth enemy, say, is too accurate and difficult. This is less noticeable at the start, but is quite obvious in the latter stages. Regardless seeing the rag doll physics in motion is always a joy to behold. This is most obvious when you man a turret to prevent tons of enemies from climbing an enforced wall. You launch an energy blast in the middle of about 50 enemies to see many of them fly in all different directions as if the fat kid just did a cannonball from the 20 ft. diving board.
The graphics are pretty muddy with badly compressed video to further the storyline along. I don't understand why the in-game engine wasn't used for the cutscenes. The sound is wonderfully separated in Dolby Digital and the crashes and bangs really add an enveloping element to the gameplay.
The game isn't lengthy, but it is satisfying. The core gameplay elements are solid enough to warrant a great multiplayer experience. Hmm...where is the multiplayer mode? Whoops. This is the biggest drain on the lasting effects of A&D.; It cries out for multiplayer. The unlockables within the campaign are good enough to maybe warrant a return through the game, but once you're done, you're pretty much done.
Graphics: B
Sound: A
First Play: B+
Last Play: C+
Gameplay: B-
Overall: 80% B-
More like this story on Lawrence.com