They're still bigger than Hollywood, and they're set to break last year's impressive sales record.
Video games increasingly appear on everyone's holiday gift lists. From kids to adults, portable to home console, there are many options for every type of gamer. Your decision on which system to buy should hinge purely on this question: "Does it have great games that are extremely fun to play?" No matter which system you choose this year, the answer is a resounding "yes."

Gamecube (Nintendo)
Overall score: A-
Cost: $99.99 MSRP
Pros: Much cheaper, widest audience range, fast load times, powerful graphics processor based on original IBM and ATI technology, intuitive controller, bundle comes with classic Zelda games.
Cons: Doesn't play DVDs, online support minimal
Gamecube lagged in the sales charts for most of 2003. In September, Nintendo drastically reduced the price to a mere $99.99, almost half of the Xbox and PS2. This aggressive tactic propelled the Gamecube to the No. 1 spot on Black Friday. Now you can get four classic Zelda games with the purchase of a Gamecube, making it the best holiday bundle, hands down.
"Mario Kart: Double Dash"
Rated: E
Battle Racing
Grade: B
Since the franchise's dawn on the Super Nintendo, gamers eagerly awaited its updated version on each successive console. With the Nintendo 64 and Game Boy Advance versions already here, the Gamecube version bumps the intensity up even another notch with the fast-paced battle racing. This is the perfect game for everyone from children to adults this year. Although the multiplayer arenas won't "wow" the hardcore gamer, there is so much to be enjoyed.
"The Legend of Zelda: The Wind Waker"
Rated: E
Action/Role-playing
Grade: A
Only one word in necessary to sum up Nintendo's flagship game of the year: Wow. Take the perfection that is "Legend of Zelda: Ocarina of Time" on Nintendo 64, quadruple it, add a few dashes of visual dazzle, a sprig of ingenuity, and BING! You get "Wind Waker." A truly marvelous addition to the growing Gamecube library, and a must have for any gamer (even those Nintendo haters out there). Wind Waker easily transcends any adventure game in terms of visuals, content and length.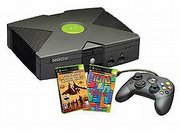 "Viewtiful Joe"
Rated: T
Action
Grade: A
This is a side-scrolling beat-'em-up infused with amazing action, originality and style. The side-to-side action will instill old-school gamers with an incredible amount of nostalgia while attracting new gamers with its keen sense of style. Viewtiful Joe is a rare gem that no Gamecube owner should be without.
"F-Zero GX"
Rated: E
Racing
Grade: B
Back in the Super Nintendo days, there was a game that paved the way for futuristic racing games. That game was "F-Zero." After a solid showing on the Nintendo 64 with "F-Zero X," Gamecube owners get a speed-crazy future racer that doesn't disappoint in "F-Zero GX." Take your hover-vehicle on major twists, turns and loops on the best futuristic racing game available on any console.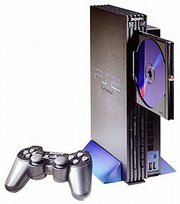 "Wrestlemania XIX"
Rated: T
Wrestling
Grade: B
As a World Wrestling Entertainment game, "Wrestlemania XIX" definitely stands its ground among the best the consoles have to offer. The fighting mechanics are deep and intuitive, allowing anyone to jump right in and have a good romp. Any gamer interested in the fighting genre should pick it up; it will please beyond the WWF fan base.


Xbox (Microsoft)
Overall Score: A
Cost: $179.99
Pros: The holiday bundle comes with two games, powerful graphics processor, plays DVDs (with optional remote), hard drive for endless memory saves, superior online gaming via Xbox Live.
Cons: Hardly any worthy role-playing and platforming titles.
The Xbox had another surprising year, bringing some solid and surprising titles to the forefront, bolstering its popularity with both gamers and critics. Combine that with the ever-growing popularity and success of Xbox Live, the online service, and you have a console that won't disappoint this season. Even though the price tag is $80 higher than Nintendo's console, you will get three free games and two months free of Xbox live service.
"Project Gotham Racing 2"
Rated: E
Racing
Grade: A
This is for the gamer who wants a wide selection of fancy cars, picture-perfect locales across the world and an awesome sense of racing competition. This game shines from inside and out and should be part of every Xbox owner's collection.
"Top Spin"
Rated: E
Tennis
Grade: A
It's official: Microsoft is now the undisputed leader in tennis video games. The game world is flooded with so many bad tennis games. Not here. "Top Spin" provides gamers with a true-to-life representation of the physics of tennis, while being fun for everyone. The gamer can even take risk shots for more power.
"Star Wars: Knights of the Old Republic"
Rated: T
Role-Playing
Grade: B
"Star Wars" fans have a curse. Most games in the name of the franchise are half-baked attempts at fun to milk cash out of the naÃive. "Knights of the Old Republic" marks the first major success in the role-playing world with smart, strategic gameplay elements and a story that arguably puts the movies to shame.

"Crimson Skies"
Rated: T
Flight Combat
Grade: A
This is a must have for anyone looking for solid dogfighting with a true sense of accomplishment. The game is beautiful to look at and play, with pinpoint plane destruction. Whether you are playing alone or online, there are many hours of fun to be had.
"Kill.Switch"
Rated: M
Action
Grade: B+
For those gamers who love to take the world on their shoulders with guns blazing, look no further than "Kill.Switch." With gameplay reminiscent of "Halo" from a third-person perspective and "blind fire" cover tactics, this virtually unknown game should be given a serious look by action fans.


Playstation 2 (Sony)
Overall Score: B
Cost: $199.99
Pros: Huge game library, can play Playstation One games, plays DVDs even without remote.
Cons: DVD playback marginal, many accessories are hard to find, two controller ports standard, Xbox and Gamecube have better exclusive titles this year.
The Playstation 2 is starting to show its age a bit but is not out of the console race by any means. There are still some great sequels to be played along with the "Final Fantasy" exclusivity. If you're buying for a gamer that loves to blow stuff up mindlessly, then the PS2 should always be your first thought. Unfortunately, it's the pricier of the three at $199.99, which comes with a broadband adapter. You may want to see if you can find the older $179.99 models or search the used video games stores if you are serious about the PS2 this year. Still, the following games are worth getting.
"Ratchet & Clank: Going Commando"
Rated: T
Platform Action
Grade: A-
"Commando" is perfect for the gamer who loves to use several types of original weapons, mindlessly blasting away through levels of enemies and other chaos. The game is challenging but never overbearing. The story will make you laugh and laugh harder.
"SOCOM II"
Rated: M
Squad Action
Grade: B
Gamers who loved playing online and getting friends together for squad-based tactical combat only have one place to go this year on the PS2. This update to the series feels very similar but has enough additions to make it a worthy holiday purchase. This is for the gamer who likes action but loves to strategize.
"Jak II"
Rated: T
Platform Action
Grade: A-
This is by far the best platform game on the PS2, even if too ambitious. If you don't like "Ratchet & Clank's" straightforward action or humor, "Jak II" may be for you. The humor and atmosphere is darker, and the game contains great action sequences. There are several places to search and roam free, like in the "Grand Theft Auto" series, minus the parental content objections.
"Final Fantasy X-2"
Rated: T
Role-Playing
Grade: A-
Some fans didn't like the direction the first "Final Fantasy X" went, but the popularity eventually gained so much momentum that Square-Enix, its developer, decided to make the sequel. If you liked X, there is no reason to be without X2.
"Tony Hawk's Underground"
Rated: T
Skateboarding
Grade: B+
Sure, Tony Hawk appears on other systems, too, but only on the PS2 can you download a picture of your real face and put it on a skater. The game follows the popular Tony Hawk formula but has added on-foot missions and a create-a-skater mode that can literally get the gamer in the game.


Game Boy Advance (Nintendo)
Overall Score: A
Cost: $59.99 or $89.99 for the backlit SP version
Pros: Cheap, SP model is very bright, small, portable, great battery life, compatible with all old Game Boy games.
Cons: Non-SP model screen needs a lot of light.
The Game Boy Advance is your only real option for handheld/portable gaming. Nokia released its phone/gaming contraption named N-Gage, but with poor hardware, awkward screen and terrible games, Nokia has no chance of ever providing fun for a gamer. Nintendo's Game Boy Advance has an incredible array of fun titles, great nostalgic games and, as always, you can play those 10-year-old Game Boy games you might have forgotten about. Now with the self-lit SP model, the Game Boy Advance has its strongest hold on portable fun.
"Mario & Luigi: Superstar Saga"
Rated: E
Role-Playing
Grade: A
"Mario & Luigi: Superstar Saga" breaks away from the tedious battle commands of most RPG's and uniquely blends action, humor and simultaneous control of both brothers in a great addition to everyone's GBA library.
"Castlevania: Aria of Sorrow"
Rated: T
Action
Grade: A
This is arguably the best "Castlevania" ever. With the new soul-absorbing concept, "Aria of Sorrow" breaks new ground and provides gamers with a lengthy quest with tons of weapons, fun and a great story. Fans of the Playstation's "Symphony of the Night" should be required to play.
"Final Fantasy Tactics Advance"
Rated: E
Role-Playing
Grade: A
Role-playing gamers who like their strategies planned out more like a chess game should look no further than this incredibly polished and self-aware addition to the "Final Fantasy" franchise. Plan your moves, placements and weapons in this awesome tactical approach to the role-playing genre.
"Wario Ware, Inc."
Rated: E
Multigames
Grade: A-
In a video game world full of mediocre platformers, first-person shooters and sports games, Nintendo delivers an original gem once in a while. No one is sure how to categorize "Wario Ware, Inc." Some may say it's a collection of mini games, but the games only last about five seconds each and can satiate the shortest of attention spans. Not only that, but this game is the first nonmedical replacement for Ritalin.
"Super Mario Advance 4: Super Mario Bros. 3"
Rated: E
Action
Grade: A-
Is it sad or cool when an old-school Nintendo game holds its own among the holiday's newest? Odds are gamers of all ages will still find "Super Mario Bros. 3" to be incredibly fun. You can also try playing it through as Luigi for the first time for a different challenge. The gamer may also unlock brand new levels never seen before with Nintendo's e-reader peripheral.


Games on all systems
No matter what game system you buy, you can play these great games. But, as a general rule, the best version will usually be on the Xbox, then Gamecube and finally Playstation 2 because of its lack of processing power.
"Prince of Persia: Sands of Time"
Rated: T
Action/Adventure
Grade: A
Any gamer looking for a challenging time jumping off walls, avoiding perilous pitfalls and slashing the undead should look no further. Combining addictive gameplay, attention to detail and sky-high production values, "Prince of Persia: Sands of Time" is a strong front-runner for a "Game of the Year" title.
"Soul Calibur II"
Rated: T
Fighting
Grade: A+
Fight head to head as warriors from different ages in a weapons-based battle. This sequel to the critically acclaimed "Soul Calibur" is arguably the best fighting game to date. The fighting engine is pure brilliance and renders all other serious fighters archaic.
"Metal Arms: Glitch in the System"
Rated: T
Third-person shooter
Grade: A-
"Metal Arms" is another holiday sleeper, folks. You will see ads for bad games like Medal of Honor: Rising Sun, and next to nothing for diamonds in the rough like this. Blending robotic humor and an awesome sense of "Halo"-like shooting destruction, "Metal Arms" will provide any gamer with a great sense of accomplishment.
"Sphinx and the Cursed Mummy"
Rated: T
Action/Adventure
Grade: B+
Gamers not willing to buy a Nintendo console to play the brilliant "Legend of Zelda" series finally have a game that comes very close to duplicating the magic "Zelda" games bring. "Sphinx" provides a lengthy experience with heart, challenge and moments of brilliance uncommon in this year's holiday rush.
"Tiger Woods PGA Tour 2004"
Rated: E
Golf
Grade: A
"Tiger Woods 2004" joins the ranks of its predecessor as one of the best golf simulations ever. Any gamer can work with the "Game Face" mode and construct a face dangerously close to his or her likeness and take it on a PGA tour among the current greats in this incredibly expansive golf game.
Rating guide
E: Suitable for everyone
T: Suitable for teens and up
M: Mature audiences only, 17 and up
10 commandments of video game shopping
DO NOT buy a game system because the hardware seems more powerful.
DO buy a game system that has great games that you enjoy.
DO NOT buy a game system because it has a higher quantity of games.
DO buy a system because it has more quality games.
DO NOT buy a game because an ad made it look great.
DO buy a game because the demo you played was fun.
DO NOT assume that games rated "E" won't be fun for adults.
DO buy more than one game system if financially plausible.
DO NOT buy a game because you liked the movie it's based on.
DO rent a game or system if you are unsure.