Sunday, December 21, 2003
To understand the difference between Linda Davis on a good day and Linda Davis on a bad day, envision the contrast between high-flying dancer Mikhail Baryshnikov and slow-shuffling TV star Tim Conway of "The Carol Burnett Show" fame.
"I can either go or I can't," says Davis, who learned she had Parkinson's disease in 1996 at the age of 48.
Up to that point, Davis, the mother of a then-teenage son, rarely sat still. She had volunteered at her son's schools, played tennis, made crafts, traveled. But Parkinson's sapped her energy, interfered with her concentration and caused a distracting tremor in limbs on the left side of her body.
Medication now manages most of Davis' symptoms, and strangers would be hard-pressed to guess the 56-year-old struggles with Parkinson's. But spend enough time with Davis, and you notice she sometimes freezes at the kitchen counter or too-rapidly accelerates when she walks.
That's where Janet Hamburg comes in.
The Kansas University dance professor began teaching a free seated exercise class for people with Parkinson's disease a little more than a year ago at a Lawrence church.
Davis saw a notice about the class in the newspaper.
"I went to the class and thoroughly enjoyed it," she says. "I did not know I could work up a sweat sitting in a chair, but you can."
Hamburg knows that because her own mother, Helen, had Parkinson's disease. Hamburg problem solved and created movement sequences for her mom, who died in 1999.
Based on her knowledge of movement mechanics and what she has learned about Parkinson's disease, Hamburg turned her Lawrence exercise class into "Motivating Moves for People with Parkinson's," a video produced by the national Parkinson's Disease Foundation and endorsed by Parkinson's organizations across the country. The video, which stars Davis and three of her Lawrence exercise classmates, had its Lawrence premiere on Tuesday.
Rethinking movement
"Motivating Moves" features 24 seated exercises that target characteristic Parkinson's symptoms by focusing on diaphragmatic breathing, spatial awareness, flexibility, sense of balance, vocal range and facial expressivity.
The 90-minute program has three sections. In the first, Hamburg teaches participants how to do each of the exercises. Occasional computer-animated illustrations break down the mechanics of an exercise. Next, Hamburg leads the four-person class through the 36-minute exercise program.
Hamburg is certified in Laban Movement Analysis, a training and observation method created by Hungarian choreographer and movement theorist Rudolf Laban that is used in dance, music performance, theater and physical rehabilitation.
"Nowhere in our physical education do we really learn to analyze movement," Hamburg says. "The part of the brain that's affected by Parkinson's is the basal ganglia area. The basal ganglia control the dynamics of movement. ... So by creating movement sequences that demand different combinations of these dynamic qualities, it's stimulating the part of the brain that is directly affected by Parkinson's."
The video ends with "Practical Tips for Daily Living," in which Davis demonstrates how a person with Parkinson's might better approach everyday tasks like rolling out of bed or standing up out of a chair.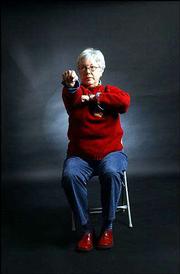 "Movement that's automatic is movement that is often most difficult (for people with Parkinson's) because we don't think about habitual movements anymore," Hamburg says. "We can usually free our minds to do other things, but for people with Parkinson's, they have to use critical brain function to actually analyze what it is they're doing."
Davis can attest to that. When she finds herself stuck in her kitchen, she has to think about shifting her weight from her left foot to her right foot -- sort of revving up -- to get moving again.
"The first thing you need to do is think about standing up straight," Davis says. "This is one of the things from Janet's video. You can rock yourself and then you can turn yourself, and it's amazing once you get that rock going how you can take off."
Fighting back
Parkinson's disease is a progressive neurological disorder that affects nearly 1 million Americans.
The disease kills the brain cells that produce dopamine, a neurotransmitter that sends signals to the parts of the brain that control movement initiation and coordination. Medical professionals recommend exercise to help manage Parkinson's.
"Exercise has long been recognized as an essential ingredient to disease management for Parkinson's," says Lucy Sargent, communications director for the New York-based Parkinson's Disease Foundation. "We really wanted to get behind a real quality video which was very specifically for Parkinson's disease and used a very, very carefully constructed exercise program which targets the symptoms of Parkinson's."
Hamburg screened the video in October in New York for a panel of medical professionals, researchers and representatives of various Parkinson's foundations and received overwhelmingly positive feedback. Aside from its careful attention to targeting exercises specifically to fight the effects of Parkinson's, the video is upbeat and easy to follow.
That's due to Hamburg's infectious energy, but also to the musical accompaniment composed especially for the video by Juilliard professor Robert Abramson. He and Hamburg spent an intense week together -- she demonstrating the exercises, he tailoring musical styles from classical to ragtime and jazz to fit each move.
"Some of the music pushes people to work harder than they might ordinarily," Abramson explains. "So while they're going up, the music may be pushing down. Some of the music fits the movement; it simply accompanies it. And some of it adds feelings of serenity or fun."
The music perfectly matches the dynamics, rhythm, timing and qualities of the movement, Hamburg says.
"It's stimulating different parts of the brain," she says. "One of the participants had said to me, 'I just feel that my whole body has been awakened after class.'"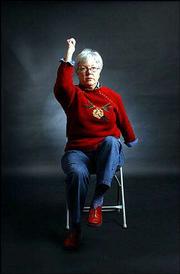 The program intersperses exercises like ankle circles, heel pushes and finger talking with silly wriggle breaks. Hamburg has found that caregivers and her college student enjoy doing the exercises just as much as people with Parkinson's.
Davis says she'll try to get her husband, KU sports announcer Bob Davis, to do the exercise video with her. She wants to maintain her mobility as long as possible.
"I'm a competitor," Davis says. "That's why I'm not going to let this get me."
Engaging in life
That's precisely the attitude Hamburg hopes her exercises will help sustain in people with Parkinson's.
"I believe this is about improving the quality of life," she says. "Parkinson's is a disease that you can live with for decades, and you want to have the highest quality of life as possible for yourself and for the people who love you and interact with you."
Until she began interacting with the Lawrence Parkinson's Support Group, Hamburg's sole exposure to the disease came through her mother, who spent the last 13 years of her life in a nursing home.
But Hamburg remembers happier times. Growing up in New York, her mother bathed her in arts experiences, taking her to concerts, art exhibits and top-flight dance performances. She started her daughter's career in dance when she enrolled her in a rhythmic movement class at age 4.
"I feel very grateful that she introduced me to the arts," Hamburg says.
In the end, Helen Hamburg died because of one of the cruel results of Parkinson's disease: She couldn't swallow. And she didn't want to extend her life on feeding tubes, Janet Hamburg says.
Because keeping the muscles of the face and tongue active are critical for survival -- and the quality of that survival -- Hamburg ends her program with silly faces and moods. Participants put their mugs through the wringer, licking their lips, slumping their shoulder as they release loud sighs, and blowing kisses into space.
At one point, Hamburg lets loose a spontaneous, loud belly laugh, and her class follows suit without flinching.
"I think we're all familiar with the Abe Lincoln quote that says we're just about as happy as we decide to be and that we all have the power to change our mood instantaneously. It's tremendously healing and empowering," Hamburg says. "So I feel like this program is not just about exercise. It's about the whole person being engaged in life and interacting with other people."
More like this story on Lawrence.com