Sunday, December 21, 2003
Robert Capa's life story is a classic illustration of a man in charge of his own destiny. By placing himself in harm's way on a regular basis, he became the very best at photographing war, knowing full well that most combat photographers don't die in their sleep. He photographed the Spanish Civil War at 23, and in 1954 at age 40, Capa was killed by mortar fire in Vietnam, his fifth war.
Alex Kershaw spent four years researching his biography of the photography legend. It has little opinion and is packed with anecdotes, footnotes, interviews and a large bibliography. What's missing are Capa's forceful photographs. Capa's surviving brother, Cornell, Robert's biggest promoter and the keeper of his photo archives, didn't cooperate with "Blood and Champagne," making it an unauthorized biography -- which probably makes it more interesting.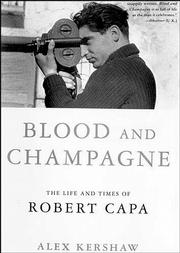 Born Andre Friedmann in Budapest in 1913, Capa was the first son of poor Jewish tailors. The fitting business wasn't bad, but Andre's father was unlucky at cards, a passion and curse inherited by his son. Fleeing Hungary's fascism at 18, Capa landed in Berlin, where he sold his first picture, a podium shot of Leon Trotsky. His photo was chosen over others because he managed to get within a few feet of Stalin's outspoken critic.
One of Capa's legacies is his quote, "If your pictures aren't good enough, you're not close enough."
Self-made man
In 1933, Friedmann was among thousands who fled Germany, only steps ahead of the Nazi Brown Shirts. A year later, he made his way to Paris.
He was broke, often struggling to eat and pay rent. He lived in rooms barely bigger than a bed. Refugees like Friedmann practically lived in Left Bank cafes where he met young photographers like Henri Cartier-Bresson and David "Chim" Seymour.
Freidmann eventually met a soulmate/photographer, Gerda Pohorylles, a beautiful Polish refugee. Together they hatched a plan, looking for an edge in the competitive freelance photography market. They announced to magazine and newspaper editors that they were the support staff for Robert Capa, a famous American photographer who was available for assignments but at triple the going rate.
Their scam worked. Friedmann renamed himself Robert Capa and Gerda changed her last name to Taro. Their clever maneuver was described in a magazine story by John Hersey, "The Man Who Invented Himself."
That title could describe Capa's life.
Their charade soon became a public secret, but in 1936 it got Robert Capa and Gerda Taro an assignment from "Vue" magazine to cover the bloody Spanish Civil War. Their interests were more than journalistic. They wanted to fight totalitarianism with their cameras, to show the world right from wrong.
In Spain, Capa got instant attention for his famous "Falling Soldier" photograph. It showed a Loyalist soldier falling backward "at the moment of death" on the battlefield. It appeared in several European publications, and, a year later, it ran in one of the first issues of Life Magazine. Life's caption: "A Spanish soldier the instant he is dropped by a bullet through the head."
It made Capa famous.
Bittersweet fame
Capa's picture is still the subject of debate as to whether it was staged.
Kershaw draws no conclusions, but his research presents interesting questions. There was a similar photograph, obviously taken on the identical spot with an identical background, same cloud formations, of another militiaman falling backwards. Later in the war, Capa admitted that he asked a group of soldiers to stage an attack for the camera, saying they usually looked more fierce posed than in actual battle.
Capa's official biographer, Richard Whelan, affiliated with Cornell Capa's International Center of Photography, has gone to great lengths to authenticate the 1936 icon of war. He disputes any points Kershaw has presented.
If this were the only outstanding photograph Robert Capa ever made, it would be an important issue. It's not. Kershaw allows readers to draw their own conclusions.
For Capa, instant fame was bittersweet. Nearly a year after he'd taken his famous photograph, the love and anchor in his life, Gerda Taro, was crushed by a Spanish tank.
After Spain, he went to China following Japan's invasion of Manchuria, shooting both stills and movies for a documentary.
Next came World War II and America's campaign in Europe. With fame came more lucrative assignments from magazines like Colliers and Life. Capa drank in better bars and more often. He hung out and gambled with fellow war correspondents Ernest Hemingway, John Steinbeck, William Saroyan and Irwin Shaw, plus notables like Humphrey Bogart, Art Buchwald, John Houston, Ben Bradlee and Truman Capote.
Fear and twisting at Normandy


The list of women in the lovable Capa's life is long, but his affair with Hollywood star Ingrid Bergman garners the most paragraphs.
Most people who cover wars and tragedies for a living find it impossible to leave their work at the office. It's usually their constant companion. Eat, drink, try not to sleep alone and put on a happy face. Capa was no exception.
He never owned a home or lived in an apartment, only hotel rooms or other people's bedrooms. When he'd gamble away his salary, a Paris hotel would keep a tiny maid's room available for him. He spent hours soaking in bathtubs. When he couldn't afford to wine and dine, or when time was a factor, he'd rent a prostitute. His friends said he hadn't filled the void left by his beloved Taro, but it wasn't because he didn't try.
The story of Capa's D-Day photos, taken during the invasion of Normandy, has been told often, and Kershaw tells it well.
Capa was the first journalist to land with the initial wave of American troops on Omaha Beach, under murderous German fire. After wading through bodies that littered the surf, he lay face down on the beach, his head shoved against barbed wire by the surf. The German mortar and machine gun fire was relentless.
Capa said he'd never experienced such fear: "shaking my body from toe to hair and twisting my face." He found the only way he could control his body was to shoot pictures. In 90 minutes, he was out of film.
Image for a price
As any photographer will tell you, pictures, no matter how good, are useless until they are in the hands of your publisher.
Capa shot four rolls of 35mm film and waded back into the bloody waters toward a landing barge. He held his precious Contax cameras over his head in water up to his neck. Just as he was pulled aboard, the barge was hit by German artillery, killing or wounding many aboard. It barely limped back to its mother ship, the Samuel Chase, which sailed across the canal to England, where he handed off his film to a courier.
The kicker to the Omaha Beach story is that a Life Magazine lab technician ruined all but 11 of Capa's 79 exposures by setting the film dryer's temperature too high. But nine of those frames (two were duplicates) filled five pages of Life's issue on June 19, 1944.
It's interesting that Capa's picture editor John Morris pats himself on the back for two pages for getting the prints made, past the censors and into the hands of Life's courier just in the nick of time. Without pictures, there would be no need for picture editors.
Robert Capa found time between assignments, affairs, booze and cards to be involved in the creation of Magnum, the most prestigious photographer's cooperative in the world. Magnum's goal was to give photographers more ownership of their work. His old friends Cartier-Bresson and Seymour were co-founders. There are stories of Capa dipping into Magnum's petty cash when his funds were low. But as his close friends explained, "That's just Capa."
As the author puts it, "Capa was the first photographer to make photojournalism appear glamorous and sexy." Kershaw does us a favor by telling in great detail the price Capa paid for that image.