When it comes to his career, Tech N9ne's Christmas lists have been pretty short for a long time:
1) Become as well-known around the country as he is in the Midwest and in his hometown Kansas City.
2) Give the finger to the music industry all the way to the top.
This year, though, the K.C. rapper has narrowed the list. Tech N9ne is taking his battle to become the biggest name in rap to the front lines -- Los Angeles. And along with his crew's move into the heart of the music industry will likely come some ... well, playing by industry rules.
"You're forced to play that game if you want the world to know who the fuck you are," Tech said. "That's why they want me out in L.A. I don't wanna go."
Nor does he want to stoop to greasing the palms of so-called 'independent music promoters' to get radio airplay. But Tech feels like he has no choice.
Past Event
Friday, December 26, 2003, 10 a.m.
Uptown Theater, 3700 Broadway, Kansas City, MO
All ages / $20
"If you're not throwin' around $500,000 here, $500,000 there, you're not gonna have radio play. Luckily, we've got a little money," he said. "Constant bombardment is gonna get someone to buy an album 20 times over, and if you pay the right money, you'll get it. Everybody's gotta get paid. It's a fucked up statement, but it's all about money."
Still, a relocation that comes at the peak of self-made popularity will come as a shock to many familiar with Tech N9ne's well-publicized anti-establishment stance. But maybe it shouldn't. Always a man of contrasts, Tech looks upon himself as the disease that will fix the cure.
"I'm going into the machine. I'm going into the machine to fuck up the machine even more," Tech said. "The industry is so fake, it makes my stomach turn. I'm going into the belly of the beast to infect it with my shit, and it's going to be a beautiful infection. People love this virus, my virus is music."
Movin' to Beverly (literally)
Though Tech will keep one foot in K.C. -- his home-grown label, Strange Music, is keeping an office in Blue Springs -- he and his family are relocating along with the label's headquarters.

The L.A. expansion includes the entire 15th floor of the CNN Building at Sunset and Vine in Hollywood, a hub of hip-hop activity. The relative advantages of L.A. versus K.C. for a rising star like Tech might be obvious to some, but Strange Music owner Travis O'Guin says the move is purely practical.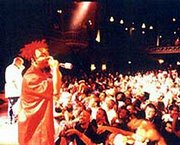 "Every single day I've got FedEx at my door. Every day I've got something to be approved and it's coming from L.A. If I was in L.A., I wouldn't have to get this FedEx today, I wouldn't have to add another day or two days to the process. If I was in L.A., I could meet with the agencies a lot more often. If I was in L.A., I'd be right down the street from my publishing company. If I was in L.A., I'd be right down the street from every other record exec with success in the hip-hop industry. It's all about trying to go there and be more productive," O'Guin said. "We've accomplished a tremendous amount from here at home, but I think we need to take it to the next level.
The move will also enable Strange Music to more easily nurture their partnerships with Marc Cerami, founder of seminal rap label Priority Records, and Quincy Jones III (QD3), both located in L.A.
"Quincy Jones has been tryin' to get me out there since '97," Tech said. "Every time I'm out there I do big things. When I was out there in '97 I was with Quincy, when I was out there in '98, I was on the "Gang Related" soundtrack with Tupac. Big. '99, did a song with Eminem and RZA, so on and so forth. So it's a bigger move, man, we have to expand."
Nowhere to go but up?
To expand on his accomplishments, Tech has got his work cut out for him in L.A. At home in K.C. he can pretty much count on sold-out shows and strong album sales. Tech holds the regional SoundScan record for most albums sold in a week (20,000+) and he may be the only genuinely 'local' artist who can consistently sell out 2,500-seat venues like the Uptown Theater.
Nor has Tech's success just benefited himself. Strange Music has helped Tech's crew and other K.C. rap talent spread their name and music. Kutt Calhoun, Big Krizz Kalico and BG Bulletwound have long shared national stages with Tech and two acts -- Vertigo and Skatterman & Snug Brim -- are releasing albums early next year.
Most recently, Strange Music produced the soundtrack to the lauded rap feud documentary "Beef." As always, their small storage facility is absolutely brimming with supplies for the guerrilla marketer, with palette upon palette of CDs to thongs to money clips. It's typical of thriving hip-hop operations on the coasts -- but unusual because for almost a decade, Tech N9ne made it work in K.C.
Last year, it looked like Tech might break all the odds when -- frustrated by his inability to break into radio -- Strange Music launched the F.T.I. campaign (Fuck The Industry). The cornerstone of the campaign: Tech gave away his entire "Absolute Power" album free download from his Website. Not only did F.T.I. get prime MTV news coverage and lead to hundreds of thousands of "Absolute Power" downloads, it surprised everyone by boosting Tech's album sales.
Tech and Strange Music have proved that a successful operation can be built from a basement office in Missouri. But a successful local operation isn't what they've got in mind -- they want an empire.
"I want the world to know me, and to get more people to know me I've got to go where a lot of people are, whether I like it or not. 'Cause this is my comfort zone, Kansas City, Missouri. I love it. They call me the Kansas City King. That's me. Everybody knows who I am. I love it," said Tech, breaking into the Cheers theme song.
"So I'm about to go make some other motherfuckers know who the fuck I am. I'm gonna get on the mic and do what I do, be how I be, see how it turns out. I won't stop until everybody knows who the fuck I am." -- Phil Cauthon contributed to this report