Odessa Shorter has gone from giving orders to taking them.
Shorter, 39, spent 20 years working as a traffic cop in San Diego before returning to her hometown of Lawrence to open a little neighborhood restaurant, Odessa's Cafe, in June 2002.
"I was a traffic officer, and I had three knee surgeries," says Shorter, a 1982 graduate of Lawrence High School.
"I figured it would be easier to take care of myself in Lawrence than in California. And I could no longer do the job I was doing. So I had this plan: I would hire people, open a restaurant and retire. We'll see if that works."
These days, retirement seems a long way off.
Shorter's got her hands full, supervising a staff of six and trying to get her restaurant at 409 E. 12th St. established in a town that has plenty of places to eat.
Shorter recently returned from a four-day visit to see friends back in San Diego. It was the first time in seven months she'd taken any time to herself away from the business.
She's trying to fulfill the vision she has of a cozy, neighborhood cafe where folks can look forward to a good, hearty meal at reasonable prices enjoyed among familiar faces.
The simple, straightforward menu is heavy on comfort food: meatloaf, mashed potatoes with gravy, pan-fried chicken, fried catfish fillets, homemade cole slaw and fruit cobblers.
"It's just regular. It's the kind of food you'd cook at your own house," says Shorter, who grew up in a family of six children raised by Melvin and Rosie Shorter.
The dishes on the menu at Odessa's Cafe are the kinds of meals her family always liked to eat, recipes that were honed through the years.
"I wouldn't call it 'soul food,' per se. It's homestyle. We're taking our time with it. It's food that anyone would cook; it's not fancy," Shorter says.
Whatever you want to call it, her customers seem pleased.
"We throw away very little food. Even the people who 'don't eat a lot,' they get here and they forget they don't eat a lot. It's a compliment that the plates come back empty," she says.
Customers stuck on meatloaf
The meals at Odessa's Cafe come hot, tasty and inexpensive.
The catfish fillets are crunchy on the outside and moist on the inside. The mashed potatoes are creamy and rich, the fried chicken juicy and toothsome.
And oh, those fruit cobblers. You'll marvel at how quickly they disappear from your plate, and it's no mystery why. They taste just like the kind your mama used to make -- assuming your mama knew how to make great cobbler.
But the big hit among customers seems to be the cafe's meatloaf.
"We have a couple that comes in, and they have the same thing. They both want meatloaf. They won't progress past that," Shorter says.
"I say, 'We have other things,' and they say, 'This is so good. This is what we want.'"
The business at the corner of 12th and Connecticut streets attracts plenty of regulars.
"A lot of them are older. Many of them have memories of this building when it was a laundry or a grocery store," she says.
For many years, the roughly 2,000-square-foot building was a Laundromat owned by Charles Snedeger, who still lives in the neighborhood.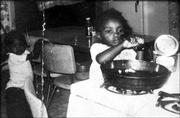 Shorter has childhood memories of walking home from Central Junior High School with her friends. They'd walk past the Laundromat and warm themselves under the air vents from the dryers.
"We loved it. When one dryer would stop, we'd move down to another one. And we loved buying candy from the vending machines," she says.
"The irony of me owning this building is that we lived right there," Shorter adds, pointing out the cafe's front window to a small, gray house near the corner of 11th and New York streets, where her parents still live.
"Mr. Snedeger was always involved with everybody. That's the way this neighborhood has always been."
No secret to good cooking
Growing up, Odessa Shorter's father served as her role model in the kitchen.
"My dad always made the most unconventional meals for us. In the wintertime, he would make us neckbone spaghetti. It was almost like a soup, so warm and good. But who ever heard of having neckbone spaghetti for breakfast?" she says, laughing.
"He'd make tomato cobblers. I hate them. And Mom always did the fish and different casseroles, roasts and gravies, greens."
Shorter has loved cooking, ever since childhood. A picture displayed in a silver frame at the cafe shows her as 3-year-old, making fried chicken in a cast-iron pan atop the family's stove.
Over the years, she became known among friends and family for her ability in the kitchen.
"It's kind of funny. My friends call it 'loving on them.' I feed them. Whatever they like, birthdays in particular. I say, 'What is your favorite thing to eat?' And then I make it for them," Shorter says.
Her philosophy is that it's important to have good food in your life.
"It just cuts to the basic human needs. Everybody wants to eat, everybody needs to eat. If you can enjoy what you're eating, that's even better. It transcends a social event," she says.
There's no secret to being a good cook, according to Shorter.
"There's skill, of course, and you have to be attentive. One of the biggest keys I find is you have to know what you want something to taste like before you cook it. Then you set out to accomplish that taste," she says.
As she speaks, one member of the extended Shorter family after another walks through the cafe's front door and settles in for a late lunch together.
There's her parents, her sisters Sandra and Linda, and Linda's three children and grandchild, an 18-month-old boy nicknamed "Pooh."
"I make all their meals for them," Shorter says of her parents, who come to the cafe every day.
"They love to eat out, so this is like heaven for them. If I need something, my dad will just go out to the store to get it."