Four junior high friends from the Bay Area assembled an all-girl rock group in order to perform at their school's "battle of the bands" contest. Almost 10 years later they're still together, conquering radio, MTV and network television.
No this isn't the plot of a Disney Channel movie. This is the story of The Donnas.
"We always had each other's backs in middle school and we still are in that position a lot of the time," says lead singer Donna A., aka Brett Anderson. "It always has been comfortable between us."
The vocalist is in Cincinnati where the band members are spending their day off talking to journalists. Although there are a few other things she'd rather be doing during this rare break from their hectic tour schedule, Anderson doesn't find the media responsibilities too overwhelming. For her, the most irritating aspect of The Donnas has nothing to do with the press ... or even with music.
"It's the photos that are embarrassing," she says. "How would you like being asked to sign your school picture from eighth grade all the time?"
Recently, the band was asked to sign something a little more significant.
Following four albums with the independent Lookout! Records, The Donnas inked a deal with Atlantic, which just released their major-label debut "Spend the Night." Already the disc has spent the week at No. 2 on MTV's "All Things Rock." And the quartet is currently on a lengthy tour that runs through Lawrence on Wednesday and eventually leads to England and Germany.
"We don't think specifically about marketing. Our whole goal is to play live," she emphasizes. "When people see us live, they'll understand our band."
That's an understatement.
The Donnas are the definition of a stage-honed rock act. Whereas most younger female artists have a production team and studio trickery bolstering their patchy skills, The Donnas are more of a what-you-see-is-what-you-get ensemble. Their raw electric output conjures images of The Ramones and AC/DC, albeit funneled through the viewpoint of four gals who've made a trip from puberty through drinking age together.
"People compare us a lot to The Go-Go's and The Runaways, and it's just funny because we don't really sound like them at all," she says. "We like them and respect them, but it's so obvious that the only reason they're comparing us is because it's all girls."
A performance a few weeks back on "Saturday Night Live" helped further the distance between such analogies." Launching into "Take It Off" and "Who Invited You," the quartet (which also includes guitarist Allison Robertson, bassist Maya Ford and drummer Torry Castellano) hammered the crowd with an in-your-face, amp-cranking performance.
"It was cool; we were so proud to be there," recalls Anderson of the program, which was hosted that week by actor Ray Liotta. "That wasn't even one of our goals when we were younger. We just never imagined that we'd get to that point. You dream about that like you dream of playing Madison Square Garden -- it's a total daydream. It's not like something that is on your actual list of goals."
While events like that have been something of a dream, "Spend the Night" was influenced more by nightmares. "A Nightmare on Elm Street" to be specific.
What: The Donnas, OK Go, Rooney.When: 8 p.m. Wednesday.Where: The Granada, 1020 Mass.Ticket price: $13.50/$15.Ticket information: 842-1390.
"We're all obsessed with Freddy Krueger," Anderson says of the horror film star (a poster of which appears in the group's CD booklet). "Of all the killers in all the movies he always looks like he's having a good time. It's not like he's tormented and he has to kill but feels guilty; he just likes to kill."
Is that somehow analogous to being in The Donnas?
"I don't know," she responds. "We like what we do, but I don't think there's anyone in any band that feels like they're forced to do it -- play music not kill."
Age barrier
While The Donnas' music is generally a straight-ahead mix of retro rock and gritty pop, their lyrics are a bit more subversive. Their poetic trash-talking strikes a nice balance between goofball innocence and confrontational empowerment.
"Face it dude, you can't beat me/In your Charlie Brown shirt and Cavariccis/Baby, you come up to my waist/You need a barstool to get up in my face," Anderson sings on "Who Invited You."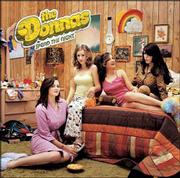 On "Dirty Denim" she spouts, "I can tell you think I'm impressed/But do you think you're gonna get me undressed/'Cause if you do I got bad news/I wasn't winkin' that was just the booze!"
"The one everybody asks me about is probably the D cup line from 'Take It Off." ("Need your love 1, 2, 3/Stop starin' at my D cup/Don't waste time, just give it to me/C'mon baby, just feel me up")
"I always tell them I didn't write that line," she says laughing.
Despite constantly writing from the perspective of people their collective age, Anderson claims The Donnas have never found much of an audience among their peers.
"Most guys our age like the more testosterone crap music," the 23-year-old says. "A lot of the girls I know just want to listen to guy bands because they want to be groupies.
"Our fanbase is a lot of really young people and a lot of older people. There are starting to be more people our age. But for the most part, we started out with older men and now we have older boys as well."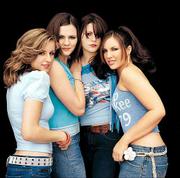 Perhaps one reason for this is the band members might seem too "normal" to their contemporaries. All four are easy on the eyes, but none are comely enough to make it to the final round of "American Idol." The Donnas look like real girls from next door, not some manufactured models from the pages of Teen People.
Therein lies their charm.
Anderson says, "I think we have a lot more in common with the Foo Fighters than with the (expletive) Spice Girls."