Muscular black men boldly chiseled in ink tones occupy the spaces of Hobart Jackson's drawing paper.
Proud black women dance, labor, bond and rejoice in scenes Marla Jackson stitches into her quilts.
The Lawrence artists share a name, though they're not related, and they're both black. But that's about where the similarities end.
Marla Jackson's quilts evolve from memories of having her hair braided as a child, musings about what life must have been like for her ancestors held captive on plantations, thoughts on motherhood. Her impulse to create work that might be considered "African-American" stems from pride, but also the frustration of feeling disconnected from her heritage, not knowing the details of her family history past her once-enslaved great grandmother.
Hobart Jackson, by contrast, focuses consciously on black culture only when the model who visits his weekly figure drawing session happens to be black. Otherwise, his drawings are studies of the human figure, and his photographs contain structures and cityscapes.
That's the trouble with trying to pigeonhole African-American artists. It can't be done. And why try? Despite the fact few mainstream American art history texts include work by black Americans, a diverse array of black artisans have been at work in this country from the moment they arrived in the early 17th century.
"Black folks never stopped making art when they were transported against their will from Africa to this country," says Cheryl Ragar, a Kansas University graduate student in American studies who is teaching a course on African-American art this spring. "The question becomes at what point did it start becoming African-American art as opposed to African art."
Countless now-unknown slaves were architects, metalsmithers, seamstresses and musicians. As slaves were freed and art supplies and training became available for black Americans, people like Henry Tanner, Horace Pippin, Aaron Douglas and Romare Bearden came to the fore. Lawrence produced author Langston Hughes and vaudeville star George "Nash" Walker.
Though they acknowledge their predecessors, Hobart Jackson and Marla Jackson have found success and fulfillment simply by creating art that comes from their souls.
"We're artists first, and by virtue of birth and upbringing, we're African-American," Hobart Jackson says.
Mining imagination
Marla Jackson remembers growing up in the 1950s and '60s in Detroit and telling her mother she wanted a doll that looked like her. Unable to find African-American dolls in stores, her mother, Fern Hale-Hopkins, began sewing brown-skinned dolls for her daughter.
A collection of those dolls is on display this month alongside 10 of Marla Jackson's quilts at the Watkins Community Museum of History, 1047 Mass.
After being kicked out of her junior high sewing class, Marla Jackson didn't take up the craft again until she was 28. She only learned to quilt seven years ago. But since then, she has taken full advantage of her newfound canvas for expression, completing seven quilts just since October.
Her work is narrative in nature. One piece that always gets a lot of attention is "Escape." Skillwise, it's probably the simplest of Jackson's pieces. But it speaks volumes in meaning. Two large eyes peek out of a dense forest, the glittery north star shining bright above them. A closer look reveals what seems like hundreds of pairs of moving eyes peering from behind the too-skinny tree trunks.
"I tried to really get into the quilt. I put myself there mentally and emotionally and tried to imagine what it would have been like escaping that night," Jackson says. "I put these moving eyes on it because they had to be scared to death. I would have been scared to death."
Another quilt, "Corporate Daycare," shows a black woman holding two babies -- one black, one white -- to her chest. (Slave women often were charged with breastfeeding their masters' children along with their own.) In the background, other slave women tend to chores, their children nearby.
The idea for the piece came in a moment of desperation. Jackson was 28, recently divorced and taking care of three children alone. She called her mother, who pointed out that black women had been in that situation for hundreds of years.
"African-American women were the first in the work force and the first with a daycare system," Jackson says.
Jackson, 50, sees herself as part of a long line of black American quilters who infuse their work with meaning and make rich works of art while refusing to adhere to mainstream conventions.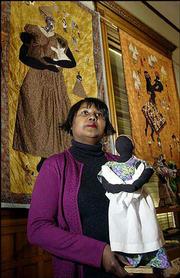 "The stitches are large, broken, uneven," she says of her quilting. "It's almost rebellious. We're not going to fall into a category. We're not going to conform."
Taking control
Hobart Jackson rode a bus an hour each way to attend predominantly white schools when he was growing up in 1950s Philadelphia. He was educated at universities like Princeton, Carnegie Mellon and Southern Illinois at Carbondale.
"One definition of art is that somehow art arises out of one's own culture or cultural roots. I think that's somewhat of a limitation," he says. "Obviously, I can't escape who I am or how I was brought up. My experience has been much more immersion in white culture.
"I may not be immersed in black culture, but I don't shy away from it. I do embrace it. The driving energy is just somehow to be creative."
Jackson did his earliest painting in junior high while listening to a jazz album. Jazz is still the frequent backdrop as he creates work in his upstairs studio. But his hectic schedule teaching in KU's architecture department leaves him little time to make art.
His drawings, which he creates using lines and washes of sumi ink, are part of many private collections. A few years ago, he was invited to show work at the Lawrence Community Theatre during its run of "A Raisin in the Sun." He decided to make the dominant imagery about African-American culture, displaying drawings of black models and photographs of his family.
"I'm an African-American artist who obviously has imagery that can relate to the African-American experience," says Jackson, 62. "But I don't see that as limiting the kinds of subject matter that I might pursue."
Other African-American artists have taken it upon themselves to create art that tries to shape views of black culture.
"Early on, whites were revealing, but I would say also exploiting, the condition of African Americans in the United States. Their careers were built on it," he says. "Now, we're finding that African-American artists are ... controlling the kinds of images that come out."
Building understanding
It's only been within the last few decades that a significant audience for African-American art has emerged at all, Ragar says. People like Bill Cosby, who started the highly respected Cosby collection of African-American art, got the ball rolling.
Still, a knowledge gap persists. Ragar says many of her students -- white, black or otherwise -- came to her class knowing very little about artists in general, and seemed even more unfamiliar with African-American artists.
"I sense, at KU anyway, that there is a real absence of understanding about African-American art. As far as I know, there is nobody in the art history department that has studied African-American art. As far as I know there has never been at KU an African-American art history class," she says.
Perhaps Black History Month is a good time to flip through a book about the Harlem Renaissance, search the Web for images of work created by African-American artists, broaden our horizons. After all, Ragar says, art is one avenue for understanding humanity.
"It's a form of cultural expression, and so it's a place to learn about ourselves," she says. "Black history, Latino history, Chinese history, Japanese history -- all of these things make up who we are as Americans or citizens of the United States, and to not understand about such key parts is a loss for all of us."