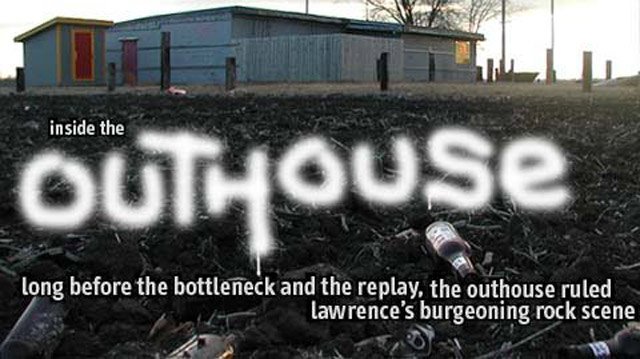 Wednesday, February 19, 2003
No freakin way? Yeah dude, it's been two years. Two years since lawrence.com as is has been. To celebrate, we'll revisit a few of our favorite stories from the years gone by...like, this, our very first one.
Remember the Outhouse.
Though their cry is quieted with each passing year, the soldiers who once turned a nondescript cinder-block shack on the edge of Lawrence into a punk rock icon still roam the earth. Always proud but never haughty, they'll gladly share their war stories with a little persuasion.
Just don't believe any of them.
"There's a lot of conflicting stories about what happened at the Outhouse," said Bill Rich, an Outhouse expatriate recognized by one former concertgoer as 'the man who started it all.' "Some people want to sound more important than they are. Everyone had their own opinions on what was happening then, and that still holds true."
What is certain is that - during a decade typically associated with Madonna, makeup and mullets - the Outhouse was Lawrence's torchbearer of alternative culture. And in the '80s, alternative meant punk -- Bad Brains, Descendents, 7 Seconds, Naked Raygun, Sonic Youth. Those bands played the Outhouse; Billy Idol didn't.
And for the teens and young adults -- from Lawrence, Topeka, Kansas City and beyond -- who congregated in the mud-soaked parking lot every weekend, the Outhouse meant something more than music. It meant freedom - from parents, from authority and from the banality of attending high school and growing up.
"It opened my eyes as a 14-year-old walking out in that cornfield seeing things I never saw in school," said Matt Sullivan, manager of the Replay Lounge, a venue that's filled the void since the Outhouse closed for good in 1998. "It was definitely a bad influence -- I smoked my first cigarette, drank my first beer and almost lost my virginity."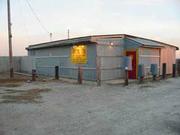 Humble beginnings
The Outhouse wasn't the first venue to bring alternative music to Lawrence. Between the years of 1979 and 1981, the Opera House (now Liberty Hall, 642 Mass. St.) played host to the Buzzcocks, Iggy Pop and Devo. Local bands -- like the Clean, Get Smart, and Wichita's The Embarrassment -- found a home at Off-the-Wall Hall (now The Bottleneck, 737 N.H. St.). These venues -- together with the support of Kansas University's student-run radio KJHK 90.7 FM and Exile Records -- had fostered a bona-fide rock scene.
But live alternative music took a big hit in 1982 when the Opera House and Off-the-Wall-Hall closed their doors. Off-the-Wall-Hall reopened briefly in 1983 as the Dynamo Ballroom, but closed again later that year. The Opera House also reopened to scattered shows but closed down in 1984 for renovation.
"It seemed like there was about a year and a half when there wasn't any place to see punk rock shows besides houses," said Bob Cutler, who later became a sound engineer at the Outhouse.

Without a proper venue, an artist's space called the Loft, 615 1/2 Mass. St., began doing shows. Word also got around about a building east of town that was available for parties.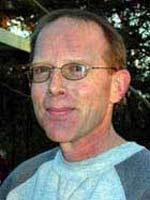 In 1984, Phil Heying organized one of the first officially promoted shows at what would be called the Outhouse. The show was a benefit -- for himself.
"Phil put the show together after the police broke his camera at a party," said friend Bill Rich. "He had a lot of anger."
Phil rented the building from Donny Mellenbruch, a burley Harley-Davidson motorcycle enthusiast that bought the cinder-block shack as a place to work on his motorcycles and throw parties. Though he didn't identify himself with the punk rock crowd, Donny soon became a fixture at shows.
"Donny came out a lot in the beginning because he liked the crowds and he liked to party," Rich said. "He liked to ride his motorcycle around the building after shows. One day he sang some songs and -- in the middle of a song -- took out a pistol and shot a hole through the roof."
Later that year, (the Lawrence punk band) The Micronotz painted the building, built a stage and burned the brush around the building. With the skeleton of a venue intact, the only challenge left was getting bands to come out to a cinder-block building in the middle of a cornfield.
Bill Rich, a 25-year-old punk rock enthusiast who already had experience booking shows at the Opera House, stepped up to task. With the help of KJHK, Rich and his production company Redline Productions began doing shows at the Outhouse.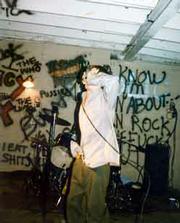 "When the punk rock movement hit we all got caught up in it," Rich said. "It was a relief from how tired music had been. My whole focus changed to punk rock."
"It was a whole new do-it-yourself world. We didn't need the support of the system in anything we did -- touring, selling records, getting on the radio."
"Provoking a reaction"
Brandt Nesbitt, the guitarist for Lawrence's Slurry, wore a five-inch blonde mohawk to the Outhouse.
"I wanted to provoke a reaction. That was the whole point," Nesbitt said. "We provoked a reaction to what people take for granted now -- tattoos, body piercing. We forced a different culture -- especially in Kansas."
Dave Simmons started going to shows in the summer between fifth and sixth grades with older friends. He said that punk rock was an identity that he carried with him, even as he raised his child.
"Punk rock was totally political," Simmons said. "It was about fighting for who you are, regardless."
But punk rock wasn't all about politics. It was also about slam dancing.
"That was the best environment for a mosh pit," said Kurt Nesbitt, a regular at the club in the '80s. "Except for the big broiler on the left that would singe you if you touched it. It felt like touching a hot iron."
Dave Simmons
Jimmy Troughton
Jeff Fortier
Anne Tangeman
Jacki Becker
"A cinder-block crapper"
Comfort and sanitation were never selling points for the Outhouse.
"The floor was freezing. Your feet would be in pain by the end of the show if it was winter," said Jimmy Troughton, an Outhouse regular known to his friends at the Replay Lounge simply as Jimmy T.
"The toilets worked 25 percent of the time, when they weren't smashed. When you had to shit you ran out in the cornfield."
"One of the first shows I saw there had a pig's head nailed to the wall with tempera paint next to it and 'Paint the Piggie' scrawled on the wall."
Despite the decadent condition of the building, the Outhouse drew a diverse and - depending on the show - often rowdy crowd of music-lovers and thrill-seekers. Just outside the jurisdiction of the city police, underage drinking in the parking lot was commonplace.
"I went there because guys never hit on me. I could just hang out in back with a 40-ounce and listen to the music," said Anne Tangeman, former editor of Micromag, a free Lawrence music zine that was a fixture around town in the mid-nineties.
Aaron Strelow, a bartender at the Replay said he had a hard time recalling specific shows or experiences.
"A lot of times it was a complete blur because we were so loaded," Strelow said. "I just happened to like speed. Speed and whiskey -- that's a pretty rowdy combination when you're listening to music."
But one memory stuck out in Loran Frazier's memory.
"I'm leery of skinheads to this day," said Frazier, 32. "I saw my friends get beat up just because they had short hair."
"But it was usually skinheads beating up each other."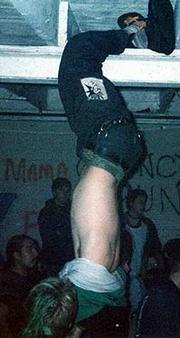 "Drunk, violent thugs"
It's difficult to have a conversation about the Outhouse without mentioning the skinheads. By the late '80s, they seemed to take over the club. So many kids were shaving off their mohawks that sound engineer Bob Cutler began keeping a "box of hawks" for all the mohawks he shaved off in the bathroom. Cutler said the majority of skinheads were not racist.
"It was just your typical identity crisis," Cutler told the Lawrence music 'zine Micomag in 1996. "They were just punk rockers who decided that being punk rock meant having to think too much about your own identity and it was easier to buy into this kind of Kmart skinhead identity because that was getting the popular press at the time -- and it would piss off your parents a little more."
Promoter Jeff Fortier identified himself as a skinhead, but said he became disenchanted with the violence associated with the tag.
"A lot of people that I thought were my friends were arrogant and took advantage of the power system and made it uncomfortable for a lot of people to go to the Outhouse," Fortier said. "I kind of felt like I brought that to the Outhouse, and I felt a little bad about that."
Promoter Dave Budin said he felt embarrassed and frustrated by the intimidating presence of the skinheads.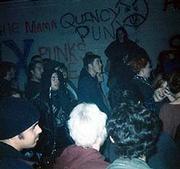 "Frequently the people who were working security were the ones who would be involved with the fights," Budin said. "No one wanted to step up and deal with it. Most of the skinheads were true to the stereotype of drunk, violent thugs. If you weren't into the skinhead scene it could be really frightening."
Budin spearheaded an effort to clean up the image of the building. The chore began with a very unpopular decision -- painting over the graffiti that adorned the interior.
"It was a tough decision but I think it helped save the place," Budin said. "People looked at it less like a shithole."
All things must pass
By 1990, punk rock shows happened less frequently at the Outhouse. With bands like Green Day, Rollins Band and Helmet seeking to play bigger and better venues, Budin began to think the Outhouse was more trouble than it was worth.
"It became so much of a pain in the ass to do shows out there," Budin said. "The rent was going up for shows and we could pay less for a better PA at the Bottleneck."
"Move on with the bands or they'll move on without you."
Fortier also felt it was time for a change.
"The dilemma that I had was that there weren't as many punk rock bands touring and that scene had really shrunk," Fortier said. "Certain scenes didn't want to be in a concrete building in the middle of a cornfield. Especially in the motherfucking winter, with no heat."
The Replay, and The Hideaway, now the Dance Academy at 1117 Mass. St., also began doing rock shows in the early '90s.
"Once a couple cool places opened up here in town the prospect of driving out there didn't seem as great as it used to be," said Jimmy T. "I didn't want to risk the roads or the possibility of getting a DUI when I could just walk to the Replay."
The final nail in the coffin came in '93 when massive flooding made the road impassable and turned half the parking lot into a lake. It got so bad that "ferrying people over the moat" in four-wheel-drive pickup trucks became common practice. On the worst days, they used canoes.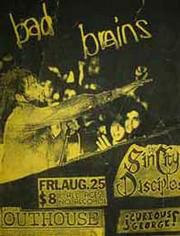 Last gasp
From 1993 to 1995, frat parties outnumbered rock shows at the Outhouse. But the war-ravaged building still had enough breath for one last gasp.
"A new breed of younger punks who didn't get to go to the Outhouse in its heyday began putting on shows," said Jeremy Coffman, a Topeka teenager who came to his first show in 1991. "There definitely weren't as many kids that came out then. It was more relaxed, almost nostalgic."
But the second wind fell short. In 1998, Mellenbruch fell on hard financial times and lost the lease. Jeff Wallace picked up the building and turned it into a BYOB strip club. The Outhouse remained a cinder-block palace of sin -- only now it was profitable.
Legacy
The three-mile drive east on 15th Street hasn't changed since the Outhouse traded its drum kits for big tips. The road is still crappy and the horizon is still dotted with cows. The pavement still gives way to gravel and the Outhouse still sneaks up on you like a ghost in your rearview mirror.
For all that happened within its walls, the building looks surprisingly modest. The only trace of the past is graffiti on a little bathroom east of the building -- the Outhouse's outhouse -- that reads "SICKBOY PUNX" and "SOME SKINS."
"I don't think you could pull it off again," said Zippy, owner of Love Garden Sounds, 936 1/2 Mass. St.
"Now it's just me and the people I've known forever sitting around talking about how we were young, dumb and fucking stupid."
The Micronotz Volume #2, 1985-86
Past the Outhouse
But for a select few, the Outhouse marked the beginning of the unthinkable -- a career in the music biz. For Jeff Fortier, it was the rock and roll equivalent of boot camp.
"I was going to school full-time, I was working 40 hours a week and I was doing shows and running the Outhouse," said Fortier, who now runs Renegade Productions. "That was trial by fire. You were on the plank. You had to come up the money to pay the bills and if it didn't work you were out."
"No one really made any money."
But then the unthinkable happened. Punk rock caught on with the mainstream.
"All of a sudden radio was starting to have an effect," Fortier said. "Next thing you know, Green Day and the Offspring and Helmet -- bands who had played the Outhouse -- two years later they're playing small arenas."
And the promoters that booked them at the Outhouse went with them. Dave Budin, who booked the agent-less Green Day for $250 at the Outhouse, found himself promoting the fastest sellout in Memorial Hall history.
"Green Day put me though college and paid for my car," Budin said.
After a couple years of independently promoting shows at Liberty Hall and the Bottleneck, Budin set out for Portland to pursue an opportunity with Monqui Presents and Portland's hippest club -- La Luna.
"It was the alternative space when alternative meant something," Budin said. "If I did 10 important bands at the Outhouse, I probably did 200 at La Luna."
In 1998, Budin followed the job trail to Chicago and then to Philadelphia, where he took an assistant position with Electric Factory Concerts and SFX Entertainment. Then his career took a bizarre turn that even Budin couldn't have foreseen: Clear Channel bought out SFX.
"All of a sudden I went from working for this local mom and pop promoter to this giant global corporate thing," Budin said. "I was doing work for the Backstreet Boys, N' Sync and Christina Aguilera. It was bizarre."
"When you get into the big business, you realize that the bands you like don't usually make it. I saw of lot of my favorite bands from the early '90s fizzle away, which was a bummer. But the truth is that the indie rock community is nasty, elitist and unfriendly. I just wanted to get a job and get back in the mix."
Budin said that the fans - not the promoters -- dictate trends.
"I saw Styx come to town and draw 7,000 people. There is something really wrong with America if people pay $40 to see a band that doesn't even have the original lead singer and hasn't put out a new record in 10 years," he said.
"It seems like all the progress since Nirvana has been completely destroyed. It's depressing, but it's business."
Whereas Budin rode his experiences at the Outhouse all the way to Clear Channel, sound engineer and "house manager" Bob Cutler drove - as a roadie for Canadian punkers Dead on Arrival (DOA). In his seven years with the band, Cutler toured Europe five times. He estimates he did sound for more than 1,000 shows at the Outhouse.
"It taught me how to operate under stress," Cutler said. "The real challenge was to make a band sound good inside a cinder block box. And to get shitty, broken down equipment to work night after night."
Cutler travels from Topeka to the Replay Lounge, each weekend to collect donations for a youth center he's trying to open in downtown Topeka. He has collected $2,500 but said he'll need grants to make it a reality. He envisions the center as a coffee house that would also function as an all-ages music club.
"It's in my blood to support the music scene," Cutler said. "It's all I want to do and it's something I can do."
Cutler, who's lived his whole life in Topeka, still brags about bringing the legendary punk band Black Flag to Topeka when he was 17. He said that most of his early efforts to throw punk shows landed him in jail.
"Topeka was still burning rock records in 1986. Needless to say, the powers that be were not fond of me doing punk shows," he said.
Independent music promoter Jacki Becker started going to shows at the Outhouse when she lived in Hashinger Hall. Though she never booked a show for the Outhouse, she credits the Outhouse with helping get her involved in underground music.
"Back then, bands would show up and play for beer and a door deal, which doesn't happen anymore," Becker said. "It's a different business now. There's insurance and there's lawsuits and there's ad packs and ad campaigns. Back then you made a flyer. You took a marker and drew a picture."
"We all started somewhere. The Outhouse was sort of a stepping stone - along with KJHK - to having careers in music that we probably never dreamed we could have."