Wednesday, February 19, 2003
Jumbo's Killcrane has been eating audiences alive for more than three years now. With the release of "Carnaval de Carne", its third full-length and first on the experimental metal label Crucial Blast Industries, the band is hoping to find a following to share in the feast.
With a sound described by their record label as "crushing prog-sludge", the members of JKC are the first to admit that finding an audience has been an uphill battle. But that hasn't stopped them from embarking on a dozen tours and playing many more than 300 shows in their short lifespan. The band's tenacity also reveals itself in accommodating a rotating cast of bass players and the recent exit of bassist Paul Mendez.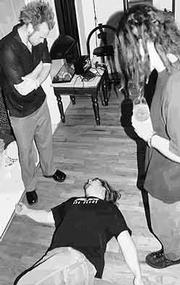 Carnaval de Carne is in stores March 25 and is now available at www.crucialblast.net. Lawrence.com caught up with the trio on Valentine's Day in Baltimore, Md., on the last leg of a three-week tour. Troy Richardson (Filthy Jim) assumed bass duties for the tour; Guitarist/vocalist Eric Jarvis and drummer Adrian "Bloody Knuckles" Proctor represent the only stable parts of the band.
How are you celebrating Valentine's Day?
Troy: I'm taking Eric out on a date tonight, buying him chicken fingers and bourbon.
Eric: (laughing) O man, that doesn't sound very appealing.
Does "Carnaval de Carne" mark a turning point for the band?
Eric: This is our first real record deal. Everything up to now was just complete bullshit. We can stop the web of lies now.
Web of lies?
Eric: We put a label name (Tarlick) on the back of our albums and just pretended it was a real label. I thought I could fake being a record label but it was impossible for me to do, and stupid to have even tried.
Jumbo's Killcrane, Carnaval de Carne
So how does it feel to make the transition to something more legitimate?
Eric: Very nice, actually. We just met the owner of the label last night in Baltimore and he's a really cool guy. He's on his shit. He's already sold half of the first pressing (500 out of 1,000) and it's not even out yet.
The average listener would probably call you a metal band. Is that true?
Eric: Last night (the owner of Crucial Blast) called us "Cavemen with calculators". I thought that was accurate.
Adrian: Yeah, I never know what to say but I'm going to start saying that from now on.
Eric: It's kinda getting more metal but it's also punk. It's like "doom punk."
Adrian: Anyone that's into heavy music would probably know that we're not metal but any average listener would probably think we were.
Eric: Well, maybe it is metal, dude. I mean, who's to say?
Adrian: Well, there's not like shredding licks and dueling guitars.
Eric: No. We can't play that good.
Richard Gintowt talks with Jumbo's from the road, 02.14.03
Have you seen your crowds increase through the years?
Eric: Starting at nothing, yes, there has been an increase. (laughs)
Adrian: Rock and roll crowds are hard to come by. We just try and add as many as we can for the next time.
Eric: Except for some places you'd never expect, like Little Rock (Arkansas). It's just a weird community of freaks down there that do all these crazy drugs ... crazy, bearded, crusty, dread-docked motherfuckin' weirdos.
Adrian: Silverbacks...
Eric: But it's awesome. They go nuts and they really appreciate the music. I think it's the only thing they have down there.
How would you describe the clubs you play?
Eric: They range in size. They're either big and empty or...
Adrian: Small and empty. (both laugh)
What's your definition of a successful night out on tour?
Eric: Making your guarantee, affecting people.
Adrian: As many pairs of eyes just staring blankly at you as possible
What are three things you hate about touring?
Eric: Too much junk food, back hurts from sleeping on the floor, not getting free booze.
Adrian: Getting screwed over by clubs, not getting free booze, missing my girlfriend.
What artists inspire you most?
Eric: High on Fire, Weedeater, Jimi Hendrix, Zeppelin, Lynyrd Skynyrd, the Beatles, Starship, ELO (Adrian is cracking up)
Adrian: Jimi Hendrix Experience, and everyone else can go fuck themselves.