Sunday, February 23, 2003
Eve flaps the third and fourth fingers of her left hand rapidly against her palm. She shifts from her left foot to her right and back.
She avoids locking eyes with anyone else in the room as she spins a stuffed killer whale named Shamu through somersaults above her head.
She's aloof, easily distressed -- and she can't speak.
It doesn't take long for anyone who's been around a child with autism to recognize that Eve has the developmental disability.
What's so impressive is that Eve's world ends where the audience at Lawrence Community Theatre begins, and the actress playing the 17-year-old student doesn't have autism at all.
"It's something you want to portray accurately," says Lawrence resident Tina Connolly, who is stepping into Eve's shoes for the theatre's production of Kansas City playwright Frank Higgins' "Miracles," which opens Friday.
It's the most challenging role the 26-year-old has tackled, aside from a stint as the blind, deaf and mute Helen Keller in "The Miracle Worker."
But then Higgins' script is brimming with challenges. Ottawa resident Forrest Lowry, who plays Eve's father, must convey a spectrum of emotions that swings from complete detachment and lack of faith to reserved hope to joy and back down again. Topeka resident Jeanne Chinn as Kate, Eve's tireless teacher, is forced to confront her motives and tactics even as she believes strongly she is helping Eve.
And then there's the audience, which must decide whether the characters are good or bad in a complex struggle that's steeped in ambiguity.
"I don't see this as a play about autism," Higgins says. "It's a play about whether miracles are real, about spiritual belief. It's about what do you believe in, why do you believe in it, and why is it so important for you to believe in it, regardless of what that something is."
Small miracles
That "something" in the play is a book of poetry that Kate helps Eve "write" through a controversial teaching method called facilitated communication. It's a real technique in which the teacher holds the student's wrist to keep it steady while the student points to letters on, in this case, a piece of cardboard.
Kate invites Eve's father to the private school in The Berkshires -- he hasn't visited in two years -- to see the book, called "Miracles," for himself and give legal permission to have it published.
Higgins' idea for the script developed in the early 90s, when facilitated communication started getting attention, on the one hand, as a breakthrough technique and, on the other hand, as a farce created in the minds of overzealous educators.
"Frontline" and "60 Minutes" did segments about the method and the controversy surrounding it. Several studies showed that the teachers were influencing the students' responses.
"It was those kinds of cases that really kind of created the play for me," Higgins says. "What if that were true and it really was the case that a teacher honestly thought she was talking with her student and then is horrified to find out that she was having a conversation with herself?"
From there, Higgins says, the broader issue in the play became belief, or "having an almost spiritual faith that there's something special about someone, that something is the case even if there doesn't seem to be much evidence that it is the case."
Also tucked into the play are tiny milestones aside from the overriding miracle of Eve's book.
"It's also about just the daily miracles and the faith that Eve can open a letter, put on a piece of clothing, that Eve can accomplish things, whereas when her father last saw her, she was not capable of doing any of that," says director Ernest Williams of Kansas City, Mo.
The third act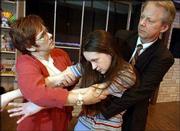 Connolly, a 1994 Lawrence High School graduate and Kansas University alumna, read articles and watched videos about autism in preparation for her role. One story that stuck with her illustrates the importance of routine in the lives of people with autism.
It was about a man in London who always took the bus home. When a strike halted bus transportation, he was at a loss for what to do. He called his mother, who told him to take the subway, but he couldn't bring himself to do it. She ended up having to pick him up, and he was forced to "reprogram" his brain to allow him to take either the bus or the subway in the future.
In addition to studying typical autistic behaviors, Connolly received guidance from Lois Orth-Lopes, a special education teacher who works with autistic children at Cordley School.
But the real trick -- aside from giving a realistic portrayal of a teenager with autism -- comes in fantasy scenes during which Connolly must seamlessly shift gears to fit the daughter and pupil of her father and teacher's dreams. Suddenly she can talk, stand still, smile.
Connolly has previously appeared at Lawrence Community Theatre in "Don't Dress for Dinner" and "The Last Night of Ballyhoo."
Higgins' credits include "WMKS: Where Music Kills Sorrow" and "The Sweet By 'n' By," which was performed by Gwyneth Paltrow and Blythe Danner in 1992.
The Lawrence Community Theatre production of "Miracles" is the first by a community theater. Previously, it has been staged in New York, San Diego, the Barter Theatre in Virginia and the Fulton Opera House in Lancaster, Pa.
What: "Miracles"When: 8 p.m. Friday, March 1, March 7-8 and March 14-15; 7:30 p.m. March 6 and 13; and 2:30 p.m. March 2, 9 and 16.Where: Lawrence Community Theatre, 1501 N.H.Tickets: $11.50-$15.50. Call 843-SHOW or visit www.theatre.lawrence.com.
Its greatest strength, Higgins says, is that it sticks with people once they leave the theater.
"My philosophy of playwriting is that in a two-act play, the most important act is the third act, meaning what are people going to talk about in the car on the way home," Higgins says. "I think that, ideally, when you have an interesting play, people can argue back and forth about a character, why a character did something and what it was all about.
"I ask myself what's the question of the play? If I can answer the question logically, if I'm not torn in any way answering the question, then probably that's not a play. That's probably a made-for-TV movie."
More like this story on Lawrence.com