As the war over Internet file sharing goes global with the music industry's suit against Kazaa - the multinational successor to mp3 file-sharing giant Napster - a rapper in Kansas City is fostering a
revolution that could undermine the industry's case.
In taking down Napster, the Recording Industry Association of America (RIAA) argued that the availability of free mp3s online was responsible for record low album sales.
However KC's Tech N9ne seems to have demonstrated otherwise. Frustrated by the inability to break through what he says is a major label monopoly on radio and TV, Tech decided to circumvent those promotion vehicles and use the Internet instead. He put 20 of 27 tracks from his new album "Absolute Power" on his site therealtechn9ne.com to download - for FREE.
The end result: Album sales have more than doubled.
"If (sales) would have plummeted, everyone would have pointed at us and laughed," Tech says. "But since then sales have gone from two to four thousand a week ... Kids will download the album and, if it's a quality album, 9 times out of 10 they will go buy it."
The real reason the major label CDs aren't selling is that all but one or two tracks on most albums are crap, believes Tech."The reality is that file sharing on the Internet has given you, the fan, an opportunity to sample the music before wasting your hard-earned money on lousy records," reads a message on his site accompanying the free music.
Tech didn't just post his music online and wait for downloaders to find it. He launched the "Fuck The Industry" (F.T.I.) campaign, a movement he hopes will force the music biz to reform and ultimately open radio and MTV to artists like himself.
His management team spent $140,000 on three F.T.I. commercials to run on MTV, Comedy Central and Fox in 12 cities. In addition to the 3,400 plays that bought them, MTV News picked up the F.T.I. story and ran one of the commercials throughout the day, effectively doubling the bang for Tech's buck.
Though F.T.I. has proven successful in getting Tech in the spotlight where traditional means failed, he insists the motivation behind the campaign was not self-promotion.
"This is a real feeling that I've felt for years," he says. "And the fans are gettin restless." Last month when the music industry went after Kazaa, Tech's team organized 300 protesters, many decked in F.T.I. shirts, in a rally on the steps of the California courthouse where the lawsuit was filed.
Tech says the F.T.I. campaign hasn't planned any further protests or boycotts, he's sure that's to come.
"We're spreading the F.T.I. movement from town to town," explains Tech, who on stage wears a bishop's robe and takes every opportunity at his sell-out shows to preach the anti-industry gospel.
"Right now we're in recruit mode. We're 6,000 strong and gettin ready for when something else goes down in the music industry. The F.T.I. campaign will be there."
Striving for 'Absolute Power'
Though F.T.I. was something of a last resort for Tech N9ne, the motivation for the campaign had been brewing for some time.
Two months into the promotions blitz for his third album "Absolute Power," Tech N9ne was on the ropes.
After working his way up for 10 years and weathering two broken record contracts, the artist had put everything behind this project - including a six-figure video for the first single "Slacker," and an
equally mammoth money push to get the song on national radio stations.
Album Mp3s

Absolute Power
Yet "Slacker" was languishing with just 150 spins per week. Tech needed at least 500 to get his video on MTV. Until that happened, he could probably count on "Absolute Power" sales continuing their slide down from the release's peak.
Tech's management team - former Priority Records heads Mark Cerami and Dave Weiner (now of M.S.C. Entertainment in Los Angeles), and Travis O'Guin of KC-based Strange Music - knew they had to do something.
"We were all on the phone trying to decide where we'd go next, you know, what's going to have the most impact," O'Guin says. "They threw out some ideas ... And then they asked me what I thought. I told them, you don't want to know what I'm thinking."
O'Guin was frustrated, if not furious, at Tech's lack of radio spins. He had played by what he thought were the rules, budgeting $200,000 to an "independent record promoter" to get the spins he needed to take Tech to the next level - spins that he never got. (O'Guin declines to say how much of his budget was paid out.)
"The radio game is organized payola," O'Guin says. "(Promoters) take all these big payments and somehow, magically, they have such a gift to convince radio stations to play your music. I wonder what those independent record promoters do with all this money we give them?"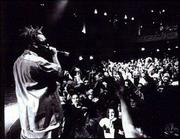 Special to the Journal-World

THE SHOW
Tech N9ne with Scatterman and Snug Brim (formerly Yung Gunz) and Vertigto
SAT. JAN. 25
at the Granada Theatre
1020 Mass., Lawrence
Though Tech and his team are obviously not content with their lack of national exposure, the performer is at the very top of the rap game locally. He holds the KC market's record for most albums sold in a week: 19,810 copies of his sophomore effort "Anghellic."
"Absolute Power" has sold in excess of 3,000 copies a week this month, and Tech's Web site has logged over 200,000 downloads since F.T.I. launched Dec. 18. The album has sold 53,000 copies since its October release, debuting on Billboard as the No. 1 independent urban album.
"That isn't even a piece of the world," Tech says. "It's beautiful, you know, but that's ghetto gold. It can be so much more."
More like this story on Lawrence.com