When the distillery explodes in the opening pages of Tom Averill's new novel, young Dillon Cork stows away evidence of the illegal operation before authorities arrive.
Years later, when he and friend Ewan MacPherson revisit the thrice-distilled casks of Kansas whiskey, refined by Cork's granddad and Ewan's father, the brew tastes "mellow, rich, complex," different from any Scotch Ewan has ever tasted.
Such is Ewan's journey -- from the inexperience of youth to the wisdom and complexity of adulthood -- in "The Slow Air of Ewan MacPherson," Topeka author Averill's sophomore novel. The book comes on the heels of his "Secrets of the Tsil Cafe," a work widely read locally as part of the 2003 Read Across Lawrence.
Averill's latest offering takes readers from the intensely distinct kitchens of Wes Hingler's parents, between which he must cook up his own identity, to tiny Glasgow, Kan., the fictional backdrop for Ewan's own quest for individualism.
The strong flavors continue.
Habañero peppers give way to the single-malt Scotch and haggis of Glasgow, Scotland, homeland of Ewan's father, Rob MacPherson. But there are no master chefs here. Rather, Ewan and his father share a mastery of that venerable Scottish instrument, the bagpipes. And they both have a fondness for ladies, though Rob isn't nearly as choosy as his son, who maintains a steadfast love for just one woman: Shirley Porter.
At their parents' urgings, the two live together for a year right out of high school in a variation of an old Scottish tradition called hand-fasting. The arrangement draws a scandalous label from folks in their small town, and the end of the yearlong hand-fast doesn't even result in the marriage Ewan desires. Shirley flees, only to return years later, bearing a secret that weighs her heart.
In the meantime, Ewan is attempting to become his own person, often in spite of the overbearing influence of his father, whose personality is as bold as the chest-burning whisky and booming pipes he adores. Looming in the background is the truth about Ewan's mother, whom he never knew and whom his father claims died giving birth to Ewan during the family's ocean journey to the United States.
"He doesn't quite know who he is or quite where he belongs, whether he is a Kansan or a Scot or somewhere in between," Averill says.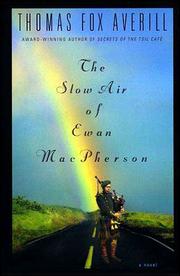 "Here Ewan has this very strong father, very sexual father, who drinks strong drink and who plays a very strong instrument. It's all about these powerful and strong tastes and desires. It's pretty hard for Ewan to grow up around that because, just physically and emotionally, it's hard to understand all those things until you reach a certain age. I think part of what Ewan comes to learn is how to make those strong sounds for himself and how to drink the strong drink the way he wants to drink it and how to deal with his sexuality in a productive way."
Scottish passions
Ewan and Rob MacPherson share at least one thing in common with Averill and his father: the bagpipes. The younger Averill's been piping for more than a decade. He started after several years of gentle nudging from his father, Stuart Carson Averill, who rediscovered his own Scottishness in 1974 at the age of 50. The Averill patriarch picked up the pipes and started reading Robert Burns poetry at family gatherings.
"He sort of discovered his Scottishness after I had already left home," Averill says of his father. "So it more became a part of our family culture after I was married and after I was away to college but coming home for family occasions and dinners."
Vicariously, the younger Averill developed a passion for things Scottish -- Burns, bagpipes, single-malt Scotch and even haggis. That passion is part of what inspired him to concoct the characters and story of "Slow Air." Each chapter begins with a Burns excerpt set to the tune of a bagpipe song.
"I like to be inspired by the things that I'm passionate about and know about. In 'Tsil Cafe,' that was food. I took a lot of metaphor and a lot of idea and a lot of structure from food in 'Tsil Cafe,'" Averill says. "I found myself doing the same thing as I was creating this book. I found it very helpful to have an epigraph from Burns that started each chapter and a bagpipe tune in mind that I could hear that might pique and help me maintain the emotional quality of the chapter. I sort of saw each chapter as sometimes a march, sometimes a retreat, sometimes a slow air."
Anticipating reactions
Averill is anxious for people to start reading the book, which was released July 1. Though he received many favorable reviews for "Tsil Cafe," he most enjoyed hearing from everyday readers -- not critics.
"Readers are the ones who really decide," he says. "If you get readers who like a book, they tell other readers. Books really have a life of their own."
Averill's spending the summer researching and writing his next novel. The topic: top-secret.
"I don't really like to talk about what I'm doing because a lot of the fun of writing for me is picking material to work with and then exploring it through writing rather than through talk," he says. "Talking, you make certain discoveries that you can't make in writing and vice versa. One process gets in the way of the other process."
In "Slow Air," Ewan goes through a process of personal distillation, refining the parts of his personality he can control and developing his own appreciation for drink, music, women and life. He ages to a complex flavor, just like his father's Kansas single-malt, and learns this:
"If you wait long enough," Averill says, "everything's going to taste just fine."