Jo Anne Hargis is well aware the country isn't too far removed from its recent war with Iraq and that U.S. soldiers still are killed there nearly every week.
In fact, it's been on her mind a lot lately as she's been preparing for the annual "Cairo on the Kaw," a showcase of Middle Eastern dance and music she's organized and performed in for the past eight years. (More info here)
"You seriously question what you're doing. Is it right? Is it wrong?" she said. "In some parts of the country, there has been backlash against performers. Fortunately ... it really hasn't affected us here.
"I think, if anything, the reaction that I have encountered is curiosity to learn more. ... I got more requests to talk to groups or provide information than I had in the past. I think people recognize it as a cultural aspect rather than a political aspect. We didn't turn away Wagner's music because of Hitler."
So the show goes on.
"Cairo on the Kaw IX," themed "The Classics," will be at 8 p.m. Saturday and 2 p.m. July 20 at the Lawrence Community Theatre. It will feature Raghsidad, a Middle Eastern dance company directed by Hargis, also known as Zada Al Gaziyeh. Classical Middle Eastern music recorded by Salaam of Bloomington, Ind., and special guest Roya will fill out the bill.
Though most of the musical numbers on this year's program are Middle Eastern classics, Hargis has inserted a few surprise classics from other musical genres into the eclectic program. The opening number is "King Tut" by comedian Steve Martin. The theme song to "I Dream of Jeannie" and the Arabian Dance from Tchaikovsky's "Nutcracker Suite" also will accompany dancers.
Audiences can expect ornate costumes, authentic Middle Eastern music and a well-rounded mastery of Middle Eastern dance forms, Hargis said.
To refer to Middle Eastern dance strictly as belly dancing would be a misnomer, she said.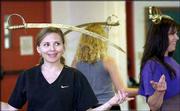 "It's a total body movement," she said. "Your whole body's engaged. It's not just your belly."
The members of Raghsidad, which is Persian for "they dance," range from age 27 to 52 and get involved with the troupe through belly dancing classes Hargis teaches through Lawrence Parks and Recreation.
It's a highly accessible dance form, said Hargis, who grew up dancing and dreamed of becoming a professional ballerina.
"I got to be 13, I got to be 5 feet 8 inches and I had curves," she said. "You had trouble even getting in the corps at that size."
Her sister introduced her to Middle Eastern dance after college.
"The idea that I could still be performing now, and it doesn't matter how tall or how short I am or how much I weigh or if my hair is long or short -- It's all about your ability to dance and interpret the music.
"You don't see too many size-14 ballerinas. But you could see a size-18 belly dancer."
More like this story on Lawrence.com