Just because Jessica Kolokol can't make it to St. Petersburg, Russia, doesn't mean her presence won't be felt there in the coming weeks.
Through a grant from the Lawrence Art Guild, the Lawrence artist will have her project, "Dream Door Document," in an exhibition at the Manege Central Exhibition Hall in St. Petersburg. Kolokol's participation is part of Manege's biannual "Dialogues" series, now in its sixth year, celebrating "dialogues" between different media, styles, currents and cultures in world art.
Kolokol also will be part of milestones both at home and abroad. She was the first recipient of the guild's Career Opportunities Grant, a $500 award that enabled her to participate in the Dialogues event, coinciding with the 300-year anniversary of the founding of St. Petersburg.
But on a more personal level, it's a chance for Kolokol to complete the first part of an ongoing artistic collaboration with prominent St. Petersburg artist Oleg Yanushevsky.
"Document" is a large installation project made up of enlarged transparencies from a series of photos Kolokol took as she and Yanushevsky traveled through Berlin. Many of the photos build on the artist's interest in the interplay between shadow and light with architecture. But what makes the project unique is the audio accompanying the photography, which includes music, natural environmental sounds and Kolokol's recorded interview with Yanushevksy.
In her interview with Yanushevsky, Kolokol says, he speaks in his native Russian about the state of "flying" in dreams, as well as memories of childhood.
"I found that when I open these questions to people, they go into themselves and open up," Kolokol says, "because it's a very personal, intimate subject."
Children of the Cold War
Kolokol, a Lawrence native, was raised in New York. She graduated in 1996 from the City University of New York with a bachelor's degree in art history/fine art and relocated to Italy after graduation.
In 1999, after extensive travel and work throughout Europe, she settled in Berlin and participated in a group exhibition at La Fabrik Culture House. She was eventually invited to join the T.R.O. artists' group in the former industrial center of East Berlin.
T.R.O. was interested in art through found industrial objects and sound. At the time, Kolokol was also working with sound, which helped lead to her invitation to join the group.
"It was wonderful to find so many like-minds with T.R.O," she says. "I was able to find lots of (artistic) energy and opportunities without even really trying."
Though she worked with several different artists' collectives, it was through her association with T.R.O. that she met Yanushevksy. Fascinated with Russia since childhood, Kolokol seized the opportunity to collaborate with another "child of the Cold War." Part of that collaboration led to Yanushevsky recalling childhood memories of the Cold War.
"It's interesting to see how the fallout from different situations (such as the Cold War) stay in people's psyche's for generations," she said. "We tend to forget pretty quickly, but it (the Cold War) really lingered in my mind and in Berlin."
"Dream Door Document" was originally conceived as a series of multi-language interviews about flying dreams, but for now, Yanushevsky is its only participant.
Kolokol would like to enlarge the project, with more interviews in various languages. Though she speaks several languages, she says comprehending the language isn't necessary to be moved by "Document."
"Not understanding the words doesn't mean you don't understand the rhythms and the emotion behind the voice," she says. "I think it's interesting for people just to hear this."
Granted an opportunity
Kolokol moved back to the states after she became pregnant in 2002 -- a move which left many unfinished projects in Berlin. But regardless of location, she is still artistically based there and is still in contact with her colleagues there, though she doesn't know how soon she'll be able to make it back.
Eager to be a part of this year's Dialogues at Manege, Kolokol was looking for any possible funding to participate. It was merely by accident that on the Internet she stumbled across the grants program from the Lawrence Art Guild.
She had originally hoped to be able to take the piece to St. Petersburg herself, but the cost proved too high. Nevertheless, she was the first recipient of the guild's $500 grant -- enough money to cover the costs of materials and shipping.
"I'm very happy to get to do this," she says. "It's the perfect venue for this, and I'm happy to get it out there and completed and in its proper home."
Elaine Matt, guild president, says the artist's ambition was just one of many factors that set her apart from the six other applicants.
"We just liked the magnitude of the project," Matt says. "To take on something in another country, to collaborate with a foreign artist, plus the uniqueness of her installation ... the selection committee all thought it was a great project."
The guild plans to continue issuing grants at least once a year, though Matt says the program is still in its formative stages.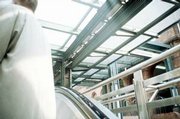 For Kolokol, Manege and St. Petersburg are just the beginning. She plans eventually to return to Europe and, no matter where the location, continue with her art.
"I've got a thousand projects in my head," she says. "I just have to be patient and wait for the experience and the funding and the chance to do them."
-- Features intern Aaron Passman can be reached at 832-6317.
More like this story on Lawrence.com