Sue Monk Kidd says she always knew her first novel would be set in the South during the explosive summer of 1964.
She just never expected it would sell a million copies.
"The Secret Life of Bees" is the story of 14-year-old Lily Owens, who sets out to learn her dead mother's past against the backdrop of the Civil Rights Act signing.
Lily runs from her abusive father and her stifling South Carolina town with her closest friend, the family's black housekeeper. The two of them are taken in by three extraordinary beekeeping sisters who teach them about trust, love and community.
"I know what it's like to be Lily's age in 1964," says Kidd by phone from her home near Charleston, S.C. "I knew from the beginning that the first novel I wrote would be set in that year. I knew that before I knew about the bees."
Kidd says she also always knew that Lily's personal story of losing her mother would be intertwined with the historical story of the fight for civil rights by African-Americans.
"There was a historic awakening for me at that time. It seems that everything was erupting," says Kidd, who grew up in southwest Georgia. "Later, I realized that I had all of these undigested images and memories, and I wanted to witness them, I guess in some hope that they would be redeemed."
Enthusiastic beekeepers
"Bees," narrated in passionate and lyrical language by Lily, has found an eager readership. The book sold more than 300,000 copies in hardcover last year, an exceptional showing, but has exploded this year, with more than 980,000 paperback copies in print.
When the Detroit Free Press made "Bees" its book club selection, readers wrote in passionate terms about the book.
Before Kidd wrote "Bees," she had written for Guideposts magazine and published a spiritual memoir about her own midlife quest to stand up for herself, "The Dance of the Dissident Daughter." "Bees" and "Daughter" share an interest in what Kidd calls the "sacred feminine."
The three beekeeping sisters in Kidd's novel form a spiritual group called the Daughters of Mary, whose rollicking meetings blend elements of Christianity and goddess-centered religions. Lily finds the love and joy of the women a balm.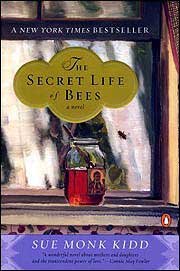 Other readers wanted to know about the Black Madonna whose image the sisters use as labels for their honey. Kidd has a painting of a black Madonna by artist Sheila Keefe that she bought after writing "Bees." The Madonna is a muse, Kidd says.
"I think we need images that inspire us, images that help bring out our best ideas," she says. She calls the Black Madonna found in various cultures the White Madonna "before the church scrubbed the really interesting stuff out of her."
Some male Free Press readers found "Bees" too female-centered to interest them. However, Kidd says one group of male readers has proven very enthusiastic -- beekeepers.
Lily the lab
Kidd knew nothing about bees when she started her novel, but she was soon semi-adopted by a beekeeper who showed her how bees should be handled. Kidd says she was amazed by the sensuality of beekeeping.
Readers also wanted to know about her decision to have Lily, who is white, ride around the small town with Zach, a black teenager. "Was it likely? No," says Kidd. "Was it possible? Yes, and that's all a novelist really needs."
Another decision was to make Lily responsible for her mother's death. At first, says Kidd, she made the mother's death 10 years earlier an accident. Then she read an account of a 4-year-old who accidentally shot a parent.
How much more urgent Lily's quest for a substitute mother would be, Kidd decided, if she carried that guilt. "So I realized my job was to take a bad situation and make it much, much worse!"
Kidd is spending the summer writing a second novel. That is, the parts of the summer that aren't devoted to new grandchildren -- a granddaughter born June 1 and a second baby expected in September.
Will there be a movie of "Bees"? A sequel?
The novel has been optioned and a script written, but many movies die at that stage. As for the sequel, Kidd says, "I think I'm going to be surprised if there is."
But she understands the readers who want to spend more time with her characters. She misses them, too. "And that was astonishing to me!" Kidd says.
She finally settled the problem by getting a black Lab puppy to keep her company.
She named her Lily.
More like this story on Lawrence.com