Bungee jumping. Diving into freezing water with the Polar Bear Club. Running with the bulls in Pamplona, Spain. There's a new craze for individuals trying to add spark to their lives, or for aging hipsters seeking to recapture their youth: enrolling in the Rock 'N' Roll Fantasy Camp.
Lawrence musician Todd Johnson did just that ... much to his surprise.
"I got a call from my wife - from her tone it sounded like our house was on fire - and she told me we won," Johnson says. "I didn't even know we 'entered.'"
Two days previously, Johnson's wife Robin had submitted his name to Rolling Stone magazine's Rock 'N' Roll Fantasy Trip. He was selected at random from hundreds of entries to attend a camp that paired aspiring musicians with their platinum-selling heroes. Within a week, he was on his way to New York.Johnson, a singer/guitarist who fronts the Lawrence band Trucker, will have his experiences shown to the country next weekend, when VH1 Classic will air marathon coverage of this year's Rock 'N' Roll Fantasy Camp. (Lawrence viewers can tune into it on Sunflower Broadband channel 121.)
"I missed the stadium-rock era," the 27-year-old musician says. "I was a little kid when it was peaking. It's one thing to meet these guys, but I finally got my chance to see them play five feet in front of me."
No rules
Now in its third year, David Fishof's Rock 'N' Roll Fantasy Camp is already muscling its way into pop culture, thanks to a hilarious recent episode of "The Simpsons" in which Homer signs up.In the episode, Mick Jagger inducts participants into the habitat's free-for-all lifestyle.
"There are only two rules here," Jagger's animated figure decrees.
"Rule Number One: THERE ARE NO RULES!"
"Rule Number Two: No outside food."
But the actual event is organized somewhat differently than the media has portrayed it.
Johnson began his four-day camp stint on June 18 by immediately being thrust into an audition process. Within five minutes of arriving (his plane was delayed), he was onstage performing Creedence's "Have You Ever Seen the Rain?" in front of a panel comprised of saxophonist Mark Rivera (Foreigner), drummer Liberty DeVitto (Billy Joel), producer Jerry Renino (The Monkees) and singer Derek St. Holmes (Ted Nugent).
From that point, he and a handful of others were assigned to one of nine bands that were created for the weekend, with St. Holmes chosen as his group's mentor.
"We were called Blank Slate," Johnson says. "I wanted to call it Donkey Punch, but we had a 17-year-old girl in it."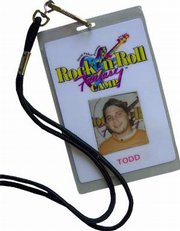 That girl turned out to be among the focal favorites for the swarm of media that covered the gathering, because she was part of a father/daughter team from Florida.
"They both played guitar," Johnson says of his bandmates. "But she was better than he was."
Johnson was one of only five contest winners sponsored by various magazines. The other attendees had to shell out $7,000 for the privilege.
"There were people there who play as much as I do, down to those who did not play at all," he explains. "There were even guys who only knew tambourine."
During the next few days, Blank Slate rehearsed three songs (The Doors' "Hello, I Love You," Free's "All Right Now" and The Who's "Squeeze Box"). All the while, they receiving critical tutoring from a revolving door of classic rockers, ranging from The Who's Roger Daltrey to Night Ranger's Jack Blades.
"Leslie West came in and critiqued everybody," he says of the Mountain guitarist. "He found it right to pick on me that day. I was playing the solo on 'Squeeze Box,' and somebody else was falling out of key. I guess he decided to pick on me by saying if I don't know the song I shouldn't be playing the song. So we stopped. When we started up the next time, he gave me a little wink like, 'Yeah, I'm just messing with you.'"
Despite the cast of VIPs, one of the main headliners didn't bother to show up.
"Ace Frehley was supposed to be there, but he fell down the stairs and got a concussion," Johnson says of the original Kiss member. "I guess it was an innocent fall - he was moving furniture. But he should have taken off those high-heeled boots (laughs)."
Notably, the studios where the bands assembled were right above Martha Stewart's Manhattan headquarters.
"We could walk out on our roof and see right down into her offices," he recalls. "During the day she would complain about the noise, so they'd turn the amps up."
The bottom line
The weekend culminated with a packed live performance at The Bottom Line, which functioned as a benefit for Daltrey's Teenage Cancer Trust charity.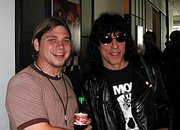 Johnson's ensemble was the third of nine to take the stage, and the days of intensive rehearsal paid off, considering the songs went over without a hitch. During the finale of "Squeeze Box," the wiry Daltrey joined the band on lead vocals.
"He's a funny guy," Johnson says of the Hall of Fame singer. "You can tell that he hasn't had to grow up at all. It's not that he's immature, just real giddy. He's real personable, but you can tell he hasn't had to worry about things in a long time."
Overall, Johnson was impressed with the lack of ego displayed by such renowned musicians.
"They were happy to be there," he says. "They were happy to get up and play. They were happy that people enjoyed them still and were flattered to be around them."
Lessons learned
The Rolling Stone contest win isn't the first good fortune that Johnson and his ongoing band Trucker have encountered during their seven years together.
The trio's debut EP led to a Jim Beam grant for aspiring artists. And Trucker was then selected by College Media Journal as one of the 50 best unsigned groups in the nation.
"For a band that's not signed, we've done a lot of shit," Johnson says of his no-frills rock act. "Since 2000, it's been something, something, something - but it's been the golden carrot. Where's the record deal? How can we do all this and not reap the rewards?"
A Web designer for Callahan Creek advertising by day, Johnson hopes some of the contacts he made at the Rock 'N' Roll Fantasy Camp will lead to further musical success for Trucker.
"I've been in Lawrence for seven years," the Olathe native says. "You have the revolving bands and the revolving crowds. You start losing sight of why you started playing. Watching these guys (at the camp)and listening to them, it's like, 'Don't worry about all that stuff. Don't worry about the bar owners, don't worry about the media. Do your best to stick with your heart and play what you want to play.'"