College football fans, rejoice! Not only does NCAA Football 2004 outdo the wonder that was last year's edition, but that small school your cousin went to that he thought would never appear in a game is more than likely here this year.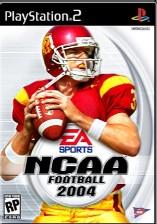 There are 165 new teams, including 36 new teams from Division 1-AA and over 100 new classic teams.
Electronic Arts' NCAA Football 2003 was heralded as the best college football game of all time. Critics said this year's edition could never live up to it. Man, were we wrong. With new types of cheerleaders, cannons, mascots and introductions, nothing, and I mean nothing, comes as close to recreating the college football atmosphere as NCAA Football 2004. Even for fans of KU football, it's incredibly engrossing. You'll see the campeneille in the background with Memorial Stadium accurately recreated. Not only that, but KU's fight song plays, signifying that you are truly in Lawrence.
Now, if they paid that much attention to detail for a perpetually losing school, you can only imagine how much depth to detail the entire game has.
Also new is the addition of online play for the Playstation 2 version. This definitely adds to the value for PS2 owners. But if you don't plan on taking your team online, then your only question to ask about which version to get is which controller do you like better? There are some very, very minor graphical differences in all three versions that do not warrant buying one over the other. I always prefer the Gamecube controller for its intuitive button layout, but the other controllers are just fine.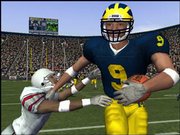 The graphics have been smoothed over and refined since last year. But nothing gets a bigger upgrade in this department than the animations. Looking at some of the instant replays I could've sworn it was real life. The animations are that accurate.
Defensive backs won't just stand around half of the time like last year. The AI has been much improved. Also, on most punts you would get creamed every time in 2003. This year it has been balanced out to further represent the true game.
The crowd will react more accurately to situations in a game. If the home team makes a short 6 yard gain, you will hear a slight joyful rumble. If you make a 20 yard pass for a first down on third and nine, the crowd will erupt. And dramatic touchdowns will make the stadium go nuts. When you get close to the end zone, you can customize your end zone celebration with a dance, jig or even slam dunking the goalpost. I slammed the goalpost and got penalized. But I must admit, it was worth it.
You can play one of the 20 classic games of the past two decades. Your bio can be recognized by other EA games to unlock more goodies like stadiums and mascots. You can take a training class to learn how to run the option. You can create a team and take them into the Dynasty mode. There are tons of things added to NCAA Football 2004 that warrant the game being called much more than an upgrade. It truly feels like a new game.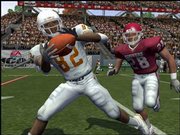 Graphics: A
Sound: A+
Gameplay: A
Replay: A
Overall: A 94%
More like this story on Lawrence.com