New York — Taking her final ride in a horse-drawn carriage piled high with flowers, "Queen of Salsa" Celia Cruz was hailed Tuesday in a funeral tribute both raucous and reverent.
It was "un ultimo adios" -- the final goodbye -- to the Grammy-winning Cruz, with thousands of devotees of the Cuban-born singer clutching photos, waving flags, singing and dancing on an afternoon interrupted by driving thunderstorms.
Inside St. Patrick's Cathedral, the packed crowd of more than 2,000 included Cruz's husband of 41 years, trumpeter Pedro Knight; Mayor Michael Bloomberg; actor Antonio Banderas and wife Melanie Griffith; singer Jon Secada; and singer-actor Ruben Blades.
"From heaven, you will continue to be sugar," said auxiliary Bishop Josu Iriondo, addressing the crowd in Spanish as Banderas interpreted for his wife. "Like good sugar, you will live melted in the coffee of your people."
Cruz's trademark was shouting "Azucar!" during her performances -- Spanish for "sugar."
After the funeral Mass, Cruz was to be buried in a private ceremony at the 140-year-old Woodlawn Cemetery in the Bronx, joining musical greats Duke Ellington and Miles Davis.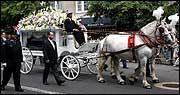 More like this story on Lawrence.com