Tomb Raider: The Cradle of Life debuted at no. 4 this weekend barely beating out a movie about a horse. It took in a pathetic $22 million.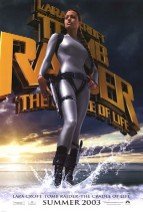 Sony blames the terrible sales of the new Tomb Raider: Angel of Darkness game as the main reason no one turned out to see the movie. Or maybe it's because movies based on video games always suck.
Although critics agreed it was better than it's predecessor, most gamers are bored of the Tomb Raider series. That coupled with the poor feedback from the first movie should leave no one surprised.
To voice your opinion, click here to respond to the Gamer's take on video game movies.
More like this story on Lawrence.com