Growing up in the 1950s, Vinland sculptor Jon Keith Swindell didn't hear the popular, watered-down, romanticized versions of the World War that had occurred in the decade before his birth.
"My earliest memories of my mother speaking of the war ... were very, very much about the fear and the horror of hearing the bombing every night and spending nights in bomb shelters and air raid sirens, the gas masks," Swindell said recently at his airy studio in southern Douglas County. "I think she carried a depression from the war for her entire life, but she had progressively had mental illness from the time I was in high school on and then, ultimately, Alzheimer's."
Swindell's mother was a war bride, one of many European women who latched onto U.S. military men during the war, enamored by the American dream that awaited them in the states. In Northampton, England, an industrial city north of London, she experienced the war firsthand.
Swindell, a Kansas University design professor, has spent the past 10 years attempting to document his mother's experiences through art. His quest took him across the Atlantic Ocean in 1994 to interview her British family. He gathered photographs, letters and diaries from his relatives. But soon after he returned to the states, his mother became very ill and died.
"Everything after that point was a means, on my part, to try to recover her voice," Swindell said.
So he returned to England, specifically to Sussex University, home to an extensive archive of war diaries written by men and women during World War II. He combed the entries, written by anonymous commoners as part of a left-wing project called Mass Observation, looking for words that resonated.
"I had to read a lot of voices," he recalled. "The way I made my selection process is that I chose the women that were between the same age bracket as my mother at the start and end of the war. ... I really narrowed it down to about five women, and then I have focused on one, Olivia Cockett, because she is so poetic and so visual in her writing."
So passages like this from 1940 -- "watched the light fade ... felt poetic about the stars appearing; saw the moonlight silver the near roofs. heard the church clock strike ... expected eleven ... surprised that it was midnight. walked round the black and silver garden ... stared at the moon, felt the cool grass, smelt fragrances; then the boom -- thud of the guns in the distance sobered my delight." -- translate into sculptures like "Sacred Spire/Beyond the Pale," a slender, octagonal, steeple-like tower that reaches upwards of 12 feet into the air, narrowing as it goes. A mechanical strobe-light system inserted at its base sends subtle flashes of light -- meant to simulate distant bombing -- through four clerestory windows. Or "Rapture Portal/Olivia Cockett," one in a series of what Swindell calls "portals," which layers imagery around a central photograph of a woman and is lighted -- almost eerily -- from within.
Both are part of his solo exhibition, "On Being Blue: Dream Portals and War Diaries," opening Friday at the Lawrence Arts Center.
"'On Being Blue' is much about a reference to war, and I think it has particular relevance right now because we have an entire population of Iraqi people who have just been subjected to the same kind of trauma," Swindell says. "I really try in the diaries to almost juxtapose everyday life, romance, the joy that they could find in everyday life, in their friends and family and gardening and those activities, against really the fear -- every day, every night -- the bombing that went on and all those references."
Another, more literal, reference helped spawn the show's title. Time and again in the diaries, Swindell read about the "blackout" cloth and paint used to cover car headlights and house windows. Most of the pieces in the show are subtly self-lit, and Swindell hopes to display the work with the gallery lights out and the windows covered.
3-D storytelling
Swindell's mother left war-torn Britain with his father, a B-17 flight mechanic in the 8th Air Force stationed near Northampton, and the couple made their home in Holdrege, Neb. They had eight children, including Swindell.
Although his design sensibilities often have him borrowing the vertical architectural imagery of metropolitan cityscapes, Swindell feels rooted in the Great Plains, where he spent his formative years.
"It just goes to that sense of place that one has, in particular if you are away from it. When I lived in Columbus, Ohio, for that 10-year period, I always felt like there was this pressure, like a ceiling pushing down on me, and I couldn't get out," he says of his time studying illustration at the Columbus College of Art and Design in Columbus, Ohio. "This location, this middle of American location with the open spaces and the, of course, vertical ceiling of sky I think is pretty essential to my psyche."
Now he lives and works in a converted turn-of-the-century general store in the tiny town of Vinland, about five miles north of Baldwin. Through his "storefront" windows, he can see the tree-dense hills that feed off the Wakarusa River.
In Kansas, a place defined in great part by vertical lines, Swindell's tower pieces stand out. The real mission, though, is to get them to stand out in a meaningful way. Swindell's work has always been driven by personal narrative. For example, his early work often paid tribute to high school and college friends who didn't come back from the Vietnam War.
"That work, like the current work, is really involved with storytelling, only in the third dimension, so I'm selecting architectural references or even animal forms or more recently pictorial information that's integrated in it," he says. "The idea is not so much that they look like buildings or have that reference at all; they're simply structures that house the stories."
More recently, those structures have changed from towers to wall-mounted "portals." They consist of manipulated photo images, lit from within, and set back inches within a frame.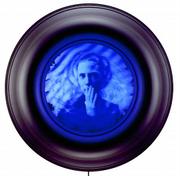 "When I went to the wall, rather than just having a two-dimensional diorama, so to speak, I started thinking about how one, perhaps, moves through a space and into the meaning of another space and yet another space," he says. "The early portals, actually, all the images have windows in them. So, there's the physical window and the physical object and then you move into that middle space and then back into the progressive spaces that are referenced. I guess in a sense it's that way of trying to get the viewer to transport back into the actual meaning of the piece and the story and the images inside."
'For the love of art'
The newest portals in the arts center show will require viewers to almost press their noses against the piece to comprehend what's happening inside.
He hopes onlookers will be engaged by what they see.
"I've chosen my audience, and the audience is not the commercial gallery goer, viewer, buyer, critic, reviewer. I'm not very interested because I think that's a very narrow audience, and today, it's probably a very young and uninformed audience because it's more of a social atmosphere than really people coming for the love of art," he said. "I've tried to put my work in community art centers, in museums, in a place that is really about education and really goes to the question of 'What does this mean?' and 'How does this relate to my life?'"
Mindie Paget talks with Jon Keith Swindell, 05.03
Swindell has taught in KU's design department since 1986. His work has appeared in more than 100 exhibitions and can be found in private collections as well as the permanent collections of the Sheldon Memorial Art Gallery, the Mulvane Art Museum in Topeka, Del Mar College of Corpus Christi, Texas, and the Hawaii State Foundation on Culture and the Arts in Honolulu.
At his studio, he notes that he studied sculpture at the University of Nebraska with 16 other sculptors; he's the only one still working in the medium.
"It's hard," he says, "and it's expensive."
As he talks -- his shoulder-length black hair pulled back in a ponytail, black T-shirt tucked into blue jeans with black lace-up boots -- the 52-year-old bespectacled artist shifts giant crates across the floor.
"It's physically demanding," he continues. "It's hard to move it."
So why does he keep it up?
"Because I need to."