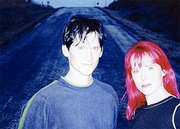 Drum 'n' Bass is a term for a trendy style of club music.
However, the band Clatter proves there is a new definition of drum and bass.
Drummer Joe Hayes and bassist Amy Humphrey are Lawrence expatriates who have turned their rhythm-section talents into a fully realized band. The married duo will return to town Wednesday for a showcase of their unique lineup at The Bottleneck.
"It was kind of uncanny how we decided to do our two-piece thing and then all the sudden there were all of these two-piece bands popping up, like The White Stripes and Jucifer," says Humphrey, who also handles lead vocals for Clatter. "Our whole goal wasn't to use the two-piece as an excuse to do a lo-fi thing. Our whole goal was to try and sound like a huge band with just two people."
The group's latest album, "Blinded By Vision," validates this approach. Put out in March on the band's own Chicken House Records, the 11-song disc confirms that a duo can be just as aurally fulfilling as a traditional rock quartet.
Past Event
Wednesday, June 11, 2003, 10 p.m.
Bottleneck, 737 New Hampshire, Lawrence
18+
"When we were trying to get our sound together for this project, a lot of people kept telling us that you can't play rock music without a guitar," Hayes says. "We were like, 'Why not?' That made us that much more determined to make it work."
Technically, Clatter achieves this by splitting the signal of Humphrey's Rickenbacker bass into different amplifiers, thus achieving a more "guitar-like" versatility. Assorted foot pedals and effects help create a melange of persuasive tones.
Hayes also bolsters the aggressive rock ensemble's sound through technology.
"We had the cool idea to create more variety in the sonic landscape by using electronic percussion for a chorus here and a verse there," he says.
Early on, the pair even attempted playing with a sequenced keyboard, "but it just sounded like karaoke," Humphrey recalls.
Though a previous incarnation of Clatter functioned as a quartet, Humphrey and Hayes don't miss the added weight of additional personalities.
"We've had enough problems with band members in the past -- with going on tours and living through their nightmares -- that I don't think we'd ever go back to that," she says. "When we go on tour it's just like going on vacation: just he and I."
Clatter"Blinded By Vision"
Lawrence junction
Humphrey and Hayes first met in the late '80s while students at Kansas University, when a mutual guitarist friend invited the drummer to form a trio.
"He called me and said he had this girl who was going to play bass," Hayes remembers. "I wasn't really interested. Then I was at this party and saw Amy there. So I walked up to say hi and the guy turned around and said, 'Oh Joe, this is Amy, she's the bass player I was telling you about.'
"I said, 'Okay, I'll be in your band.'"
Although the band went nowhere, the couple's relationship flourished.
Both graduated from KU in 1989. Hayes earned a degree in English literature, and Humphrey netted one in Slavic and French (a skill that comes in handy for a tune called "Nevsky Prospekt" on the latest album, which she sings entirely in Russian).
They also married that year and opened a local business: Joe's Drum Shop at 10th and Mass.
But in 1992 when the grunge scene was in full swing, the couple decided to pull up stakes and move to Seattle.
The two formed the band Clatter Bean and recorded an EP with producer Don Gilmore (Linkin Park), which led to a few years of touring. Yet soon the allure of the West Coast wore thin, and the pair stumbled upon an opportunity to return to the Midwest.
Hayes' grandparents' farm outside of rural Bunceton, Mo. (population 300), had fallen into disrepair following his relatives' decision to move into town. The young couple chose to adopt the homestead, taking a career gamble that the relocation could benefit their band.
"We were living out in Seattle where the cost of living was exorbitant," Humphrey relates. "When we wanted to go on tour, we had to drive and drive just to get to the next town -- there's not a whole lot up in the Northwest when you leave the Seattle/Portland area. Whereas from Missouri, you're in the middle of everything. From a touring standpoint, living in the central U.S. was nice."
Although the farm is only 30 miles outside of Columbia, Mo., the pair still has a stronger connection to a rival college town.
"What DON'T we miss about Lawrence?" asks Humphrey, who has toured through the community four or five times since, but never as a duo. "It's such a great city ... There's something about the people there and the environment. I don't even know how to describe it, but we don't have that here in Missouri."
Ace of bass
Since issuing "Blinded By Vision," the Clatter members are even more determined to make their mark in the music industry.
"We're doing it full time right now," she says. "We've had our share of random day jobs, especially food service-oriented ones. But right now with the release of the CD we're putting everything we have into doing it. Living on the family farm the way we are, it's really enabled us to live inexpensively so we can concentrate on doing this."
Besides touring, one of the effective tools the team has used for getting its music heard is the Web -- particularly message boards.
"The Internet has been a huge boon to our promotion," says Humphrey, whose home site is www.clatter.com. "I've been really active in bass forums online. Almost all our entire CD sales have been online; there are people from all over the world we've sold CDs to."
Hayes adds, "It's been really embraced by bass players."
A quick look at some Clatter-oriented postings focus mainly on idolizing Humphrey's four-string artistry -- alongside the recurring theme of "I can't believe there are only two people in the band!"
"It's been really exciting that other bass players out there find inspiration in what I'm doing," she says. "Because that's what it's all about is trying to be able to show that the bass can stand on its own as an instrument."
Hopefully, Clatter can remain standing on its own, too.
"We've done everything together, from renovating houses to running businesses," Hayes recounts. "It's just so rewarding to have a CD turn out better than you thought it was going to. Then, after all that hard work, to go out and play with just the two of us onstage, that's REALLY fun."
More like this story on Lawrence.com