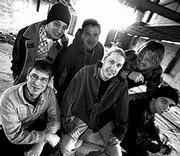 Rock and Roll Rule number #274: Never judge a band by its press photo.
Angry bands never look as pissed as they really are. Groove loving hippie ensembles never look as happy as their music assumes. The photo of King Johnson looks like a septet of nondescript college students who would be happy to fix your computer for a couple of beers. Not a great representation of a group that is funky enough to make your sweat socks jealous.
The Atlanta, Georgia group makes their Lawrence debut at the Jazzhaus on Friday bringing their tight southern funk to a city that is somewhere between Motown and New Orleans.
King Johnson's recent release Hot Fish Laundry Mat is a defense exhibit A of Rock and Roll Rule number #276: Records with terrible titles can still groove. The first cut on the record "Personal Thing" comes after a live introduction of the band and wild applause from the audience. It is a creative way to start a studio album, as if whispering in "Listen to how many people like us, I'm sure you will too." All pretensions go away when the first notes blaze by like the Tasmanian Devil on PCP.
The most dynamite component of King Johnson (if you have to choose one) is finding out their remarkably full horn section consists of just two guys. Marcus James and Adam Mewherter play a combined total of seven instruments excluding vocals. Using the myriad of colors they rip through charts that don't just compliment the rhythm section, they lead the rhythm section.
And what a rhythm section it is.
Past Event
Saturday, June 14, 2003, 10 p.m.
Jazzhaus, 926 1/2 Mass., Lawrence
21+ / $4
Drummer Greg Baba and percussionist Chris Uhler break through the double drummer fad by playing so seamlessly it sounds like a single drummer with four arms. Bassist Chris Long weaves his notes into the margins of the music and lets the groove come out on its own. Lastly there is guitarist Oliver Wood.
Since King Johnson started as a blues trio (their name stems from the list of blues greats with the last names of King and Johnson) it is imperative to have a driving guitar force. Wood provides the crunchy river of notes that balances out the rest of the band. Sometimes he drives it to new heights, sometimes he puts on the musical brakes.
"There is more of a group concept here than ever before," Wood said of Hot Fish. He is right on the mark. The band is well rehearsed and comfortable in the studio. The record meanders between guitar driven blues, solid horn chart funk, a jazz instrumental and even a delicious two minute ditty called "When" which switches mid-song from a two-step honky tonk to a full funk throw down. Wood is also quick to mention how much they dig playing live.
"We feel more at home on stage than anywhere else. We love mixing it up."
For the music loving folks of Larrytown, there is little doubt that King Johnson will deliver a fun evening of musical surprises. Their music will speak louder than their photo ever will.
More like this story on Lawrence.com