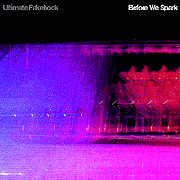 Can you think of any EP's that you really like? I can't. Most of the time, EPs are just a poor man's album; something to fill the empty void between albums.
Ultimate Fakebook's "Before We Spark" continues in the mighty tradition, but delivers a nice punch for a 23-minute album.
Though 7 tracks are listed on the back cover, the EP really contains four legitimate new tunes, a 20-second bass solo called "The Cobra," a 2-minute instrumental and a remix of "Inside Me, Inside You." UFB also gets an extra-effort award for including Quicktime videos of "Inside Me" and "When I'm With You, I'm OK."
The first track, "Rotting on the Vine," overcomes a foreboding drum machine intro ('Oh no! UFB's gone techno!) to deliver one of the most sinister UFB songs in recent memory. Eric Melin's drumming is positively propulsive -- towards the end of the song he delivers an impossible 12-second drum solo (an eternity for drummers) with the mechanical precision of Neil Peart.
Ultimate Fakebook"Before We Spark"
The second real song, "We'll Go Dancin," is a 6/8 power waltz all decked out in tube bells and Joe Satriani-esque guitar orgasms. It's kind of like what the Kingston Trio would sound like with Marshall stacks and Animal from the Muppets on drums.
The true highlight of the disc, however, is "Record Release Party." In case you were wondering what it was about, don't think too hard, this is UFB we're talking about here: "Record release party / Was just the same old songs / All dressed up and made pretty." Hardcore UFB fans might cry 'Judas' at the liberal use of keyboards in the song, but I give them two rock fists up for stepping into the great beyond.
"Slick's Theme" -- a two-minute instrumental for minor league pitcher and UFB roommate Eric "Slick" Seedman to warm up to -- is an interesting little ditty but fails to develop beyond that stage.
Ed Rose's six-minute remix of "Inside Me" could use a little editing. Is it supposed to be a TRL-friendly version of the song or an excuse to go all Kid A on our ass? Whichever, it only serves as a friendly reminder to UFB to never, EVER drop the guitars. If you need more proof, just pop the CD in your computer and you can hear two more gag-inducing remixes.
Past Event
Friday, June 13, 2003, 9 p.m.
Bottleneck, 737 New Hampshire, Lawrence
All ages / $7
Though "Before We Spark" may be doomed to eternal obscurity by the mere fact that it's an EP, the album certainly merits eight bones. If nothing else, give them your money so they can afford to put out a whole album.