Bungie Studios released the E3 Halo 2 demo to the public today. It is available for free all over the internet.
Many sites such as IGN and Gamespot are reporting heavy traffic and warn fans to anticipate slow servers and plenty of server timeouts when trying to download the demo from their sites.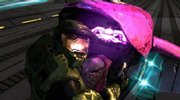 Click here to get the highly anticipated Halo 2 demonstration video.
More like this story on Lawrence.com