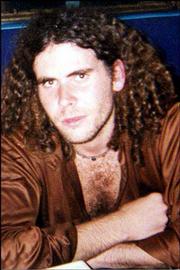 There are plenty of tales about Kansas musicians relocating to Los Angeles to find fame, fortune and food service industry jobs. But very few people think of L.A. as a training ground for a musical career in Lawrence.
However, that's the plan for singer/songwriter Cory Phillips.
A veteran of Lawrence bands such as New World Gypsies and Nub, Phillips will be bidding adieu to his adopted hometown with a farewell concert at 8:30 tonight at the Lawrence Arts Center, 940 N.H. Tickets are $6.
"I've been here for a while, and I'm feeling aged enough -- like a good wine -- so that I can 'get opened,'" he says.
"I want to get in touch with some people in the industry that might be able to help me get further along in my career than I have been able to in this area. In which case, I can return here and can be at that next phase."
At tonight's LAC concert, Phillips will be joined onstage by area luminaries, including bassist Will Dinkel, guitarist Steve Henry and vocalist Aaron "the Rev" Morris of The Band That Saved the World. Other notables scheduled to round out the sound are drummers Chel Rich and Jason Hubbard, keyboardist Ben Singer and saxophonist Dan Pem.
The two-set performance will be divided into a solo acoustic opener that will gradually evolve into a duo with a 12-string guitarist. After an intermission a full band will play.
"It will end up with about eight or nine people onstage, with horns and vocals and guitars," he enthuses. "I'm also providing wine for the event. So people can at least open up a bit when they're sitting down all night."

Wine seems to be a common theme for Phillips, who describes his style as "red wine soul rock."
"It's very sophisticated," he adds. "It's not as hyper-youth oriented. It's not as peppy. I guess I'm trying to write songs for all the artists that wrote songs for my ears growing up."
Phillips' time growing up was spent elsewhere in a string of journeyed states. He first began living in Lawrence in 1995, purely by accident.
"I was traveling from Tijuana to the Florida Keys and I ran out of money in Lawrence when I was visiting a friend who was going to KU," the 27-year-old recalls.
His stint in L.A. will be a little more financially organized. He'll be working as a delivery driver for a flower shop. Then he hopes to gradually make the transition to performing at least 10 gigs a month, as either an acoustic solo artist or with a band.
"I've got a few possibilities," he says. "It's kind of like a cracked-open door there, and I'm going to kick it in."
'Book return
Veteran local rock act Ultimate Fakebook just returned from its first tour of Europe.
"It was weird listening to people sing your songs in Italian," drummer Eric Melin says. "We actually lost money on the tour, but we got to see Europe."
The group will hold a trio of shows this weekend to celebrate its homecoming and to serve as release parties for "Before We Spark." The forthcoming EP will feature six new tracks, plus a remix of the band's "Inside Me, Inside You."
UFB takes the stage in Lawrence tonight at The Bottleneck and Saturday in KC at The Hurricane. Then on Sunday, more "melodic" members Bill McShane and J.D. Warnock will hold a special acoustic set at the hipster Plaza eatery Reverse.
Rumors are that Melin and bassist Nick Colby will be heckling from the back row.
The pink stuff
... and speaking of Melin and Colby. Though the Lawrence bandmates' touring schedule affords them little time at home, they do share a pad with a third, equally infrequent roommate: Kliph Scurlock, drummer for The Flaming Lips. Now Scurlock has found himself in the pages of the June/July issue of Blender Magazine -- for something other than music.
The national publication gave the Lips a mission: "to spend $848 in one day any way they want." So did they buy more stage gear? Pay off debts? Feed the homeless?
No, the band used the cash to dress up in animal costumes and pour Pepto-Bismol on strippers.
All of this is lovingly documented in a pink-stained photo spread. The tattooed Scurlock is shown garbed as a bear, drizzling the liquid cure-all over a lucky victim's thong.
How much Pepto-Bismol does it take to cover two Atlanta strippers? According to the Blender bill, it's $242.07.