London — He prefers cider to beer, is teaching himself Swahili, and enjoys loafing in front of the television with friends.
Hardly earth shattering revelations, but as Prince William Arthur Philip Louis Windsor nears his 21st birthday, the British press is getting hungrier for any tidbit about the second in line to the throne.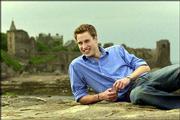 Since the death of his mother, Princess Diana, he had been insulated from intense press coverage. But in a sign the rules may be changing with William coming of age June 21, British newspapers recently have been awash with stories about him, ending a self-imposed embargo on reporting on his private life.
The sensational headlines -- trumpeting reports that he is dating a beautiful 20-year-old brunette and speculation that he plans to live in New York or has no intention of becoming king -- prompted concern in royal circles that William will soon be hounded by the paparazzi that pursued his mother.
"In many ways the future of the monarchy in this country lies in the hands of these editors," said Bob Houston, publisher of Royalty magazine. "If William sees he has been harassed and harried, he is bound to be upset, and who knows what seeds it could plant in the lad's head."
In an effort to sate the media's interest in "Wills," St. James's Palace -- the office of his father, Prince Charles -- organized a rare interview last month with Press Assn., the British national news agency.
The informal chat and photo session at St. Andrews University in Scotland, where William is studying for a degree in art history, revealed little. Nevertheless, snippets about his life as a student commanded several pages in most British newspapers.
Importantly, William used the interview to ask the press to respect his privacy.
"The media have been very good considering, I'm sure, how tantalizing it is having me up here ... and I hope that continues," William said.
Diana was the focus of intense media scrutiny and for almost 20 years was never far from the front pages.
In a searing funeral eulogy, her brother Earl Spencer blamed paparazzi for chasing Diana to her death in a high-speed Paris car crash in 1997, saying he "always believed the press would kill her in the end."
Diana's death heralded a new era of royal coverage, with the press granting her young sons, William and Harry, unprecedented privacy. When William turned 18 and later began college, editors grudgingly agreed to continue that policy in return for official photo calls and interviews on key occasions.
Although last month's interview has temporarily satisfied the press, the informal agreement is under strain amid claims that St. James's Palace hasn't produced William enough.
"The whole agreement is right now up in the air," said one journalist on the royal beat, who spoke on condition of anonymity. "It was planned that it would continue until he is 23, but there has been a lot of frustration in the press over St. James's failure to keep their side of the bargain. The access to William has been minimal since he has been at university."
St. James's Palace says it is concerned about the recent coverage, while insisting the informal agreement remains in place.